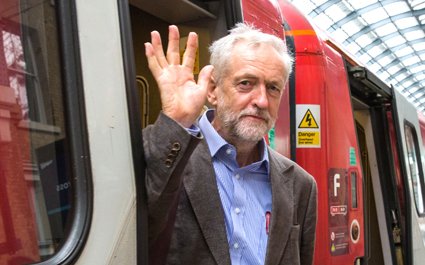 The folks at The Daily Mash have some fun with this spoof article on the Labour leader Jeremy Corbyn.
But like all good satire there's more that a hint of truth in what the leg-pullers have to say about 'bring back British Leyland' and "Bootle Friends of Nicaragua'
http://www.thedailymash.co.uk/politics/politics-headlines/corbyn-lured-away-with-fake-labour-party-20170213122031
Corbyn lured away with fake Labour party
13-02-17
MPS have set up a decoy Labour party to keep Jeremy Corbyn harmlessly occupied while someone else takes over, they have revealed.
After being told by email that Labour was moving headquarters, Corbyn is now leading the fake party from a prefabricated hut on the outskirts of Rotherham.
A Labour spokesman said:
"All the staff are paid actors who reassure him things are going well. Today they convinced him he's ahead in the polls because the public has suddenly got really into Marxism.
"Every so often we send a 'TV news crew' to interview him about his latest policy to bring back British Leyland or whatever. They're just actors too. I don't think they even turn the camera on.
"Now we can get on with electing someone at least slightly popular, and Jeremy can potter about writing letters of support to Bootle Friends of Nicaragua."
Corbyn said: "Everyone at our new HQ keeps me tied up all day with interminable committee meetings about things like making Knutsford a nuclear-free zone. I'm loving it.
"I said I should really go to this week's Prime Minister's Questions, but apparently I am too valuable to lose from the banner-making team."
Corbyn's Clean Sweep (13/02/17)
The latest YouGov poll gives Jeremy Corbyn a clean sweep in the popularity ratings - the Labour leader achieves the near impossible feat of a negative rating across every single category.
Even more Labour voters have an unfavourable perception of Mr Corbyn (46%) compared to those who regard the party leader in a favourable light (44%).
Real Fight Starts Here (10/02/17)

The internet has been having a great old time with Jeremy Corbyn's claim that 'the real fight starts here' over Brexit after failing to lay a glove on the Government and its Leave supporters for the past six months.
I think my favourite is this one of Captain Quint from the movie 'Jaws' as he leaves the giant shark in absolutely no doubt about who's calling the shots.
King of Comedy (09/02/17)

Jeremy Corbyn has a promising career ahead in stand-up comedy ahead once he stands down from his current job of destroying the Labour Party.
The Labour leader famously called for Article 50 to be invoked 'immediately' on 24 June 2016 the day after the great EU referendum and yesterday the House of Commons finally fired the Brexit starting pistol.
Under orders from Jeremy most Labour MP's rooted through the voting lobby with their Conservative colleagues before Corbyn issued the following defiant statement:
"Real fight starts now. Over the next two years Labour will use every opportunity to ensure Brexit protects jobs, living standards & the economy."
Now Jezza's brave words come more than six months after his call for Article 50 to be invoked 'immediately' during which time he has failed to lay a glove on the Tories or their leader Theresa May.
No one believes this for a minute, of course, and a stream of funny memes have appeared on the internet mocking Corbyn's vainglorious claim that he will 'fight to the death'.
Now that is funny - and some wag on Twitter illustrated the point with a video of a cat and a lizard in bathtub.
The Corbyn Effect (08/02/17)
On 24th June 2016, the day after the EU referendum, Jeremy Corbyn suddenly announced (without consulting Labour's shadow cabinet) that Article 50 has to be invoked 'now".
Here's more of what the Labour leader had to say more than six months ago:

"The British people have made their decision. We must respect that result and Article 50 has to be invoked now so that we negotiate an exit from European Union.

"Obviously there has to be strategy but the whole point of the referendum was that the public would be asked their opinion. They've given their opinion. It is up for parliament to now act on that opinion."
No wonder Labour is in such a mess - the leader doesn't know what he's doing and more than six months on the party still has no strategy for Brexit other than mouthing empty slogans about 'getting the best deal possible'.
Which is what Theresa may and the Conservatives have been saying for months, of course.