Blair 'haters' reached new heights the other day with false claims about a British-born terrorist and suicide bomber who went on to join the so-called Islamic State after receiving £1 million from the UK government.
Turns out the compensation paid to this Islamist jihadi-seeker was paid by the Tory-led Government in 2010 when Theresa May was home secretary.
Now that is funny as well as being a great demonstration of how to land blows on the right wing media that Jeremy Corbyn keeps complaining about.
Read the full story via the link below to The Guardian.
https://www.theguardian.com/world/2017/feb/22/british-suicide-bomber-ronald-fiddler-uk-security-services-guilty-of-failings-terrorism-chief?CMP=Share_iOSApp_Other
Tony Blair attacks Daily Mail's 'hypocrisy' over suicide bomber



Former PM denies his government paid £1m to British-born jihadi who blew himself up in Iraq this week and says Mail campaigned for his release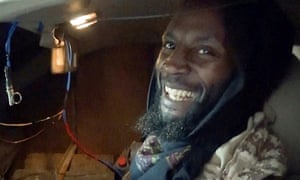 Jamal al-Harith, a former Guantánamo Bay detainee, was reportedly paid £1m in compensation by the UK government. Photograph: Twitter

By Jamie Grierson - The Guardian

Tony Blair has denied that a Labour government paid compensation to the former Guantánamo Bay detainee who went on to blow himself up in Iraq, in a strongly worded statement in which he accused the Daily Mail of hypocritical coverage over the Manchester-born jihadi's death.

The former prime minister said that compensation – thought to amount to £1m – was paid out under the Conservative-led coalition government in 2010 - and criticised the tabloid for blaming him and Labour instead.

"He was not paid compensation by my government," Blair said. "The compensation was agreed in 2010 by the Conservative government."

On Wednesday morning, the Daily Mail front-page story was the death of Jamal al-Harith – who changed his name from Ronald Fiddler after converting to Islam in his 20s but most recently went by the nom de guerre Abu-Zakariya al-Britani – in which Blair's government was singled out for "intense lobbying" for his release.
Tony Blair: Harith's release followed campaign led by the Daily Mail, 'the very paper that is now supposedly so outraged at his release'. Photograph: Victoria Jones/PA

Blair hit out at the Daily Mail's "utter hypocrisy", pointing out that the newspaper led a media campaign for Harith's release from Guantánamo Bay.

"It is correct that Jamal al-Harith was released from Guantánamo Bay at the request of the British government in 2004," he said. "This followed a massive media and parliamentary campaign, led by the Daily Mail, the very paper that is now supposedly so outraged at his release, and strongly supported by the then Conservative opposition."

The former prime minister also chose to single out a headline, which he attributed to the Mail, entitled "Still think he wasn't a danger, Mr Blair? Fury at Labour government's £1m compensation for innocent Brit." An article under virtually the same headline was also published by the Sun.

"The Mail headline shortly after he was released after months of their campaigning was Freedom at last for Guantánamo Britons'. They then quoted with approval various human rights activists saying, 'Clearly by what's happened they're not bad guys, they are entirely innocent'."