The BBC reports that North Lanarkshire is planning to shed over 1,000 jobs over the next two years, as part of a drive to find £68 million worth of savings from the council budget.
I think it's worthwhile pointing out that the senior figures in the council are, by and large, the same ones who presided over a controversial performance bonus scheme for chief officials which earned the highest paid employees in North Lanarkshire an extra £2 million during the period 2002 to 2014.
And I'm very proud to say that I played a significant part in bringing this scandalous scheme to an end.
North Lanarkshire Council proposing to axe 1,095 posts



BBC Glasgow & West Scotland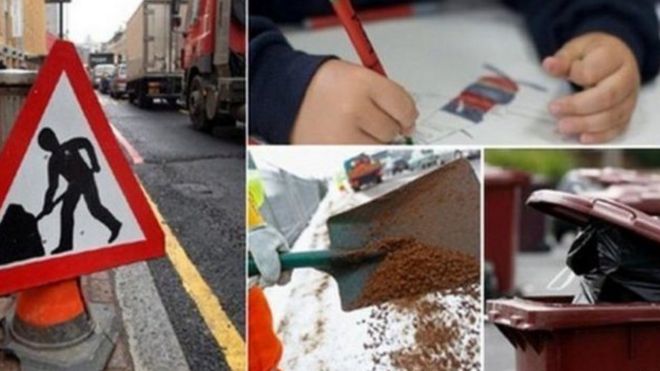 Image caption - North Lanarkshire Council is to consult with the public, staff and unions on its savings proposals

North Lanarkshire Council has outlined proposals to cut 1,095 full-time posts in a bid to save £68.3m over the next two financial years.

Councillors will be asked next week to accept measures to save £22.7m - resulting in 23 post reductions.

They will also be asked to approve a consultation on savings of £45.6m, resulting over 1,000 post closures.

The council warned of "consequences for the vital services" and said it would look to avoid compulsory redundancies.

Council leader Jim McCabe said: "We continue to face a real-terms cut in the money made available to us by the Scottish government and so we have no choice but to find more savings on top of the £110m we've been forced to save in the last five years.

'Not decisions'

"Many of the options to save this kind of money are extremely unpalatable and will have real consequences for the vital services we provide to the people of North Lanarkshire.

"They will also have a real impact on our employees, who work so hard to provide those services."

Councillor McCabe said that if the consultation on cuts was approved it would run throughout November, with feedback provided in January to councillors before the budget was set in February.

He added: "It's important to stress that these are options for consultation and not decisions.

"Those will be made once we have analysed all the feedback from residents, employees and trade unions.

"We are committed to avoiding compulsory redundancies and will do everything we can to deal with reductions in staffing through voluntary redundancy, early retirement and redeployment."

Councillor McCabe also said that the authority was "committed to ensuring that we are still able to protect the most vulnerable people in our communities".