Rob Marchant from Labour Uncut sets out a powerful case against Jeremy Corbyn's appointment of Ian Lavery as Labour elections coordinator
.
The big skeleton in Lavery's closet is that he received significant redundancy payments from the NUM even though he resigned his post to become a Labour MP in addition to receiving a mortgage loan which was written off instead of being repaid.
The whole business sounds extremely odd if you ask me and reminds me of the Len McCluskey £400,000 loan from Unite which the union claims is about helping Len live in London - even though he's been based in London for the past 26 years.
The Times cartoonist Peter Brookes portrayed Team Corbyn as a flock of angry seagulls recently - and that's good enough for me.
http://labour-uncut.co.uk/2017/02/17/ian-lavery-should-not-be-labours-elections-coordinator-or-anything-coordinator-with-his-toxic-past/



Ian Lavery should not be Labour's Elections Coordinator. Or anything coordinator, with his toxic past



By Rob Marchant -- Labour Uncut

Since Jeremy Corybn's rise to prominence, there has been a seemingly never-ending succession of skeletons pulled out of the closets of senior Corbynites, to the delight of Tory press officers everywhere.

There was the relationships of Corbyn himself with Holocaust denier Paul Eisen, and with Hamas terrorists; John McDonnell's outspoken pro-IRA stance; the support of a motion supporting denial of the Kosovo genocide by both; the suspension and reinstatement of MP Naz Shah over anti-Semitic remarks; the suspension of Momentum vice-chair Jackie Walker over the same; the well-known Stalin apologism of Corbynites Seumas Milne and Andrew Murray; and so on. Doubtless the Tories are currently holding fire on a number of the more juicy ones, keeping their powder dry for 2020.

But the connecting thread between all these embarrassments has been clear: no matter how senseless or unsavoury, they have all been essentially connected, in the minds of the perpetrators at least, to political positions.

For example, the connections with anti-Semites are always justified on the grounds that the people in question are merely anti-Israel (of course!) The IRA connection? Because they were romantic freedom-fighters, naturally, who happened to kill people. And the Stalin connection because, well, Communism wasn't all bad, was it? However dire the story, there was always some kind of contorted political justification which allowed the people involved to continue to look at themselves in the mirror the following morning.

In contrast, this was clearly not the case with Ian Lavery. Lavery is Corbyn's new Elections Coordinator and the man in charge of every set of elections, we presume, from now until Labour is inevitably decimated in 2020.

Until now he has been in relatively low-profile roles, such as Shadow Minister for Trade Unions and Civil Society, and Shadow Minister for the Cabinet Office. No, with Lavery the story was not political: it was about his questionable behaviour on a matter of simple personal ethics.

Veteran Labour blogger Hopi Sen, along with Sunday Times journalist James Lyons (£), wrote one year ago about how Lavery had received redundancy payments from the tiny trade union he led, the rump National Union of Mineworkers he took over from Arthur Scargill, over a period of years. And a loan that has no evidence of ever being repaid.

They related how, among fact-finding missions to the Caribbean and India by his cronies, the £1.6m compensation payments paid to the union on behalf of invalided-out miners had been frittered away to a fraction of their original levels. Nearly £800k of it was paid directly to Lavery in remuneration, pension and car allowance. And that is not to mention a somewhat unusual £75k mortgage loan, which was later very kindly written off by the union (Lavery declined to give the names of the relevant trustees at the time). And later £62k redundancy costs, even though Lavery resigned (thus rendering himself, one presumes, ineligible for redundancy).

Lavery had no satisfactory answers to the questions raised by Sen and Lyons. And that seems to be because there exist no satisfactory answers. There are now at least two investigations being carried out into Lavery, which have yet to report. In short, there are very serious questions to answer by the former General Secretary, regarding the use of funds deriving from sick miners, who gave their money to the union in good faith.

What is fascinating is to think about what must have passed through Jeremy Corbyn's mind on the subject, as he promoted Lavery last week.

There are three possibilities.

One is that he knows but does not believe it. He genuinely thinks that this is some kind of dastardly smear by the Tory press, the "fake news" that he claimed last week to the BBC was currently running wild in Britain. This would represent a deeply worrying, quasi-Trumpian level of self-delusion, but it is better than the other two options.

The second is that he genuinely does not know about the story. This would mean that his staff, or his whips, who must surely know about the story and are honour bound to advise him, are actively hiding it from him. He is living in a bubble, where he is kept in the dark about important information. It is inconceivable that this could have happened in previous Labour governments, where information travelled like lightning and action was taken swiftly (and often brutally) in the case of damaging revelations about a politician. That is your job as a party staffer: alert the Leader's Office to anything cancerous before the party itself is tainted by association.

The third possibility is the worst: that he knows and does not care. He thinks that these things happen and it's not really worse than a lot of other things that politicians have done. One would like to think that Corbyn, for all his flaws, is not yet so cynical as to be in this category.

Whatever the reason, the fact remains that a person with a very serious claim to having brought the party into disrepute, if found guilty – on a non-political matter of pure ethics – is now in a key position. Perhaps his loyalty to Corbyn and the hard-left cause is thought more important than anything else. All for one and one for all, and all that.

But it is clearly debatable whether or not he should have been allowed to continue holding the whip as an MP while these investigations took place, let alone be put in a key role with regard to Labour's election-winning capability and hence its future.

Labour's leader is unnecessarily backing a grade-A hostage to fortune, who is seemingly unable to answer the most simple questions about how he made an awful lot of money from a tiny union. All the while, as Sen relates, its members saw an astonishingly small total of £6,451 spent on member benefits over two decades.

It is only an example of where Labour is right now, but it is tragically symptomatic. That is, it is difficult to describe the depths to which a political party has to fall in order not to take action in a case like Lavery's. But we are there already. And the good name of our party is an asset which, once damaged, will take a long, long time to rebuild.

If that is even possible at this point.

Rob Marchant is an activist and former Labour party manager who blogs at The Centre Left
Team Corbyn
I listened to Ian Lavery (Labour's elections coordinator) deliver a 'warm-up' speech ahead of Jeremy Corbyn appearing on stage to launch the Labour Party's election manifesto.
Now I don't know Mr Lavery, but he sounded like a poor man's Arthur Scargill to me full of angry and windy rhetoric about the great sacrifices made by previous generations of Labour supporters.
I've heard this kind of 'standing on the shoulders of giants' speech
more times than I care to remember, but Ian Lavery brings a whole new meaning to this slogan when you consider the circumstances under which he left his job at the NUM (National Union of Mineworkers).
If you ask me, someone who leaves their job to become a well paid Member of Parliament is not entitled to a redundancy payment because they are resigning from their post voluntarily - so why do they need or deserve a huge sum of NUM members' money.
Yet one one Jeremy Corbyn's key supporters thought it was OK to accept a £140,000 payment from a largely defunct union with very few active members given the decline of the mining industry.
Team Corbyn (18/03/17)

Ian Lavery is a big Jeremy Corbyn supporter who was promoted to the role of election coordinator recently after yet another shadow cabinet reshuffle that was forced upon the Labour leader because the vast majority of MPs have no confidence in him.
The standards watchdog at Westminster has required Ian Lavery to apologise to the House of Commons over his failure to disclose benefits from his previous employment as general secretary of the National Union of Mineworkers (NUM) for the Northumberland area from 1992 until 2010.
But the real story is that Ian Lavery received £140,000 in redundancy payments even though he resigned from this job to take up a more lucrative position as a Labour MP.
On top of that Ian Lavery received a cheap mortgage from the NUM which by that time had a tiny membership and even more incredibly this subsidised mortgage was mysteriously written off.
Read the reports below from the Politics Home web site and the BBC, but if you ask me there are remarkable similarities between Ian Lavery and Len McLuskey, another big Corbyn fan who regards himself as a left-wing socialist.
https://www.politicshome.com/news/uk/government-and-public-sector/news/84311/labour-mp-ian-lavery-cleared-wrongdoing-over?
Labour MP Ian Lavery cleared of wrongdoing over subsidised mortgage
By Sebastian Whale - Politics Home
Labour MP Ian Lavery has been cleared by the parliamentary watchdog over allegations he failed to register benefits received from his previous union employer.

Ian Lavery at the 2016 Labour party conference - Credit: PA Images

The Parliamentary Commissioner for Standards refused to uphold claims by Tory MP Paul Scully that Mr Lavery should have published redundancy payments and the terms of a mortgage on his property.

But the probe did find two instances where the shadow Cabinet Office minister breached the MPs' code of conduct by failing to declare a relevant interest.

Mr Lavery has agreed to make an apology to the House of Commons for the breaches, which the commissioner said would be an "appropriate outcome" following the investigation.

The Labour frontbencher was general secretary of the National Union of Mineworkers (NUM) for the Northumberland area from 1992 until 2010, when he stood down and was elected MP for Wansbeck.

According to documents seen by BBC Newsnight last year, Mr Lavery received a £72,500 mortgage in 1994 from the union's benevolent fund, repayable at less than half the market interest rate.

He also allegedly received around £140,000 in redundancy payments from the union.

The Standards commissioner found that Parliament's rules in 2010 had not been "sufficiently explicit" for Mr Lavery's failure to register the redundancy payments to constitute a breach.
Mr Lavery received redundancy payments in instalments until May 2013.
Further, the probe found that Mr Lavery's mortgage had terminated three years before he became an MP so it was not considered a registrable benefit.

But elsewhere in the investigation, the commissioner considered whether Mr Lavery should have noted in the Register of Members' Interests that the NUM had held a 15% of share in his property until May 2013.

The commissioner concluded that under the circumstances it was a registrable benefit under the Miscellaneous Category.

It also found that Mr Lavery should have declared a relevant interest when tabling a Written Question in March 2013 about the future of the deep-mine industry.

"Mr Lavery has acknowledged his two breaches of the rules and of the Code of Conduct, and he has agreed to make an apology to the House for them," the commissioner wrote.

"Subject to him doing so, I consider that to be an appropriate outcome and have concluded my inquiry under the rectification procedure."
Mr Lavery denied any wrongdoing when the allegations surfaced in April 2016.
Labour MP Ian Lavery denies wrongdoing over NUM mortgage
By John Sweeney & Ed Brown - BBC Newsnight

BBC UK Politics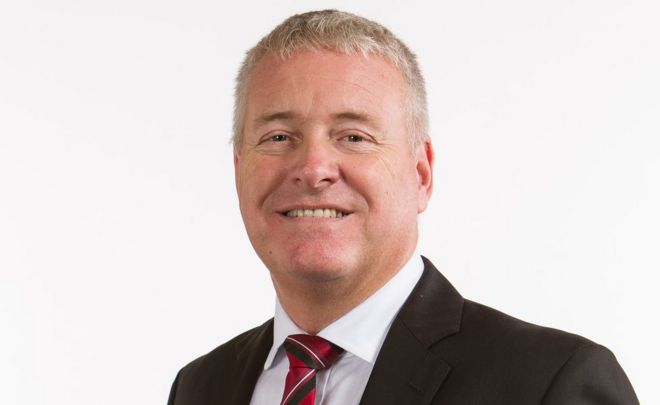 Image copyright - LABOUR PARTY

Labour's trade union spokesman Ian Lavery has denied any wrongdoing after BBC Newsnight learned he received a heavily subsidised mortgage.

The mortgage was from the benevolent fund of the National Union of Mineworkers in Northumberland.

Mr Lavery was the general secretary of that union from 1992 to 2010, and also faces questions about redundancy money he received when he left.

He says the mortgage was a "private" matter and denies any impropriety.

In total Ian Lavery faces questions about £250,000 of payments the union's books suggest he received from the NUM, Northumberland Area during his period there.

Newsnight has established that Mr Lavery received a £72,500 mortgage in 1994 from the union's benevolent fund repayable at less than half the market interest rate.

On Tuesday, he refused to comment on whether the outstanding mortgage had subsequently been written off by the union. "The union and myself came to a financial agreement in 2007 with regards to the mortgage which will remain private between myself and the union."

Mr Lavery stepped down as general secretary of the Northumberland Area in 2010, taking over from Denis Murphy as MP for Wansbeck. Mr Murphy took over the running of the union which now has just six members.

During Mr Lavery's tenure as general secretary, more than half of the union's £2.5m income came from sick former miners who the Union helped with compensation claims and who donated a portion of their payments to the union.

Mr Lavery has already faced questions from the Sunday Times about what appear to be more than £140,000 of redundancy payments to him, as well as about why he received a mortgage from union funds.

He has been referred to the Parliamentary Standards Commissioner by a Tory MP for alleged impropriety over his redundancy.

Newsnight has established that the "sweetheart" interest rate on the mortgage provided by the union's Provident and Benevolent fund - just 3% compared to market rates of around 8% - would have saved Mr Lavery thousands of pounds in interest payments over the life of the mortgage.

However, Newsnight has also identified a sum of £109,911 written off in the union's books in 2007. This is almost exactly the figure Mr Lavery would have owed on the £72,500 mortgage if he had made no, or very low, payments over the 13-year period.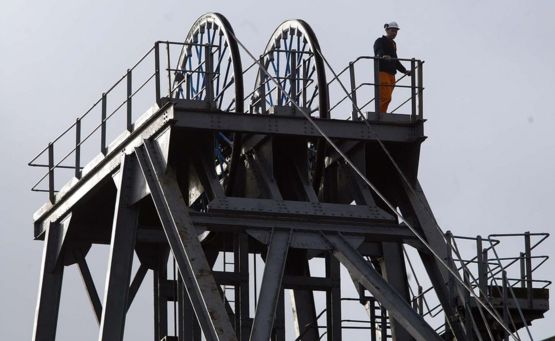 Image copyrightPAImage captionEllington Colliery in Northumberland just before it closed in 2005

On Tuesday he refused to say whether any of the mortgage had been written off insisting he had absented himself from any discussions regarding the mortgage and behaved in a proper manner throughout.

He said: "The NUMNA accounts were professionally audited and accepted by the Certification Officer on an annual basis," adding, "I refute any allegations of financial irregularities."

A second puzzle relates to Mr Lavery's redundancy. He acknowledges he received £62,000 in redundancy payments but insists he doesn't recognise a second payment of £85,426, logged on the union's books in 2013.

He said: "The £85,000 which you keep referring to as a mystery payment, that is something that the accountants will have come up with. I'll tell you three times, four times, five times, I don't recognise that payment."

But the payment is recorded in 2013 as "past general secretary redundancy costs". Mr Lavery started at NUMNA in 1992. His successor, Denis Murphy, took over in 2010 so the phrase "past general secretary redundancy costs" appears, on the face of it, to apply to Mr Lavery.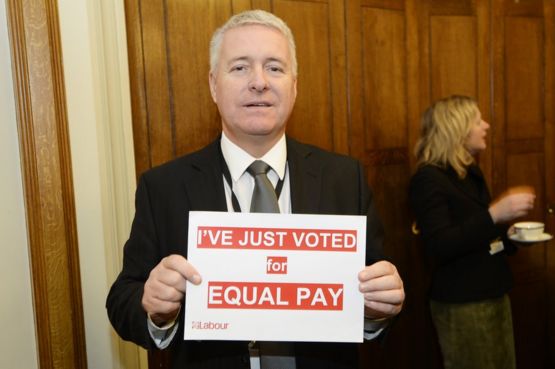 Image copyrightGETTY IMAGES

Britain's wealth was, once, powered by coal - but miners paid a heavy price in ill-health. The government set up a compensation fund for miners suffering lung disease and other illnesses which has paid out more than £4 billion.

Mr Lavery, a former miner himself, is proud of his union's success at winning compensation for its members. On their compensation forms, miners could tick a box to gift a fraction of their money to the union.

The last pit in Northumberland closed in 2005 and it now boasts just six members but gifts to the compensation fund kept the union afloat. Donations from former miners amounted to more than £1.6m over the period of Mr Lavery's tenure.

In response to Newsnight's story, Mr Lavery issued the following written statement: "For the record, I am immensely proud of the fact that the National Union of Mineworkers (Northumberland Area) were able to gain rightful compensation for tens of thousands of miners, former miners and their families.

"The government and the industry were vehemently opposed to paying compensation for industrial diseases but the National Union of Mineworkers were ultimately successful. Thousands of miners received the compensation they deserved because of the time, effort and commitment of the NUM and its officials, who brought test cases that were opposed at every turn.

"It is estimated that more than £4 billion nationally - and tens of millions of pounds in Northumberland alone - was paid out in the form damages for those who had worked in the coal industry.

"I am incredibly proud of the role I played in achieving this on behalf of former miners who would have been left high and dry without the work the NUM carried out on their behalf. I simply refute out of hand any suggestion of financial impropriety."
Len Has No Answers (22/02/17)

According to the report below from Politics Home Len McCluskey is complaining at being called out over his £400,000 loan from Unite members to help his buy a swish new pad in central London.
Now relocation schemes for employees moving to London are commonplace, of course, but Len has worked and lived in the capital for 26 years and as Gerard Coyne fairly points out:

"Len McCluskey has had not one but three home loans during his time at Unite. Other senior union officials have had similar large benefits. I will end this practice because I don't believe that union bigwigs should get perks that the members who pay our wages don't receive."

Good for Gerard Coyne and doesn't McCluskey sound just like Jeremy Corbyn with his terrible whining about the 'right-wing' media.
https://www.politicshome.com/news/uk/work/trade-unions/news/83539/len-mccluskey-accuses-unite-rival-smears-and-lies-general?
Len McCluskey accuses Unite rival of 'smears and lies' in general secretary election
By Kevin Schofield - Politics Home

Len McCluskey will today accuse his Unite leadership rival of peddling "smears and outright lies" in the increasingly ill-tempered election campaign.
Len McCluskey is aiming for a third term as Unite general secretary.
Credit: PA Images

The veteran left-winger will also say Gerard Coyne has been "skulking behind slurs and using the right wing media to demean our union" ahead of the crunch vote.

Mr McCluskey's outspoken comments come just days after Mr Coyne dubbed him a "greedy boss"over a £400,000 deal to help him buy a flat in central London.

Len McCluskey slammed for wrongly claiming factory employing Unite workers had closed

Len McCluskey in fresh blast at Unite rival Gerard Coyne

EXCL Blow for Len McCluskey as he fails to win backing of key Unite group

Momentum urge members to join Unite to vote for Len McCluskey

The "shared ownership" arrangement with Unite enabled Mr McCluskey to purchase the £700,000 property in a fashionable part of central London last year.

But Mr McCluskey - who is seeking his third term as the union's boss - will hit back in a speech to supporters in the West Midlands, where Mr Coyne is Unite's regional secretary.

He will say: "I am incredibly proud to have received the nominations of so many branches in the West Midlands, and over 1,000 Unite branches across the UK representing members working in all sectors of the economy.

"It is the best validation from members, because it demonstrates they approve of what I am doing for Unite and want the union to carry on in this vein – proud, democratic and independent of outside interference.

"Members and the reps working hard on their behalf, day in and day out, don't recognise the smears and outright lies that my opponent Gerard Coyne is peddling.

"My support reflects that they want a general secretary leading from the front on the issues that matter to them, not skulking behind slurs and using the right wing media to demean our union."

Unite insist that equity share schemes like the one they agreed with Mr McCluskey over his flat are commonplace, particularly for trade union officials moving to London, that they are properly authorised and generate large profits once the properties are sold.

But Mr Coyne said: "Len McCluskey has had not one but three home loans during his time at Unite. Other senior union officials have had similar large benefits. I will end this practice because I don't believe that union bigwigs should get perks that the members who pay our wages don't receive.

"I find it offensive. And to be honest I find it remarkable when I hear Len McCluskey talk about greedy bosses on the TV and radio. The truth is the man who talks about greedy bosses is a greedy boss himself."

A spokesman for Mr McCluskey said: "This is a shared ownership arrangement. Len McCluskey has not received a loan from the union, the union has invested in property. The property will be sold when Len McCluskey leaves employment and the union will make a profit for its investment. The arrangement is entirely transparent and fully authorised."