GQ Magazine scored a bit of a coup after landing an interview with Labour's deputy leader Tom Watson, conducted by no less a figure than Alastair Campbell.
Tom and Jeremy were both elected at the same time, in the wake of Labour's catastrophic 2015 general election defeat and the slogan behind the town men reads:
YOUR CHOICE.
SHAPE THE FUTURE.
Yet the GQ interview revels that Tom Watson (who was elected deputy leader in his own right) is not on Jeremy Corbyn's strategy committee and doesn't even know who the members are.
As Alastair Campbell says - "What? That's incredible."
You can say that again and it's further evidence that Labour's high command is looking more like the Keystone Cops with every day that passes.
TOM WATSON'S TROUBLED RELATIONSHIP WITH JEREMY CORBYN
Read a preview of our interview with deputy
Labour
leader Tom Watson in the latest issue of GQ, conducted by our arch interrogator
Alastair Campbell
Tom Watson is not on Labour leader Jeremy Corbyn's strategy committee

Tom Watson: I am not on his strategy committee.

Alastair Campbell: Who is then?

I don't know.

What? That's incredible.

That is how he is going to lead. That second election means he is the established leader. I am in the NEC (Labour's National Executive Committee) and in the shadow cabinet but nobody should be in any doubt it will be his manifesto. He will lead in developing those policies and I will support him...

Tom Watson thinks Jeremy Corbyn will lead the party at the next election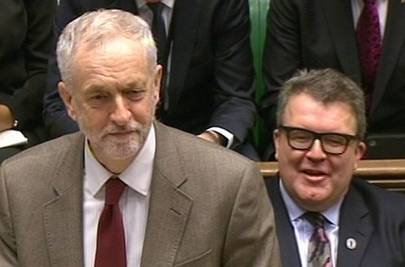 Photography by PA

Is it settled Corbyn will lead the party at the next election?

Yes.

Is that a good thing or a bad thing?

It doesn't matter; that is the situation. I made my position clear, gave private counsel, based on the fact it was difficult to lead without the confidence of a majority of MPs, but he took a different view, the membership backed him and we have to respect that.