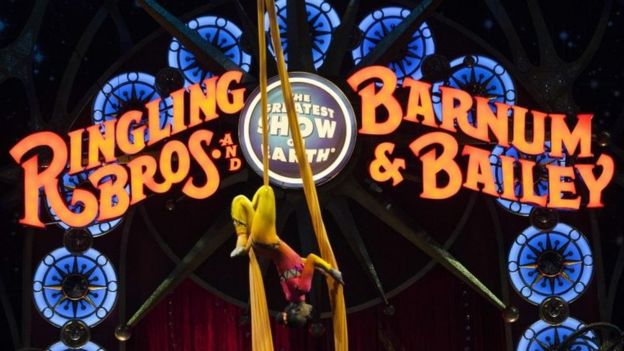 The news that the Ringling Brother circus is closing down gives me an opportunity to post one of my favourite songs of all time - The Human Cannonball by Loudon Wainwright III.
Read the full report below from the BBC.
Ringling Bros circus to close 'Greatest Show on Earth' after 146 years
BBC
US & Canada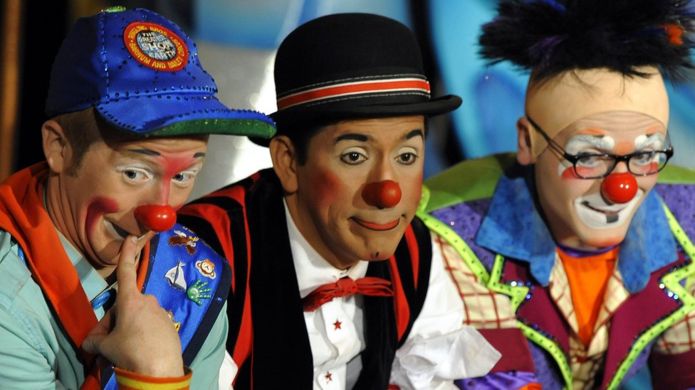 Image copyright - AFP/ GETTY IMAGES Image caption - The circus will hold its final performance in May

The curtain is coming down on the most celebrated circus in the US, the "Greatest Show on Earth", run by Ringling Brothers and Barnum & Bailey.

After 146 years in the business, the owners said declining tickets sales and high operating costs were to blame.

Activists who campaigned for decades against the travelling circus's animal acts welcomed the news.

The circus was well known for its hyperbolic slogan, which inspired an Oscar-winning film.

"After much evaluation and deliberation, my family and I have made the difficult business decision that Ringling Bros and Barnum & Bailey will hold its final performances in May," said a statement from Kenneth Feld, CEO of Feld Entertainment, the family business which has run the circus since the late 1960s.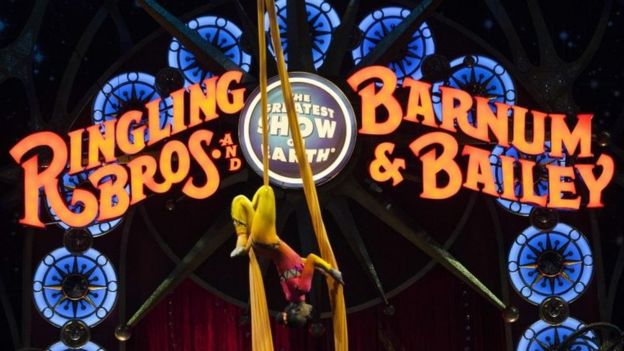 Image copyrightAFPImage captionThe world-famous circus has performed to millions of fans during its 146-year reign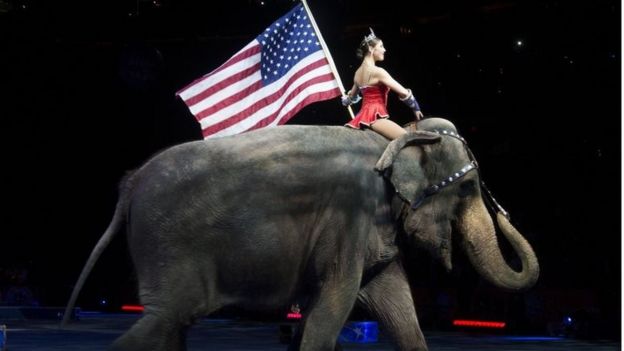 Image copyrightAFPImage captionThe company says the decision to retire its elephants last year may have affected ticket sales

However, animal rights group Peta released a statement, saying the closure "heralds the end of what has been the saddest show on earth for wild animals, and asks all other animal circuses to follow suit, as this is a sign of changing times".

In May 2016, after years of legal battles with activists, the circusstopped its elephant shows and sent the animals to live at a conservation centre in Florida.

The circus troupe, including its animals, appeared in the 1952 film The Greatest Show on Earth.

Produced by Cecil B DeMille, the film won two Oscars, including best picture.
Fat Clown (09/01/17)

I am grateful to the reader who got in touch yesterday to suggest an alternative 'fat clown' image for my Glasgow Humour post from 7th
January
.
Now it's not my
normal
practice to comment on people's size or body shape.
But given Donald Trump's crude comments about women over the years and his ghastly behaviour during the American presidential campaign, I think he's what you could call 'fair game'.
Glasgow Humour (07/01/17)

The BBC reports on the trial of two men accused of attacking a journalist at his home in Glasgow and while the incident itself is not remotely funny, I had to laugh at the sheer of Russell Findlay for mocking his assailant with the words:
At one point I said' Why did they send a fat clown like you as a hitman. Is this alI I'm worth."
Now that's Glasgow 'gallows' humour for you at its very best, especially in the face of such adversity
Sun journalist tells jury of acid attack at his home



BBC Glasgow and West Scotland

The investigations editor for the Scottish Sun newspaper has told a jury how acid was thrown at his face during an attack at his home in Glasgow.

Russell Findlay, 44, was giving evidence at the trial of William Burns, 56, and Alexander Porter, 48, who deny targeting him in December 2015.

Mr Findlay said his face became hot after a man who claimed to be a postman splashed liquid on him.

He also described grappling with the man before his daughter ran for help.

As well as working for the Sun newspaper, Mr Findlay is the author of books about Glasgow crime gangs.

'Corrosive substance'

On the first day of the trial at the High Court in Glasgow, he said that he answered the doorbell at his west end home at about 08:30 on 23 December 2015.

He said a man in a red jacket, claiming to be from the Royal Mail, said he needed a signature for a package.

The journalist said that as he turned to write his signature on a form he felt a liquid splash onto the right side of his face.

This was followed by a bottle flying past and then the man, whom he identified in court as William Burns, trying to barge his way into the house.

Mr Findlay said he believed the liquid was "a toxic corrosive substance" and described fighting with the man.

Mr Findlay told the court that his attacker managed to get two or three feet into his home, but he bundled him outside and they grappled on the area outside.

The journalist said that while the incident was going on, his 10-year-old daughter came to the door.

Daughter 'very scared'

He added: "She was clearly very scared and I shouted at her to go and get help from the neighbours and get them to call the police."

While his daughter ran to neighbour's Mr Findlay managed to hold on to his attacker.

He said: "At one point I said' Why did they send a fat clown like you as a hitman. Is this alI I'm worth."

Mr Findlay was asked if his attacker said anything and he replied: "He said very little. But towards the end I asked him who had sent him and he said 'Wee Jamie sends his regards."

The court was told that a knife was found in the doorway of his home and a set of broken false teeth were found on the driveway.

Mr Findlay was asked who the teeth belonged to and replied: "They are my assailant's false teeth."

Defence advocate Thomas Ross told Mr Findlay: "Mr Burns does not dispute he was the person at your door, but he will tell the jury there was no liquid, no delivery card, no knife."

Mr Findlay replied: "He was wearing a Royal Mail uniform , had a delivery card and threw acid, good luck with that."

The journalist denied a suggestion that he had phoned Mr Burns the night before and the accused had said he would meet him at his home the next day.

Facial burns

It was claimed the call had been to do with the death of a man by the River Gryffe at Bridge of Weir, but Mr Findlay said he knew nothing about that.

The court heard that as a result of the incident, Mr Findlay suffered burns to the right side of his face and had blurry vision in his right eye for a number of weeks afterwards.

Mr Findlay's daughter also gave evidence by police interview and told of seeing her father wrestling with a man whom she believed was delivering a parcel.

She said: "It caused the biggest fright of my life. All I could think about was my dad. I was crying and I couldn't stop."

Mr Burns and Mr Porter, from Paisley, are alleged to have shot Ross Sherlock in a murder attempt near St Helen's Primary in Bishopbriggs last September.

Both men are also accused of assaulting Mr Findlay to the danger of his life.

They deny the charges.

The trial before Judge Sean Murphy QC continues.