BBC Two have taken some flak from the usual suspects for daring to broadcast a comedy programme which makes fun of the 'Real Housewives of ISIS'.
But I take my hat off to the performers and producers who will do more to challenge the perceptions of young girls duped by jihadi propaganda into believing nonsense about a 'virtuous' Islamic Caliphate.
The sight and sound of young women poking fun at the
oppressive
male dominated jihadi culture is priceless, if you ask me.
Best thing I've seen on TV for a long time and worth paying the licence fee for all by itself.
Something About Islam (01/01/17)

The BBC reports on the latest terrorist atrocity by the Islamic State which targeted Shia Muslims in a busy neighbourhood market in Baghdad.
Muslims are, of course, the most frequent victims of these terror attacks which are carried out by most frequently by fundamentalist Sunni Muslims who regard other religious views with hostility and contempt.
For the most part Islam is a religion of peace, as its followers claim, although it's also fair to say that Islam is the only major belief system in the world which has a big and obvious problem with its religious teachings on apostasy, blasphemy, martyrdom, fatwas and jihad.
So while the number of crazed 'Islamofascists' is small in percentage terms, Islam in many parts of the world has a long way to go before embracing a 'live and let live' outlook on life - one that upholds human rights and respects the views of minority groups.
A case in point is the report below from the Guardian about an angry demonstration in Indonesia (a Muslim majority country) demanding that the Governor of Jakarta be
prosecuted
for rejecting a verse in the Quran stating that Muslims should not be led by non-Muslims.
http://www.bbc.com/news/world-middle-east-38476807
Iraq Baghdad: 28 dead as twin bombs rip through market
BBC Middle East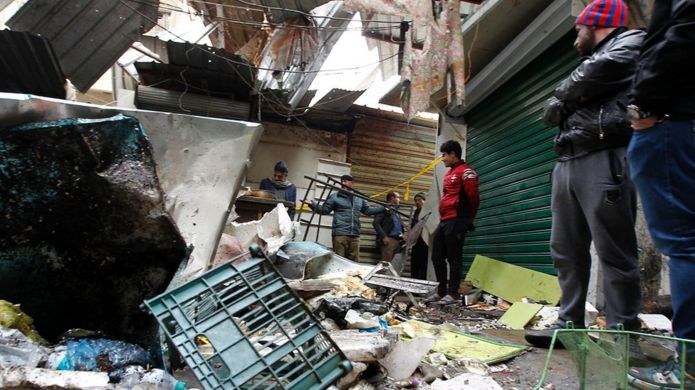 Image copyright- AFPImage caption - The blasts hit during the Saturday morning rush in a busy market area

At least 28 people have died in the Iraqi capital, Baghdad, in a double bombing claimed by so-called Islamic State (IS).

The explosions happened one after another in the busy al-Sinak market. More than 50 people were injured.

Police said a roadside bomb exploded near a car spare parts shop, then a suicide bomber detonated his device among the crowd that had gathered.

Baghdad has seen frequent attacks, often targeting Shia districts.

IS released a statement saying two of its militants had carried out the bombings wearing suicide vests.

The jihadist group is under pressure from an Iraqi army offensive further north in Mosul, the last major IS stronghold in the country.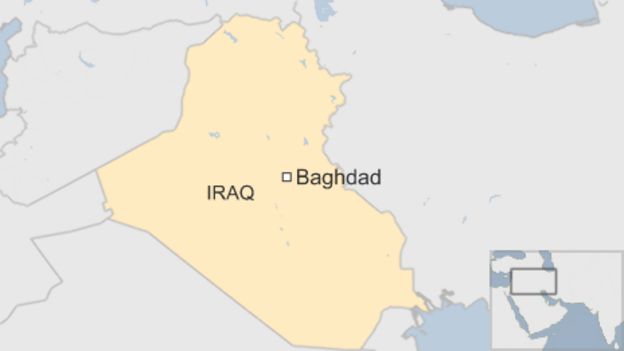 Many of the victims in Saturday's attacks worked in spare parts shops in the largely Shia area, witnesses said.

"They were gathered near a cart selling breakfast when the explosions went off," local shopkeeper Ibrahim Mohammed Ali told the AFP news agency.
Read more:

In November, 77 people including Shia pilgrims died in a truck bomb attack in Iraq, and in July 281 people died when bombers targeted a shopping centre in the country. IS claimed responsibility for both attacks.

The group took control of a large portion of northern and western Iraq more than two years ago but has since been driven back.

Iraqi security forces have teamed with Kurdish Peshmerga fighters, Sunni Arab tribesmen and Shia militiamen - assisted by warplanes and military advisers from the US-led coalition - to attempt to force IS militants out of Mosul, their last major stronghold.

The operation has been ongoing since 17 October.
https://www.theguardian.com/world/2016/dec/27/indonesia-court-blasphemy-trial-ahok-jakarta-governor
Indonesian court gives go-ahead to blasphemy trial of Jakarta governor Ahok



Basuki Tjahaja Purnama has denied he intended to insult the Qu'ran while campaigning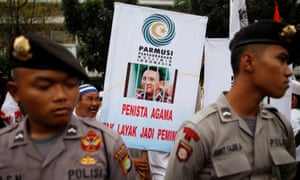 A Muslim protester holds a banner during a rally outside a court during a controversial blasphemy case against Jakarta's Christian governor. Photograph: Darren Whiteside/Reuters

An Indonesian court will proceed with a controversial blasphemy trial against Jakarta's Christian governor, who is accused of insulting the Qur'an, a judge said on Tuesday.

The case is seen as a test of religious freedom in the Muslim-majority nation.

A panel of judges rejected a call by lawyers defending governor Basuki Tjahaja Purnama, who is known by his nickname Ahok, to strike down the case because it had violated the ethnic Chinese politician's human rights and breached procedures.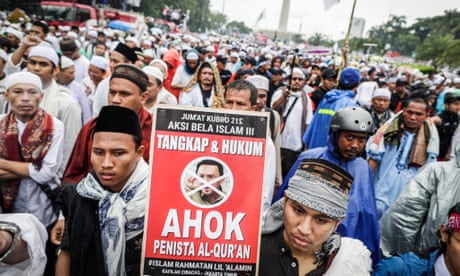 Jakarta governor Ahok's blasphemy trial: all you need to know

"The exception by the defendant will be considered and decided by the court after examination of all evidence. The defendant's exception is not accepted," said judge Abdul Rosyad.

A tearful Ahok denied at his first hearing on 13 December that he had intended to insult the Qur'an while he was campaigning ahead of elections in February for the governorship of Jakarta, capital of the world's largest Muslim-majority nation.

Ahok angered religious conservatives after he referenced a verse from the Islamic holy book, Al-Maidah 51 of the Qur'an, rather boldly telling voters they should not be duped by religious leaders using the verse to justify the claim that Muslims should not be led by non-Muslims.