Jeremy Corbyn boasted recently that Labour is up for the fight if a general election is called any time soon.

Now whether Jezza had too much sherry in his Xmas trifle I don't know, but he was widely reported in the media as telling the Tories to 'bring it on' with the his election comments:
"We've got more members than we've ever had before, we've paid off all our debts to the party, we don't have any mortgages, we are in a very strong, organised position."
Mr Corbyn went on to confirm that Labour MPs would support a Commons motion to dissolve Parliament early.
"If there's a vote to dissolve Parliament then obviously we will vote with it."
Now given the state of the opinion polls and Labour's poor showing in recent by-elections this is either very brave or very foolish talk.
My money's on the latter, as I think Jeremy was having a laugh, but sooner or later we shall see.
Reality Check (06/01/17)

A recent YouGov poll makes sombre reading Jeremy Corbyn and the leadership of the Labour Party

YouGov 'state of the parties' poll end of 2016: Con 39, Lab 24.

Same point in last Parliament end of 2012: Con 39, Lab 41.

Which means that Labour are now fully seventeen points behind where Ed Miliband stood in the Westminster political cycle.
Ed has his own image problems with the media as well, so there's no point in Jeremy Corbyn blaming a hostile press.
Maybe the Corbynites are not interested in winning elections, maybe they're happy at having won control of the Labour Party?
Seems that way to me, but who would have though that a Corbyn-led party could have fallen so far in such a short space of time.
Labour Rebels (05/01/17)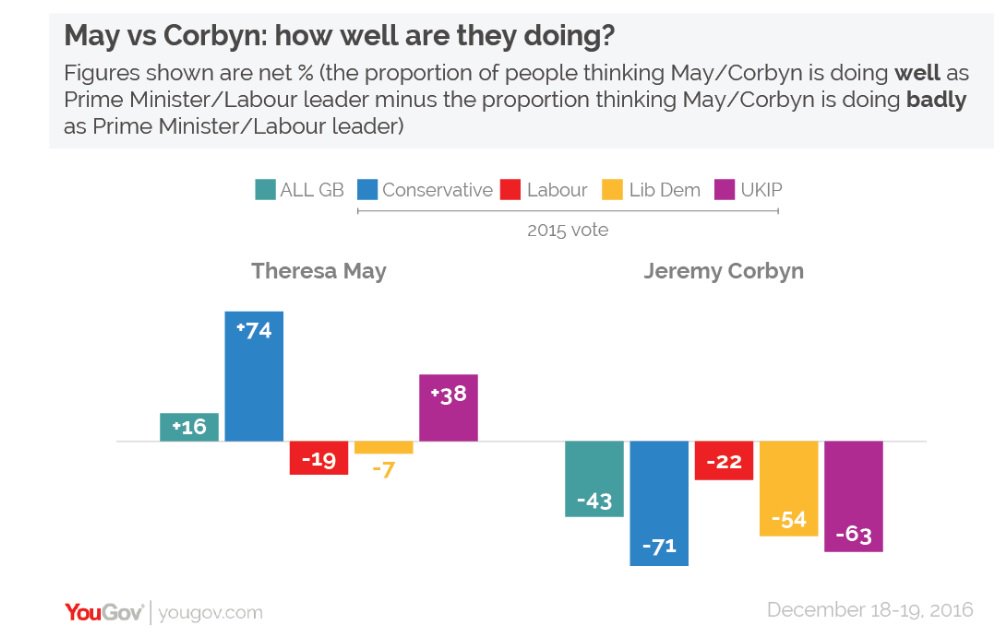 The latest YouGov poll asked the public how they thought Theresa May and Jeremy Corbyn were doing their jobs, as Prime Minister and Leader of the Opposition.
The most surprising figures are those showing that more Labour voters (22%) think their man (Corbyn) is doing badly - compared to the net number of Labour voters (19%) who believe Theresa May is doing badly.
In other words, Jeremy Corbyn can't command the respect of even Labour voters never mind the wider public.