You have to be impressed by the determination and character of the young woman, Denise Clair, who refused to accept the deficiencies of the criminal law after she had been taken advantage of and raped by two footballers.
The criminal law said there was insufficient evidence on which to proceed, yet the civil law restored some element of justice after David Robertson and David Goodwillie were found guilty after their claims of 'consensual sex' were rejected by a judge, who found the men's evidence not to be 'credible' or 'reliable'.
Now this course of action has its problems, not least because the 'victim' requires the
resources to raise a civil action in the first place and only those with significant
assets
would be worth pursuing, from the standpoint of financial compensation at least.
But if the criminal law does not protect women sufficiently, then maybe civil prosecutions will make the authorities think more carefully about what changes are needed to bring about more successful prosecutions in cases involving rape and sexual assault.
http://www.bbc.com/news/uk-scotland-edinburgh-east-fife-38651041
Footballers Goodwillie and Robertson ruled as rapists



BBC Edinburgh, Fife and East Scotland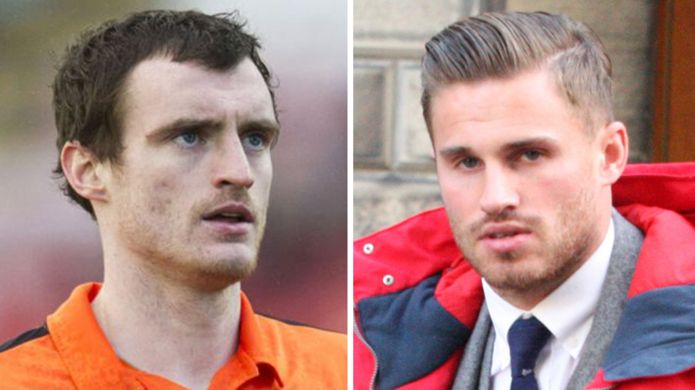 Image copyright - SNS AND CIARAN DONNELLY - Image caption David Robertson (left) and David Goodwillie had claimed the sex was consensual

A former Scotland international footballer and his ex-teammate have been ruled to be rapists and ordered to pay £100,000 damages despite never facing a criminal trial.

Denise Clair, who was left "devastated" by a Crown decision not to prosecute, sued striker David Goodwillie.

She also sued Goodwillie's then Dundee United colleague David Robertson.

She claimed they raped her at a flat in Armadale, in West Lothian, after a night out in Bathgate in January 2011.

It was the first civil rape case of its kind in Scotland.

Ms Clair, who previously waived her right to anonymity, said she could not remember what happened after being in a Bathgate bar and woke up in a strange flat the following morning.

The 30-year-old originally sought £500,000 in compensation, but damages were later agreed at £100,000 in the civil action at the Court of Session in Edinburgh.

'Persuasive and compelling'

The mother-of-one maintained she was incapable of giving free agreement to sex because of her alcohol consumption, but Goodwillie, 27, who now plays with Plymouth Argyle, and Robertson claimed that intercourse had been consensual.

A judge said: "Having carefully examined and scrutinised the whole evidence in the case, I find the evidence of the pursuer (the woman) to be cogent, persuasive and compelling."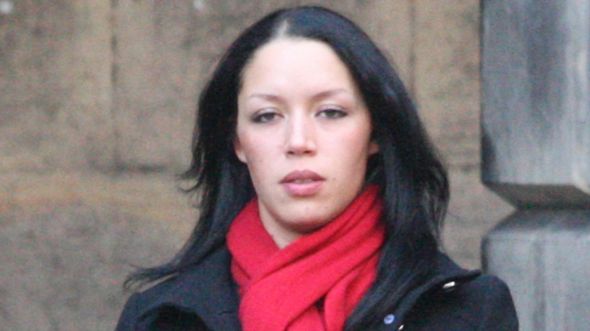 Image copyright - CIARAN DONNELLY - Image caption Denise Clair waived her right to anonymity

Lord Armstrong said: "In the result, therefore, I find that in the early hours of Sunday 2 January 2011, at the flat in Greig Crescent, Armadale, both defenders (the footballers) took advantage of the pursuer when she was vulnerable through an excessive intake of alcohol and, because her cognitive functioning and decision-making processes were so impaired, was incapable of giving meaningful consent; and that they each raped her."

The judge said he found neither Goodwillie - who also played for Aberdeen and Blackburn Rovers - or Robertson to be credible or reliable on the issue of whether they had a reasonable or honest belief that she was consenting.

He rejected evidence relied on by the players that Ms Clair was not particularly affected by alcohol and was no more drunk than anyone else in the company they had been in that night.

'Woman needed ambulance'

Lord Armstrong said that prior to the incident the victim had enjoyed life, but her life changed following the decision not to proceed with a prosecution.

Lord Armstrong said: "She found that decision difficult to understand and had felt that she had not been believed."

"She felt that her life had been destroyed by something which had happened although, because of her lack of memory, she was not fully aware of what it was that had caused that effect," he said.

Goodwillie had gone to join Robertson in Bathgate after the pair had played for Dundee United against Aberdeen on 1 January during which Goodwillie scored an equaliser.

He maintained that he did not think Ms Clair was too drunk to consent to sex.

However, a security firm employee working at the nightclub told the court that she had been in need of an ambulance.

Gayle McGregor said: "She wasn't in control of herself. Her eyes were rolling in her head. She couldn't stand up straight. She couldn't speak to me properly. She wasn't compos mentis."

In the action it was said the players offered her a lift home in a taxi, but the driver was requested to drop all three at the flat in Armadale.

A Plymouth Argyle spokesman said: "We note today's judgment from the Court of Session in Edinburgh regarding David Goodwillie.

"We await the full report, which we will consider in detail before making any comment.

"Until such time, David Goodwillie will not be selected to play for Plymouth Argyle."

The Crown Office said it stood by its previous decision not to prosecute the footballers.

A spokesman said: "As Lord Armstrong stated in his judgement, the standard of proof to be satisfied was that of the balance of probabilities which is a less onerous requirement than the standard in criminal cases, which is beyond reasonable doubt.

"Further, there is no requirement of corroboration in civil cases unlike in criminal cases.

"This case was looked at very carefully by Crown counsel who concluded that there was insufficient evidence in law to raise criminal proceedings. As a result no proceedings were instructed."
Wrong End of the Telescope (25/10/16)
The Independent reports that the legal system in Austria has made a laughing stock of itself over a recent case involving the rape of a 10-year-old boy.
The child was attacked by a 20-year-old man who claimed he was suffering from a 'sexual emergency', but instead of throwing this ridiculous defence out on its ear, the Austrian Supreme Court found that the boy may have consented to his own assault.
Now it's impossible for a child under the legal age of consent to 'consent' to their own abuse, yet the judges decide that the more serious charge (aggravated sexual assault) required them to consider what the boy's attacker believed at the time.
In other important areas of the law defendants are often told that 'ignorance of the law' is no defence in court, because they either are aware or ought to be aware that drunk driving is a serious offence, as is having sex with a minor.
In an unrelated article in The Guardian Labour MP Jess Philips argues that the sexual history of a woman ought to play no role in a rape trial, as it did recently in the successful appeal of the footballer Ched Evans.
I wrote about this myself recently and if you ask me, Jess Philips makes a very valid point -laws that have been developed by a male dominated legal profession over the years need to change because they are skewed against the alleged victims.
The Independent
http://www.independent.co.uk/news/world/europe/iraqi-refugee-raped-10-year-old-boy-swimming-pool-vienna-austria-sentence-conviction-overturned-a7377491.html
Man who raped 10-year-old boy at swimming pool in Austria has sentence overturned by Supreme Court



Judges say lower court had not established whether attacker thought boy consented to sex
By Lizzie Dearden - The Independent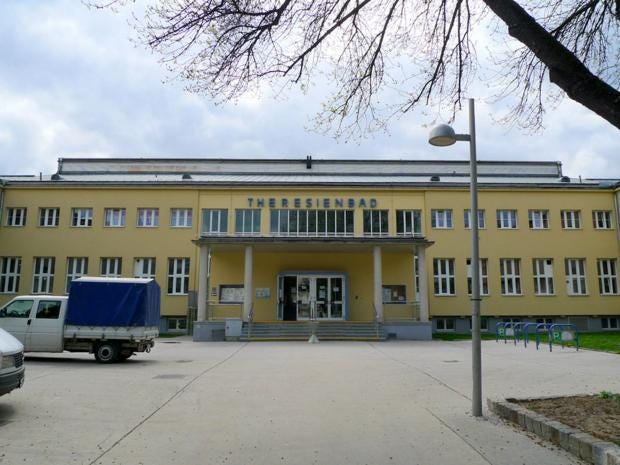 Austrian police did not initially release details of the rape, which took place on 2 December at the Theresienbad pool Thomas Ledl/Wikimedia Commons

A man who raped a 10-year-old boy at a swimming pool in Austria has had his conviction overturned after judges found he may have believed the child consented.

Police said the 20-year-old Iraqi refugee, who has not been named, assaulted his victim in a toilet cubicle at the Theresienbad swimming pool in Vienna on 2 December last year.

The child reported the rape to a lifeguard and his attacker was arrested at the scene, reportedly telling officers in initial interviews that he was experiencing a "sexual emergency" after not having sex in four months.

In June, he was jailed for a minimum of six years for rape and aggravated sexual abuse of a minor, and ordered to pay €4,700 (£3,700) compensation to the boy's family.
The Guardian
https://www.theguardian.com/commentisfree/2016/oct/24/rape-victims-trial-evidence-labour-women-ched-evans
Dredging up sexual history in court will deter rape victims – this must end now
The admission of evidence about the complainant's previous sex life in the Ched Evans case has undone years of progress. We are a group of Labour women fighting to halt any shift in the law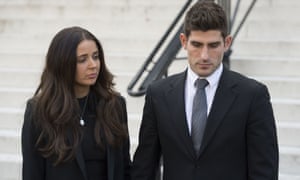 'Ched Evans was allowed a retrial on the basis that he could prove that his accuser had had consensual sex in similar circumstances and in a similar way that he alleges she behaved during his encounter with her.' Photograph: Matthew Horwood/Getty Images

This weekend I sat in a television studio while Nigel Farage to all intents and purposes cast doubt on the women coming forward to say that Donald Trump had sexually assaulted them. He suggested that it was "strange" that they were all coming forward now and not at the time – despite the fact that some did. I wanted to shout across the studio: "Women don't come forward because idiots like you say stupid stuff like that, that they are making it up for attention. You are part of the problem!" We live in a time when it is still perfectly acceptable for people to belittle experiences of sexual violence and to blame the victim; these throwaway comments trip off the tongue as easily as talking about the weather.

It is incredibly hard for a victim of rape or sexual violence to come forward. They feel shame. They are scared, and in many cases, have been groomed by their abuser to think that "no one will believe you". I have met hundreds of women and men who said: "What's the point? It will never come to anything."
I Fought the Law (19/10/16)
A cornerstone of the law in the UK is that an accused person can only be tried on the evidence uncovered during an alleged crime - their previous criminal record (if they have one) cannot be taken into account under any circumstances.
So, even if a person has a history of committing similar offences in the past, their criminal history cannot be raised in court for fear of 'tainting' the jury and the evidence they have to consider before reaching a verdict.
In the following article for The Guardian, Vera Baird (a lawyer) explores some of the legal arguments surrounding the Ched Evans case which has overturned a rape conviction solely on the grounds of the victim's sexual history.
Dani Garavelli also wrote a thoughtful piece in Scotland on Sunday the other day which you can find via the Scotsman link below.
https://www.theguardian.com/commentisfree/2016/oct/17/courts-judge-rape-sexual-history-ched-evans-case
We cannot allow the courts to judge rape by sexual history
By Vera Baird - The Guardian

The Ched Evans case threatens women's right to fair treatment in the courtroom. Battles won may have to be fought again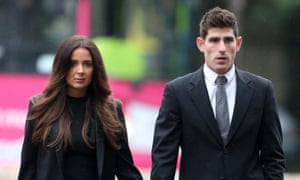 Ched Evans and his fiancee Natasha Massey outside Cardiff crown court. Photograph: Huw Evans/Rex Features

The footballer Ched Evans had much to say following his rape acquittal, and the weekend newspapers gave him a platform to say it. Now rape campaigners must come to terms with the legacy of his case. By clearing the way for two men to tell the jury they'd had sex with the complainant, the court of appeal effectively converted his earlier conviction into an acquittal. Some lawyers say this was a rare case and doubt that, as a precedent, it will affect many future cases. But other lawyers – and I am one of them – fear that rape trials could become inquisitions into the complainant's sex life.

We seem to be returning to a mindset and practices we thought were confined to history. In seeking – as we now must – to find a new way forward, it's worth recalling how we reached this point.

The fear of a complainant being confronted with evidence relating to sex with other men is, and has always been, a huge deterrent to reporting rape. In 1976 judges were given powers to prevent defence lawyers using that tactic, but the discretion they enjoyed was wide, unregulated and infrequently used. So a rape defendant could bring Mr B and Mr C to testify that the complainant had had consensual sex with them. The argument would run, she consented to me as well because she'll have sex with anyone. The two arguments – she's a tart and you can't believe a word she says – were what women, not surprisingly, feared. These were the "twin myths" that flowed from the use of previous sexual history.
The worst thing about the Ched Evans retrial was not his acquittal – though the way the case was handled raises questions about the criminal justice system – it was the wave of misogyny it unleashed among the kind of men who think women are "asking for it", and the rekindling of falsehoods about the prevalence of malicious allegations.
The outpouring of vitriol towards the woman at the centre of the case – the demands for her to be arrested, thrown in prison, "raped for real" for her "lies" – were not only a distortion of the jury's position on her reliability, but an insight into the hatred of women that flourishes in the darkest corners of society.
Some of those men blame her for "ruining" the striker's career at Sheffield United, though, she is the one whose life has been systematically destroyed. While Evans is already back playing, this time at Chesterfield, her reputation has been trashed. Illegally identified on Twitter by Evans' supporters, she had to assume a new identity for her own protection.
Sick Football Culture (15/10/16)
Ched Evans (centre), who was found not guilty of rape, listens with his girlfriend as his solicitor reads out a statement after his acquittal CREDIT:GETTY IMAGES
Oliver Brown, chief sportswriter at The Telegraph, had some harsh words for Ched Evans and his supporters following the Court of Appeal's controversial decision to overturn the footballer's conviction for rape.
"The established facts of what happened at the Premier Inn near Rhyl on the night of May 30, 2011, are sordid enough: Evans lied, as he admitted in court, to obtain the key that gained access to the bedroom, did not speak to the young woman before, during or after sex, then left the hotel by a fire exit.
"As for the impression of contrition, forget it. His statement on Friday that he "wholeheartedly apologised to anyone who might have been affected by the events of the night in question" does not square with the fact that he has stood by while a website has published horrendous character assassinations of the woman concerned. Her life, to a greater extent even than his, has been ruined. If a man such as Evans is now to be made a martyr, then the culture of football in Britain truly is sicker than we thought."
Read the rest of what is a challenging and thoughtful article via the following link to The Telegraph:
http://www.telegraph.co.uk/football/2016/10/14/team-ched-show-just-how-sick-football-culture-in-britain-is/
'Team Ched' show just how sick football culture in Britain is
BY
OLIVER BROWN
- The Telegraph


"Naturally delighted." These were the indelicate words of Chris Turner, Chesterfield's chief executive, upon hearing that Ched Evans was no longer a convicted rapist.

Quite where the notion of delight fitted into this sleazy, tawdry, deeply unedifying tale was anybody's guess, but Turner decided there was not a moment to lose in circling the wagons. "We can now all move on and focus on football."

They never learn, do they, this tone-deaf band of blazers? Cast your minds back to 2012, when Evans received the conviction that was quashed earlier this year. How do you suppose the Professional Footballers' Association responded to the news? With horror, or at least a few deftly-chosen words of censure? No, it decided to include him in its League One 'team of the season'. When Evans cropped up among the names read out at Grosvenor House that evening, the clapping continued unabated.