The Scottish and UK governments have been faffing around for weeks on the question of face masks - are they helpful or not in preventing the spread of Covid-19?
Seems to me the answer to that question is 'Yes' because everyone seems to agree that the virus is spread by coughing and sneezing either directly on to others or on to surfaces which people then pick up with their hands.
Wearing a face mask helps prevent the first problem, especially as no-one knows who has the virus for sure, whereas regular hand washing combined with not touching your face helps prevent the second way of spreading the infection via your eyes, nose or mouth.
In other words it's not rocket science and repeating this message over and over again is the most effective way of combatting the virus, along with telling everyone that face masks will become compulsory in more confined spaces where social distancing is difficult or impossible.
https://www.thetimes.co.uk/edition/news/passengers-must-wear-face-masks-and-gloves-at-three-british-airports-to-protect-them-from-coronavirus-7pqxzst8v
CORONAVIRUS
Passengers must wear face masks and gloves at Stansted and Manchester airports

Manchester Airports Group has introduced the measures to try to protect staff and passengers from coronavirus - Photo XINHUA/REX


By Charlotte Wace -
The Times
Passengers travelling through Manchester, London Stansted and East Midlands airports have been ordered to wear face masks and gloves.
Manchester Airports Group (MAG), which operates the three airports, introduced the measures today as part of efforts to protect staff and passengers from coronavirus.
It said the move was intended to make passengers "feel safer and more confident about flying". Staff will also be wearing the equipment.
The public are being encouraged to use their own supplies, but in the first days of the change those arriving without protective equipment will have gloves and masks provided.
Limited temperature screening will also be trialled at the airports in the coming weeks to test equipment. The checks will not at this stage determine whether someone can travel.
MAG said it was considering asking all passengers to make a health declaration in order to enter its airports and will give passengers sufficient notice of any such trials.
Charlie Cornish, chief executive of Manchester Airports Group, said: "It's clear that social distancing will not work on any form of public transport. But we're confident that when the time is right, people will be able to travel safely.
"MAG has been working with the rest of the airport industry on a new safety framework for travel. We now need to work urgently with the government to agree how we operate in the future. This has to be a top priority so that people can be confident about flying and to get tourism and travel going again."
He added that the group had "taken expert medical advice" on how to ensure safe travel.
The three airports are understood to be the only ones in the country telling the public to wear masks and gloves at this stage.
Heathrow announced plans this week to trial health screening technologies, including camera detection systems that can monitor the temperatures of people moving through the airport.
Gatwick Airport said it would be announcing its plans in the near future.
Scottish Government - PPE Advice (06/05/20)
Just days ago the Scottish Government was decrying the need for people to wear face masks to combat the spread of Coronavirus.
With the support of government ministers Jason Leitch, Scotland's National Director of Healthcare Quality and Strategy, was telling an anxious nation that only two categories of people should be wearing face masks"
people who are sick and show symptoms of Covid-19

those caring for people who are suspected to have the virus.
At that time Home Carers in Glasgow were told there was no need face unless one of their clients had symptoms.
But as we all know now lots of people infected with Covid-19 show no symptoms whatsoever, so how were Home Carers or anyone else expected to know who presented a risk to their health and who did not?
The same is true of relaxing the current lockdown rules and using public transport again - the danger is from carriers of the virus who show no symptoms which is why it should be compulsory for people to wear a face mask when social distancing is difficult or impossible.
So while I accept that combatting the spread of Coronavirus is not an exact science the fact is that these risks have been obvious for some time - and the Scottish Government is just as responsible as Westminster for the failure to take a much stronger lead before now.
https://www.bbc.co.uk/news/uk-scotland-52149139
Coronavirus: Why isn't Scotland advising the use of face masks?

3 April 2020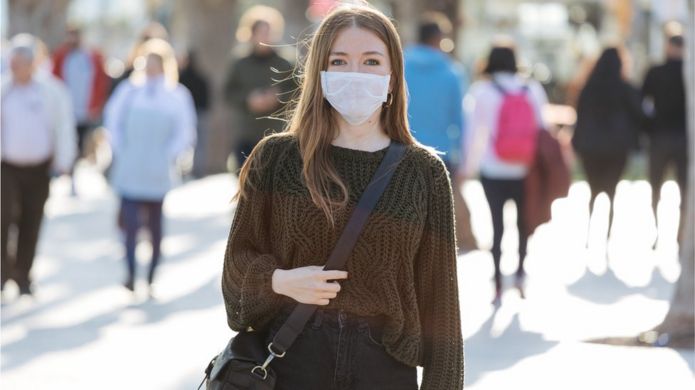 Image copyright - GETTY IMAGES Image caption - New York has become the latest place to issue advice on face masks - they are not compulsory in Scotland

With the protocol on wearing face masks varying from country to country, advice from officials has become conflicting.

New York has become the latest place to call on its citizens to cover their faces outside.

At the same time, US coronavirus taskforce co-ordinator Dr Deborah Birx raised concerns that the masks give people a "false sense of protection".

What is the advice in Scotland?

You may well see people wearing masks or face coverings while out walking or in supermarkets - but there has been no official advice to do so.

In fact, the Scottish government's national clinical director has said there is "no evidence" to support members of the public wearing protective face masks.

Prof Jason Leitch said masks should be worn by healthcare workers and people who have coronavirus.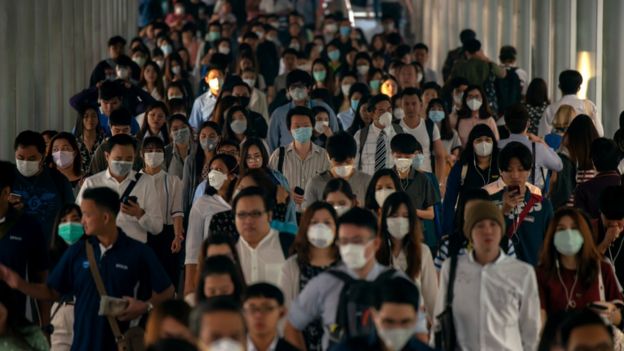 Image copyright - GETTY IMAGES Image caption - Many people in south-east Asia choose to wear face masks in public

But he said because Covid-19 was spread by droplets rather than through the air, hand-washing and social distancing were more effective for everyone else.

He said "The global evidence is masks in the general population don't work."

Prof Leitch previously told the BBC's Good Morning Scotlandprogramme: "People don't wear them properly, they're hard, they're difficult, they're uncomfortable. Masks are not fun."

Why don't they work for the general population?

Coronavirus is spread by droplets that can spray into the air when those infected talk, cough and sneeze.

These can enter the body through the eyes, nose and mouth, either directly or after touching a contaminated object.

If people carrying the virus wear masks, these droplets may be curtailed.
Prof Leitch said that face coverings were helpful for health care workers as they are in close contact with infectious patients.

However he suggested the Scottish government would not advise the general population to wear masks.

He said: "There is a cultural tradition in Asia to do it. That is principally because they have had airborne viruses in the past.

"This virus is not airborne - it has to be spread by droplets - hence the social distancing, the hand-washing.

"All of that is about keeping the droplets away from person-to-person spread.

"If this were in the air then the instructions would be very different, but it's not - so masks in the general population are not helpful."

Is there global advice?

General use of masks became increasingly common in Asia following the Sars outbreak in 2002. Now authorities in China are enforcing their use, particularly in areas of dense population such as Wuhan or Beijing.

They are also compulsory in the Czech Republic and Slovakia.

Previously people the US could go outside bare-faced, but on Thursday New Yorkers were given the instruction to wear masks as it would "help prevent them from spreading Covid-19 to other people".

Los Angeles has issued similar advice, however the federal government has not yet made recommendations for the entire nation.

Since the start of the coronavirus outbreak, the official advice from the World Health Organization has been clear.

Only two types of people should wear masks: those who are sick and show symptoms, and those who are caring for people who are suspected to have the coronavirus.
Masks On, Masks Off vs 'Do What You Want' (29/04/20)
The Scottish Government's advice on face masks is now essentially the same as Donald Trump's: officially we are in favour of 'Masks On', but also everyone is free to do what they Goddam well please.
Now I know that wearing face masks is not a substitute for hand washing, or social distancing (where possible) and that the availability of mass testing might be a game changer going forward (though not now).
But in the meantime I can't see people putting up with such a 'facing both ways' policy as public transport gets underway again, for example on busy commuter trains between Glasgow and Edinburgh or on the London Tube.
Masks are at their most effective when worn by people who are already infected because they prevent the virus being spread by unprotected coughing and sneezing.
But some people who have the virus have no symptoms, so how is anyone meant to know who's who?
Another more practical issue is where do people get these masks from because at the moment non-surgical, re-usable, washable masks made from cloth are not easy to buy?
Coronavirus in Scotland: Face coverings recommended in shops and public transport
Coronavirus in Scotland: Face coverings recommended in shops and public transport
SCOTS should consider wearing face coverings when they visit shops or use public transport to protect against
coronavirus
, the Scottish Government has said.
New guidance suggests "there may be some benefit" to coverings such as scarves in enclosed spaces.
But Nicola Sturgeon said the coverings were not being made mandatory due to the relatively weak evidence around them.
At Westminster, the UK Government's expert advisory group SAGE has come to its recommendation on the use of face masks and coverings and has handed it to Boris Johnson and his colleagues but as yet there has been no announcement of a decision. One could come later this week.
The guidance,
published on the Scottish Government website
, says: "Physical distancing, hand washing and respiratory hygiene, are the most important and effective measures we can all adopt to prevent the spread of coronavirus.
"Therefore the wearing of facial coverings must not be used as an alternative to any of these other precautions.
"The evidence on the use of face coverings is limited but there may be some benefit in wearing a facial covering when you leave the house and enter enclosed spaces, especially where physical distancing is more difficult and where there is a risk of close contact with multiple people you do not usually meet.
"Examples include, traveling on public
transport
or entering a food shop where it is not always possible to maintain a two metre distance from another customer.
"There is no evidence to suggest there might be a benefit outdoors, unless in an unavoidable crowded situation, where there may be some benefit
"As some people can have the virus but experience no symptoms (asymptomatic infection), wearing a face covering in the situations outlined above may provide some level of protection against transmission to other people in close proximity.
"However, it remains the case that anyone with symptoms and all members of their household (whether they have symptoms or not), must self-isolate and adhere to the guidance on individual and household isolation on NHS Inform.
"By face coverings we do not mean the wearing of a surgical or other medical grade mask but a facial covering of the mouth and nose, that is made of cloth or other textiles and through which you can breathe, for example a scarf.
"When applying or removing the covering, it is important that you wash your hands first and avoid touching your face.
"After each use, you must wash the face covering at 60 degrees centigrade or dispose of safely.
"Face coverings should not be used for children under the age of two years.
"We are recommending that you consider using face coverings in the limited circumstances described above as a precautionary measure.
"Given that the evidence of impact on transmission is relatively weak, the public use of facial coverings is not being made mandatory and will not be enforced at this
stage
.
"However, we will keep this guidance under ongoing review as we consider any easing of lockdown restrictions in the weeks ahead."
Meanwhile, Downing St hinted that the UK Government might soon follow suit south of the border on guidance on face coverings in public places.
The Prime Minister's spokesman said SAGE, the expert group advising Whitehall on the pandemic, had drawn up advice and this had been given to UK ministers. "Once any decision has been reached, we will announce it publicly."
Asked if the First Minister's announcement was helpful to the four-nation strategy to the outbreak and if it signalled a growing divergence of approach to it between
Scotland
and England, the spokesman said: "There have been points in the response so far where announcements have been made at ever so slightly different times but by and large we have moved forward with a single four-nations' approach.
"The devolved administrations in Scotland, Wales and Northern Ireland have all said this seems to be the case and we would agree with that and we continue to work closely with them."
It was pointed out how Ms Sturgeon had been a few hours ahead of London when she announced school closures, did that mean the UK Government would be following suit later today on the issue of wearing face coverings in public places, the spokesman was asked.
"I'm not expecting anything today, no," he replied.
Trump Is A Terrible President (06/04/20)
Donald Trump is a giant dumbass, as everyone knows, but that's still no excuse for him to be defying the advice about wearing a face mask from his own Government and medical advisers.
https://www.bbc.co.uk/news/world-us-canada-52161529
Coronavirus: Trump to defy 'voluntary' advice for Americans to wear masks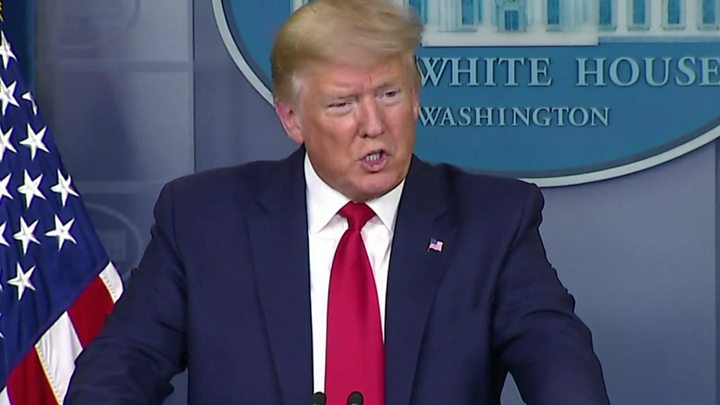 Media caption - Trump doesn't see face mask necessary behind 'the great Resolute desk'

US President Donald Trump has said he will not wear a face mask despite new medical guidance advising Americans to do so.

He could not see himself greeting "presidents, prime ministers, dictators, kings, queens" in the Oval Office while wearing one, he said.

He stressed that the guidance released on Friday was "voluntary".

"You do not have to do it," he said. "I don't think I'm going to be doing it."

The guidelines issued by the Centers for Disease Control and Prevention, the government's public health advisory agency, came as the US reported more than 1,100 deaths in a single day - the highest total for a 24-hour period anywhere in the world.

The US has so far confirmed 278,458 cases of Covid-19 and more than 7,000 deaths, according to Johns Hopkins University.

New York state remains the worst affected area, with nearly 3,000 deaths, and state governor Andrew Cuomo has appealed for help from other parts of the country.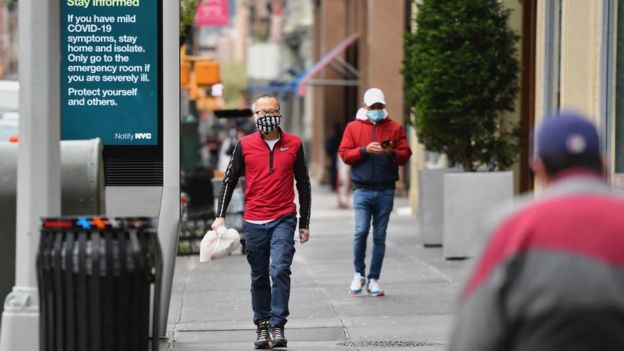 Image copyright - GETTY IMAGES Image caption - New York CIty Mayor Bill de Blasio has already recommended all New Yorkers wear facial coverings


Until now, US health authorities had said that only the sick, or those caring for patients of coronavirus, should wear masks, but newer studies suggest that covering up one's face is important to prevent inadvertent transmission.
"From recent studies we know that the transmission from individuals without symptoms is playing a more significant role in the spread of the virus than previously understood," Mr Trump said on Friday.
However, he told reporters after announcing the CDC's new guidance: "I just don't want to do it myself."
"Sitting in the Oval Office... I somehow don't see it for myself."
Americans are now advised to use clean cloth or fabric to cover their faces whilst in public. Officials have stressed that medical masks remain in short supply, and should be left for healthcare workers.
The guidance comes as the number of cases globally climbs past one million.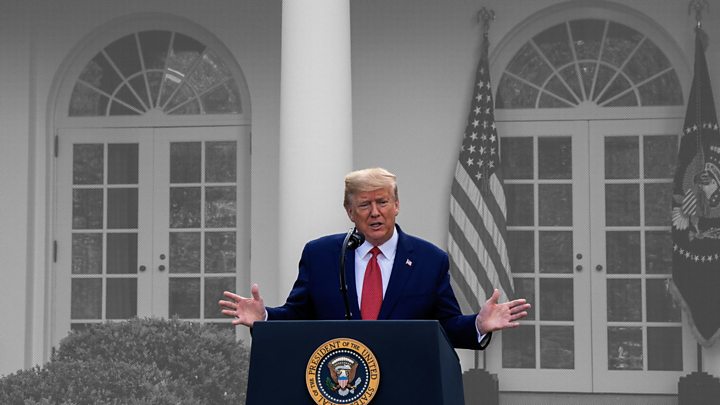 Media caption - How Trump's attitude toward coronavirus has shifted
What else did the president say?

Mr Trump announced the CDC's guidance at the White House daily coronavirus briefing, but repeatedly emphasised that the advisory was "voluntary".

"You don't have to do it," he said. "I'm choosing not to do it, but some people may want to do it and that's OK. It may be good. Probably will."

Asked why, he said: "I just don't want to be doing [that], somehow sitting in the Oval Office behind that beautiful resolute desk, the great Resolute Desk."

"I think wearing a face mask as I greet presidents, prime ministers, dictators, kings, queens, I don't know somehow I don't see it for myself. I just don't. Maybe I'll change my mind."

The president was pressed on US disease readiness, the federal government stimulus package, and whether the pandemic will disrupt the 2020 presidential election on 3 November.

Mr Trump insisted that his government's response has saved lives, and that the election will not be delayed.


The president - without a mask

Why won't the president wear a mask?

That's what I wanted to know - especially after he had laid out new guidelines by the federal Centers for Disease Control and Prevention (CDC) officials during a briefing: people should wear cloth masks when they go outside. The CDC recommendations, a list that ranges from social distancing to hand-washing, help flatten the curve, according to members of the White House task force on coronavirus.

Yet the president said he would not put on a mask: he said it would not look right for him to wear one in the Oval Office.

I thought that sounded vain, and I pressed him on the matter, asking him to explain more fully why he would not wear a mask in the midst of a pandemic.

He smiled. "I was just tested," he said. "I assume I don't have the virus so I don't have to worry about spreading it."

For him, the matter has been resolved. For many others, it has not been. They want to do everything they can to stop the disease and, unlike the president, they will put on masks.
What's the debate over masks?

Covid-19 is carried in airborne droplets from people coughing or sneezing, but there is some dispute over how far people should distance themselves from each other, and whether masks are useful when used by the public.

The World Health Organization (WHO) advises that ordinary face masks are only effective if combined with careful hand-washing and social distancing, and so far it does not recommend them generally for healthy people.

However, more and more health experts now say there are benefits. They argue that the public use of masks can primarily help by preventing asymptomatic patients - people who have been infected with Covid-19 but are not aware, and not displaying any symptoms - from unknowingly spreading the virus to others.
Masks may also help lower the risk of individuals catching the virus through the droplets from another person's sneeze or a cough - and people can be taught how put masks on and take them off correctly, they argue.

Speaking at Friday's briefing, Surgeon General Jerome Adams acknowledged that the US guidance had changed, based on growing awareness that Covid-19 can be transmitted by asymptomatic people "coughing, sneezing or speaking".

Local officials in New York City and Los Angeles had already urged residents to cover their faces when outside and near others.

And on Thursday, officials in Laredo, Texas, issued an emergency ordinance which means residents will face a $1,000 (£815) fine if they fail to cover their noses and mouths while outside.

However, there is also disagreement among experts over the benefits of using cloth masks. European advisers say reusable cloth masks are not recommended and may even increase the chance of infection.