I've been following the news coverage on Glasgow's asylum seekers in the wake of last Friday's shocking incident at the Park Inn hotel.
If you listen to some of the 'campaigners' who are inevitably drawn to these events, you would think that asylum seekers have been cruelly mistreated instead of being offered help and support while their applications are being considered.

For example, complaints about asylum seekers having only tap water to drink seem rather ridiculous to me, as is the demand for cash to be provided when most shops in Glasgow now insist on 'contactless' payments to help stop the spread of Coronavirus.

But read the BBC report via the link below and decide for yourself.


https://www.bbc.co.uk/news/uk-scotland-glasgow-west-53219494
Glasgow stabbings: Call for inquiry into asylum-seeker accommodation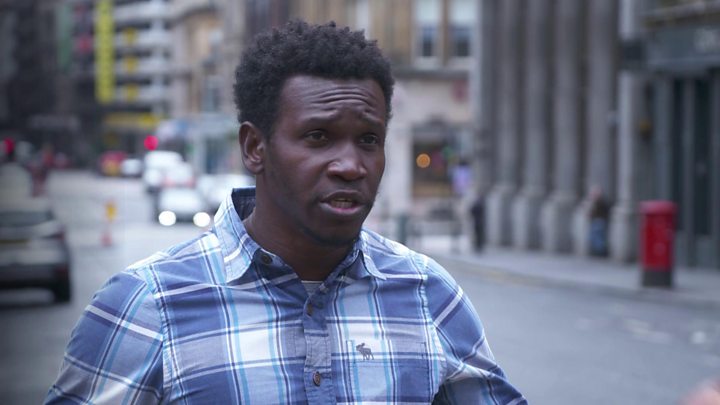 Media caption - Glasgow stabbings: Long hotel stays are "challenging'" for asylum seekers



Campaigners are calling for an independent inquiry into an asylum seeker "accommodation crisis" after an attack at a hotel in Glasgow.





Six people were stabbed - including a police officer - and the attacker Badreddin Abadlla Adam was shot dead by police in the incident at the Park Inn hotel in West George Street on Friday.





Asylum seekers had been moved there in response to the coronavirus pandemic.





The Home Office said the move to the hotel was "only a temporary measure".





Minister Chris Philip said there had been talks between the Home Office and Glasgow City Council on Monday afternoon regarding moving people into "more stable accommodation".





He also said there had not been a single confirmed case of coronavirus in respect of asylum seekers staying in hotels.





He refused to comment on the possibility of a public inquiry until the police investigation had finished.





Private housing provider Mears, which is subcontracted by the Home Office to provide accommodation for asylum seekers, said it planned to move people from hotels as soon as alternative accommodation becomes available.





PC David Whyte, 42, was critically injured in the attack but has

since spoken about the incident.



The other victims, aged 17, 18, 20, 38 and 53, all remain in hospital as of the latest update on Saturday. One of them is in a critical condition.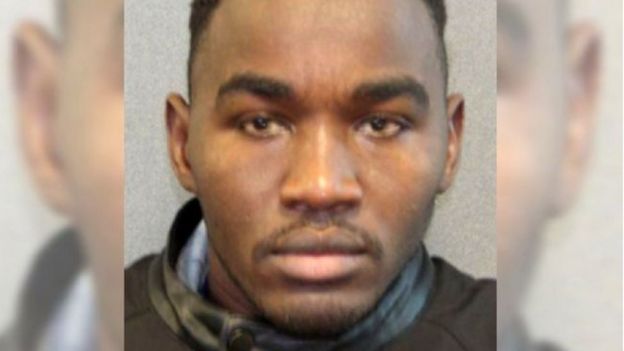 Image copyright - HOME OFFICE Image caption - Badreddin Abadlla Adam was shot dead by police after attacking six people


Positive Action in Housing was among those who raised concerns after Mears moved asylum seekers from self-contained accommodation to hotels.
A press conference held by the charity heard that some of the asylum seekers staying there were "desperate and vulnerable". The asylum seekers said many of them had no windows and no fresh air in their rooms.
They also said they had been in a dire mental health situation.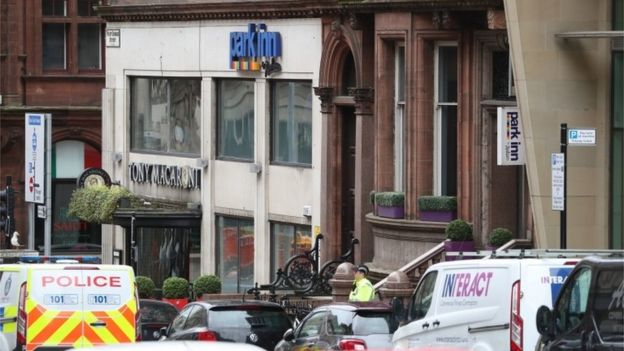 Image copyright - PA MEDIA Image caption - Asylum seekers had been moved into the Park Inn in response to the coronavirus pandemic


Andrew, a 33-year-old asylum seeker from Biafra in Africa, had been living at the Park Inn for two months. He told BBC Scotland: "People wanted to know why they were being kept this long in the hotel."
He said it was hard living without privacy and having to eat food they would not normally eat.
"I'm an African and I do normally like eating African food but I can't have that here. I just have to eat what I'm given.
He said he had heard that the attacker had made a series of complaints, that he wasn't happy with conditions in the hotel and the way he had been treated there.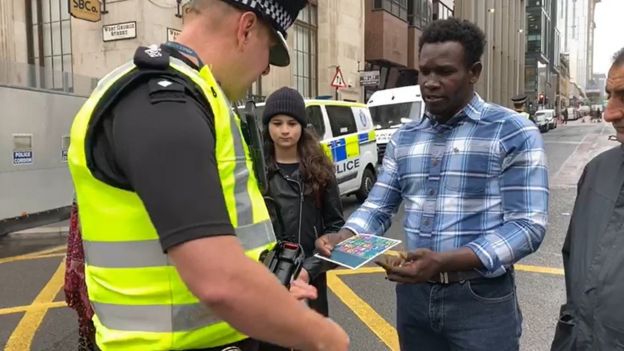 Image caption - Some of the asylum seekers have signed a card for the officer who was stabbed


Andrew handed a card over to police to be passed on to PC Whyte "as a sign of appreciation for his bravery".
At her daily briefing, First Minister Nicola Sturgeon said the Scottish government was in contact with the Home Office about the attack.
"We're considering what further lessons need to be learned from what happened on Friday," she added.
'Requires fundamental change'
When asked by the BBC's Glenn Campbell if it was a mistake for asylum seekers to relocated into hotel accommodation in Glasgow, she pointed out that these are UK government decisions.
She said the Scottish government has had concerns for some time about the conditions under which asylum seekers were sometimes living and added that discussions were being held with the UK government to look at conditions and "ensuring that there is an improvement in conditions".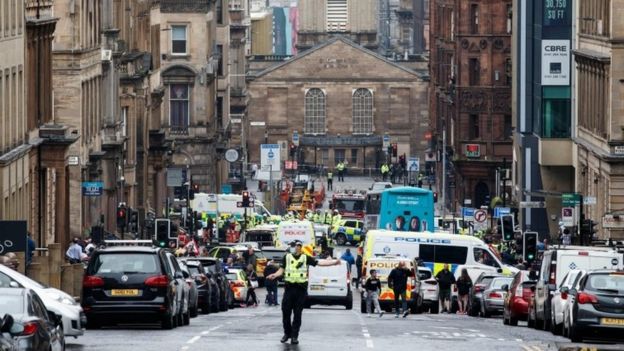 Image copyright - AFP


"I will continue to argue for change," she added. "But it requires a fundamental change and rethink from the Home Office."

'No clean air'
Positive Action in Housing director Robina Qureshi said: "We didn't know the full extent until the last few days. The fact that people didn't have access to water - they were drinking tap water from the toilets, that people were terrified of breathing air - they talked about the presence of dirty air conditioning and the virus transmitting through it, and windows not opening so there was no clean air.
"And they were talking about no social distancing in the hotel. This is the level of mental pressure they were under."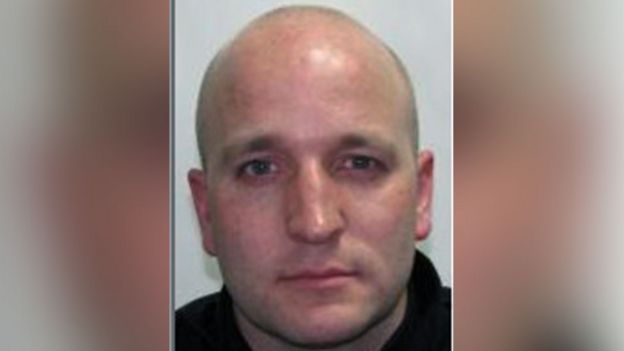 Image caption - PC David Whyte is being treated in hospital for serious injuries


Ms Qureshi earlier told BBC Radio's Good Morning Scotland programme that the asylum seekers had their allocation of £5.39 a day taken away to prevent them from catching the virus from coins.
She added: "Questions need to be asked about how a situation came about where 370 people were to be uprooted during a pandemic at the start of the lockdown when nobody was to move, non-essential travel was forbidden."
In response to questions in the House of Commons, Home Office Minister Chris Philip said: "I can confirm that it is our plan to move people out of those hotels into more regular mainstream accommodation as quickly as possible.
"That was always the intention, it was only ever a temporary measure - that applies to hotel accommodation of course in the rest of the United Kingdom as well as Scotland."
He said the move into hotels had been made because "the serviced apartments were not appropriate and not safe" during the coronavirus pandemic and said the hotels used to house asylum seekers were "of good quality".
The minister also said that every asylum seeker is subjected to a risk assessment on health and other grounds and that there were round-the-clock facilities for them to report any health or other issues.
Mr Philip added that as lockdown restrictions were eased, evictions would restart in a "careful and very phased way" but said: "Nothing will be done in a rush."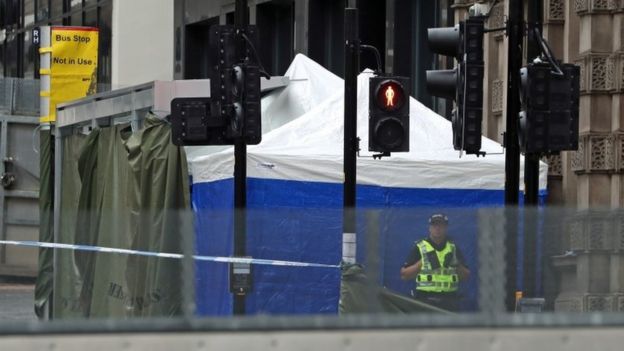 Image copyright - PA MEDIA


Mears said it continued to refer requests for comment to the Home Office, however it added in a statement on Monday: "Our thoughts remain with those in hospital and others impacted by this tragedy.
"We are doing everything we can to provide additional support to service users." Asylum seekers were moved from the Park Inn Hotel into new accommodation on Friday night.
A spokesman added: "We are providing access to additional counselling support and to essential items such as clothing. We wish to thank our staff, the police and NHS, and the charities and support groups who have assisted with the collective and significant response.
"We are assisting the police with their investigation."
A Home Office spokesman said the asylum seekers' "essential living needs and costs are being met by the accommodation provider."
Mears took over the contract in Glasgow following controversy about its predecessor Serco.
Serco had embarked on a campaign of
changing locks on flats occupied by asylum seekers
whose leave to remain in the UK had been refused.
Glasgow - No Mean City (29/06/20)
Last week's violent incident at the Park Inn Hotel in Glasgow has produced lots of sensationalised news coverage some of which seems hell bent on finding someone to blame, other than the knife-wielding attacker himself.
But a report in the Daily Record contains the following quote from one of the asylum seekers who has a very different take on things.
"The hotel was very nice. It's a good standard hotel and lovely inside. You get fed and the staff could not do more for you. One of the receptionists would say, 'Happy days' when he saw you to cheer you up. The staff were kind and always smiling.
"Scotland is a very nice country. The people are so friendly. You go to have a drink in a bar and you make friends instantly."
Read the full article via the link to the Daily Record below.
Glasgow - Actions Speak Louder Than Words (28/06/20)
Here's a heartfelt and dignified statement from Constable David Whyte who nearly lost his life in responding to the recent violent incident in Glasgow city centre.
Yet, just days earlier an admittedly small number of fellow Glaswegians were promoting the ugly, anarchist message that 'All Cops Are Bastards'.
Shameful nonsense, of course, as Constable Whyte and his police colleagues demonstrated on Friday afternoon.