While it's possible to debate whether Rod Liddle is a fully paid up member the human race, at times, there is no denying that his scabrous sense of humour often hits the nail on the head, as in this case with his assessment of Jeremy Corbyn's leadership of the Labour Party.
Read the full article via the link below to The Sunday Times.
https://www.thetimes.co.uk/edition/comment/snog-a-tory-keir-to-win-back-those-labour-voters-policies-can-wait-xpsl0mrph
Snog a Tory, Keir, to win back those Labour voters. Policies can wait

By Rod Liddle - The Sunday Times

Life continues in its predictable, humdrum fashion and then you wake up one morning and the entire world has changed. So it was last weekend when we awoke to the news that the Labour Party was no longer led by a rancid, bitter and intellectually stunted Cold War Marxist whose stewardship guided it to a position of supreme irrelevance and mass hilarity.
What on earth do we do now? The government, for example, had to adapt to the "new normal", including the prospect of prime minister's questions contested by a chap who is palpably sentient, rather than the grizzled prisoner of a hopelessly discredited ideology. Shorn from the opposition front bench were the sinister, John McDonnell; the doolally, Diane Abbott; the sanctimonious, Shami Chakrabarti; and the thick as mince, Ian Lavery.

For those who yearned for the Labour Party to continue being a convocation of single-issue dingbats, all there was to cling to was David Lammy, installed as shadow justice secretary. Britain's Jewish community will have woken up and thought: good grief, might we be able to vote Labour again?
Boris Johnson's Elephant Trap (13/12/19)
Labour, the Lib Dems and the SNP gave Boris Johnson an early Christmas present by agreeing to his call for an early general election without insisting on a democratic People's Vote over the final terms of Brexit.
The 'prize' for the SNP is a clean sweep of all seven Glasgow seats and a landslide victory across the rest of Scotland - courtesy of a discredited, unrepresentative First Past The Post (FPTP) electoral system.
But if you ask me, all of the opposition parties should be throughly ashamed of themselves for walking straight into Boris Johnson's FPTP elephant trap.


On Your Marks. Get Set. Go! (12/12/19)
Labour, the Lib Dems and the SNP all agreed to an early general election which always seems like a terribly high risk strategy to me.
Not least because the much smarter move was for the opposition parties to refuse to budge without securing the right of voters to have the final say on Brexit - by holding a democratic People's Vote between Remain and Boris Johnson's deal.
The Times cartoonist, Peter Brookes, captured the pre-election mood rather well, I thought, but we will know how things turn out later today.
A New Day Has Dawned (08/04/20)
Given all the big breaking news stories over the weekend I didn't get round to saying much about the new Labour leader, Sir Keith Starmer.
I'll get round to this in the days ahead, but I do think Starmer made a good start with his passionate commitment to get tough with the antisemitism in Labour's ranks.
"Antisemitism has been a stain on our party. I have seen the grief that it's brought to so many Jewish communities.

"On behalf of the Labour Party, I am sorry.

"And I will tear out this poison by its roots and judge success by the return of Jewish members and those who felt that they could no longer support us."
The sad truth is that Jeremy Corbyn could never have spoken these words or been taken seriously if he had promised to take such action.
Keir Starmer elected as new Labour leader
Sir Keir Starmer has been elected as the new leader of the Labour Party.

The 57-year old defeated Rebecca Long-Bailey and Lisa Nandy in a ballot of party members, trade unionists and registered supporters and will succeed Jeremy Corbyn as opposition leader.

The lawyer, who became an MP in 2015, won on the first round of voting, with more than 50% of the vote.

He said his task was to "lead this great party into a new era, with confidence and hope".

In a video message released by the party, he said it was an "honour and privilege" to have been elected and he hoped Labour "when the time comes can serve our country again - in government".
Live: Reaction to Starmer victory
Profile: Sir Keir Starmer

The full results of the leadership contest were:
Sir Keir Starmer - 275,780 votes (56.2%).
Rebecca Long-Bailey - 135,218 votes (27.6%)
Lisa Nandy - 79,597 votes (16.2%)

Meanwhile, shadow Education Secretary Angela Rayner has been elected deputy leader. She defeated four other candidates but the contest was much closer, going to a third round of voting.

Sir Keir, the MP for Holborn and St Pancras, in London, had been the odds-on favourite to win the contest, having received the backing of more MPs and local Labour branches than his rivals as well as significant union support.

During the three month campaign, he argued he was best placed to unite the party and set it back on the road to power after its heavy defeat in December's general election - which prompted Mr Corbyn to say he would stand down.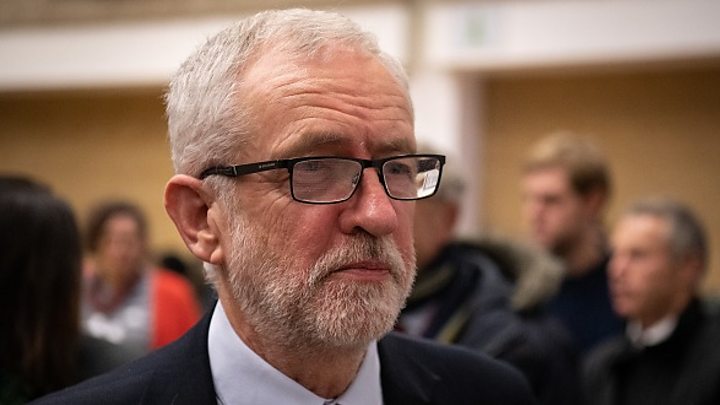 Media caption - Jeremy Corbyn's Labour leadership in two minutes

He has described himself as a socialist but not a Corbynite, and vowed to keep key policies from the Corbyn era, such as nationalising rail, mail and water and repealing anti-union laws, in a 10-point plan.

But his first task will be to lead Labour's response to the coronavirus emergency, and he has been invited to take part in cross-party talks with Prime Minister Boris Johnson and the government's top scientific advisers next week, to "work together" on the crisis.

'Constructive opposition'

Sir Keir said he had been elected "at a moment like no other" and promised to work "constructively" with the government to confront the pandemic and not engage in "opposition for opposition's sake".

But he added: "We will shine a torch on critical issues and where we see mistakes or faltering government or things not happening as quickly as they should we'll challenge that and call that out."

Sir Keir led the Crown Prosecution Service before entering frontline politics. He served in Mr Corbyn's top team for more than three years where he was responsible for the party's Brexit policy.

Saturday's result was announced by e-mail after plans for a public event were dropped due to the coronavirus crisis.

The outcome means that Labour's long wait for its first permanent female leader goes on - Harriet Harman and Margaret Beckett have both been interim leaders in the past.

In the deputy leadership contest, the 40-year old Ms Rayner beat Ian Murray, Richard Burgon, Dawn Butler and Rosena Allin-Khan. The position has been vacant since Tom Watson stood down at the general election.
Jeremy the Jellyfish (08/11/19)
Worst Labour Leader Ever (11/11/18)
Jeremy Corbyn showed his true colours over Brexit with the following comment to Germany's Der Spiegel magazine:
"We can't stop it. The referendum took place. Article 50 has been triggered. What we can do is recognise the reasons why people voted Leave."
Now the day after the great EU referendum the Labour leader called for Article 50 to be triggered even though wiser heads (even Tory heads) counselled, at the time, that there was absolutely no need to rush headlong into difficult Brexit negotiations.
So it has proved and Jezza is quite wrong to say that Brexit can't be stopped or that Article 50 can't be revoked.
What a complete fool the man is - the worst ever Labour leader.