The Scottish Government's spin machine is in overdrive today with the revelation that Nicola Sturgeon, no less, agreed that her chief medical officer had no option but to resign.
Because anyone who listened to yesterday's Scottish Government press conference would have drawn the exact opposite conclusion, as the First Minister turned herself into a human shield to protect Catherine Calderwood from hostile, if perfectly fair, questioning over her flouting of the Coronavirus lockdown rules.
Coronavirus in Scotland: Calderwood agreed to go after long chat with FM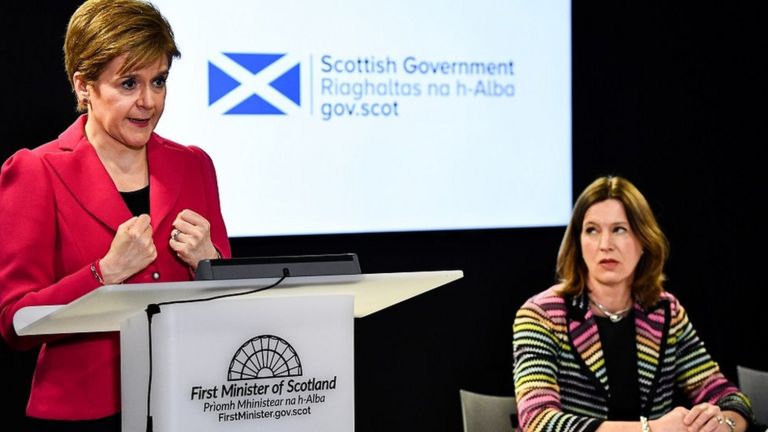 Image copyright - REUTERS Image caption - Nicola Sturgeon and Catherine Calderwood appeared together at daily press briefings

Scotland's first minister has said it was her view that Dr Catherine Calderwood should resign as the country's chief medical officer.

Nicola Sturgeon told BBC Breakfast that she had a "long conversation" with the top medic in which "she came to the same view" about the need to step down.

Dr Calderwood came under fire for making two trips to her second home during the coronavirus lockdown.

She apologised on Sunday afternoon and quit the role later in the evening.

Follow reaction to Dr Catherine Calderwood's resignation

In an interview on Monday morning, Ms Sturgeon was asked whether she had made the "eventual decision" that resignation was the inevitable outcome.

Scotland's leader explained: "We [Ms Sturgeon and Dr Catherine Calderwood] had a long conversation last night. It was my view, but she came to the same view - we came to that by mutual agreement. But it was my firm view by last night that was the correct course of action."

Dr Calderwood had been given a police warning for breaking the lockdown rules after the Scottish Sun published photographs taken on Saturday of her and her family visiting Earlsferry in Fife - more than an hour's drive from her main family home in Edinburgh.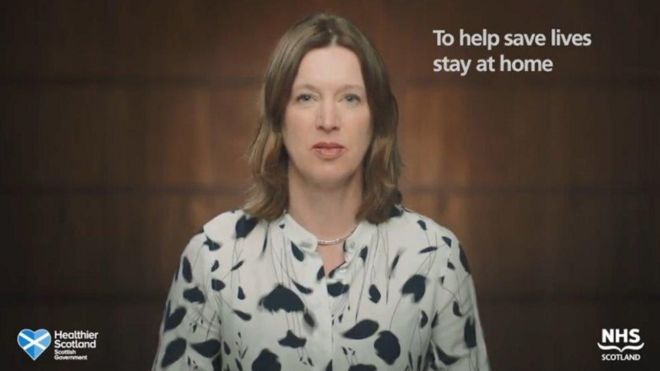 Image copyright - SCOTTISH GOVERNMENT Image caption - Videos of the chief medical officer urging people to stay at home formed part of the campaign


The chief medical officer had fronted TV and radio adverts urging the public to stay at home to save lives and protect the NHS, and took part in daily televised media briefings alongside Ms Sturgeon.
Ms Sturgeon said that Dr Calderwood had "made a mistake, she made a serious mistake and people are right to be angry about it".
The first minister said that while it was right for the official to apologise and cease to be the face of the public health advice campaign she added that she "candidly" had hoped to continue to "call on her expertise".
Ms Sturgeon added: "By last night it became clear that the bigger risk was the damage it could be doing to the very important message that the government is putting forward right now. So these are not easy judgements."
Sunday's press briefing with Nicola Sturgeon and Dr Catherine Calderwood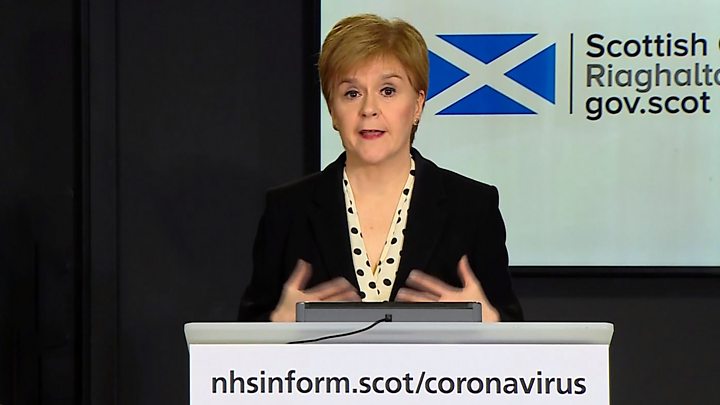 Media caption - Nicola Sturgeon said Dr Calderwood's advice had been 'invaluable'
2.30pm - At her Covid-19 media conference on Sunday, Ms Sturgeon said that Dr Calderwood would continue to provide Scottish government "with the scientific and medical advice on the spread of Coronavirus".
Dr Calderwood told that same briefing that there were "no excuses" for the action she had taken to visit her second home in Fife. She said: "What I did was wrong, I'm very sorry and it will not happen again."
4.39pm - Ms Sturgeon issued a statement saying that Dr Calderwood would be "withdrawing from media briefings for the foreseeable future" and that the government would be revising its public information campaign.
9.54pm - Dr Calderwood resigns from her post saying: "I am deeply sorry for my actions and the mistakes I have made."
Why Dr Catherine Calderwood had to go



What on earth was she thinking? This was either grossly naive, achingly foolish or staggeringly arrogant. And either way the chief medical officer had to go.

As the health secretary made clear today, it was about a welling up of public anger, not just the customary keyboard warriors or the Twitterati, but the broad public were absolutely furious. They are being asked in very difficult circumstances to suffer constraints and those constraints apparently were not being entirely observed by the chief medical officer. I think the public made that concern and, frankly, that anger known to MSPs.

The initial idea was that she would stay in office, still taking her salary, still offering advice but somehow hidden behind the scenes in Edinburgh and presumably still longing for the sun-kissed shores of Fife and her second home.

It was never, in my view, going to persist and she had to go ultimately because it was becoming not just about her judgement but about the judgement of the first minister initially backing her and that was unacceptable.
I've sat through many a press conference in my time, but I can't remember a more disastrous one than Nicola Sturgeon's 'human shield' performance as she updated the nation on the latest
Coronavirus developments with the Scottish Government's chief medical officer (CMO), Catherine Calderwood by her side.
The First Minister stepped in again and again to prevent Catherine Calderwood from explaining herself by answering perfectly legitimate questions from journalists who were simply doing their job of holding the Scottish Government to account.
The YouTube video is 38 minutes long though well worth a watch.