The BBC reports that the moron who threw an object at a football referee last Sunday has been charged and will appear in court this week.
We can only hope that the man is severely punished for his vile behaviour and that Rangers FC follow up the judicial process by issuing him with a lifetime ban.
https://www.bbc.co.uk/news/uk-scotland-edinburgh-east-fife-45747931
Man charged after football official hit by coin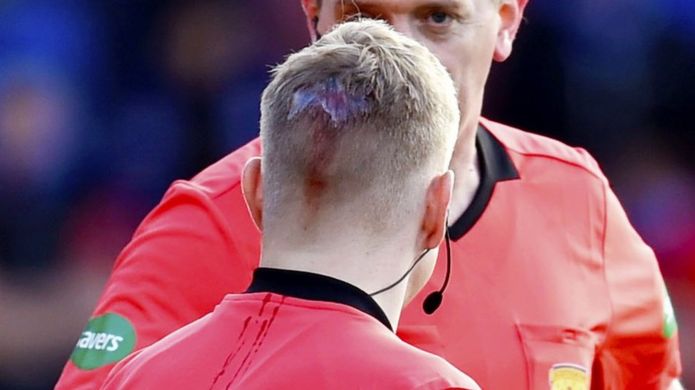 Image copyright - SNS GROUP Image caption - Calum Spence suffered a wound to his head

A 30-year-old man has been charged after an assistant referee was hit by a coin during a Scottish Premiership football match.

The incident happened as Livingston played Rangers at the West Lothian club's Tony Macaroni Arena on Sunday.

Assistant referee Calum Spence suffered a wound to his head after a coin was thrown from the crowd. Play was stopped while he received treatment.

The arrested man is due to appear at Livingston Sheriff Court on Friday.
Turn Him In! (03/10/18)
Scotland's newspapers did a public service the other day when they published an image of what appeared to be a Rangers fan throwing an object which struck the referee in the club's match against Livingston on Sunday.
Quite rightly, other Rangers supporters have called for this moron to be identified so that he can be dealt with by the authorities and the club itself.