The BBC reports that Scotland's police officers are the latest group to receive special recognition from the Scottish Government which has found an additional £125 million over the next 3 years to fund a 6.5% pay increase.
Now I don't begrudge police officers a pay award which adds and extra £40 million every year to the Police Scotland pay bill - well in excess of £400 million over the next 10 years.
But if the Scottish Government can find that kind of extra money for police officers, school teachers and the shipbuilding industry - surely they can find a way to help Glasgow City Council meet the costs of equal pay.
For example, allowing Scotland's largest council to borrow £500 million and repay this over over 50 years would provide Glasgow with a way forward, but the City Council can't do this on its own - only the Scottish Government has the power to make this happen.
https://www.bbc.com/news/uk-scotland-45653588
Scottish police officers secure 6.5% pay increase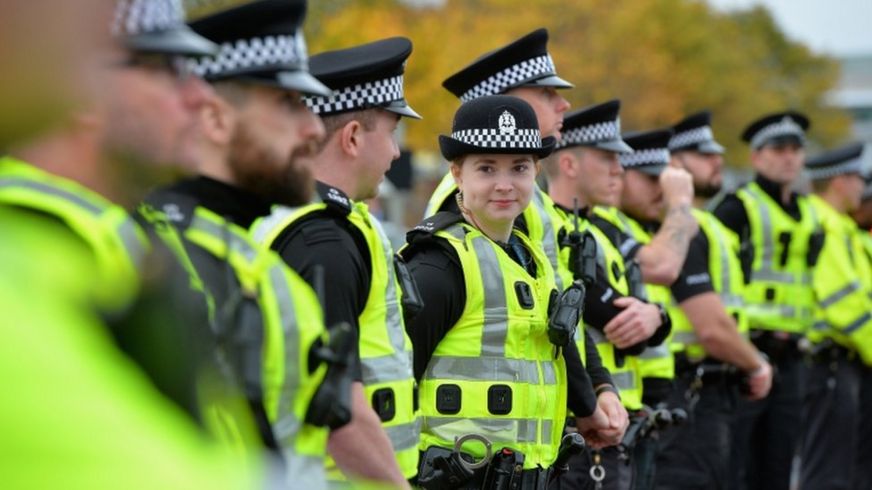 Image copyright - GETTY IMAGES Image caption - The award will be backdated to 1 September and applies until 31 March 2021.

Scottish police officers are to receive an immediate 6.5% pay increase.

The Scottish Police Authority confirmed the award will be backdated to 1 September and applies until 31 March 2021.

The move will see all officers below the rank of Assistant Chief Constable receive an immediate and substantial increase in their salary.

The SPA said the deal will represent an additional £125m in officer wages over the period.

A mid-point constable will receive a salary increase of £2,300 and the equivalent of an additional £6,000 in pay over the next 31 months.

The announcement comes on the eve of the SPA's monthly board meeting in Stirling.

In addition to an immediate pay award, the agreement will also address issues of inequality and anomalies in relation to pay progression.

It also contains a commitment to resolve working practices in relation to court and night shift.

'Significant and deserved'

Susan Deacon, Chair of the SPA, said: "I am pleased that through constructive dialogue we have reached agreement on an investment in pay that recognises the significant and valuable work that our police officers do in keeping the people of Scotland safe.

"Police officers represent a substantial portion of the police workforce and budget.

"This deal over a 31-month period provides both individuals and policing with certainty as we plan and implement the further transformation of policing to meet the needs of a changing Scotland."

Police Scotland Chief Constable Iain Livingstone said: "The pay award represents a significant and deserved outcome for police officers.

"Every single day, our hard-working officers and staff are keeping people safe and demonstrating the highest levels of leadership and public service.

"They've done this consistently since the creation of Police Scotland, clearly showing that they are our most valued asset, so it's only right that their dedication and commitment is recognised appropriately."

'Important recognition'

Justice Secretary for Justice Humza Yousaf said: "This strong deal for Scotland's police officers is an important recognition of the vital work they do to support safer, stronger communities.

"It also reflects the positive relations between police officers and employers in Scotland where we have retained collective pay bargaining.

"The Scottish Government has worked closely with the SPA and Police Scotland to finalise this two-and-a-half year deal which puts more cash into officers' pockets while giving them and their families certainty."

Calum Steele, general secretary of the Scottish Police Federation, said: "It is worth noting that even allowing for the extended period of this pay award, this represents the greatest uplift to police pay for over 20 years and the value of immediate payment on pay and pension as opposed to an extended year deal cannot be ignored."
Scottish Government and Equal Pay(21/09/18)
Here's a report from The Times with more details about the Scottish Government's willingness to step in and provide important areas of the economy with financial help.
So if it's good enough for the shipbuilding industry and the education sector, surely Glasgow as Scotland's largest council has an equally good case?
https://www.thetimes.co.uk/edition/scotland/sturgeon-adviser-s-shipyard-was-given-45m-8w687pbb7
Sturgeon adviser's shipyard was given £45m
By Hamish Macdonell - The Times


Jim McColl was a Yes supporter in the independence vote and is on Nicola Sturgeon's council of advisers - Photo ANDREW MILLIGAN/PA

A shipyard owned by an adviser to Nicola Sturgeon was handed £45 million of public money to ensure the survival of the site, ministers have admitted.

Derek Mackay, the finance secretary, said the money had been given to Ferguson Marine in Port Glasgow — owned by the billionaire Jim McColl — for a "continuation of work" and to help finish an overdue order for two ferries.

The Scottish government had previously insisted the money was to help the yard diversify and win new orders. But Mr Mackay has now admitted that the financial support was to protect the "viability" of work at the yard and the delivery of its projects.

The Scottish government is already paying £97 million for the ferries via Caledonian Maritime Assets, the state-owned company that procures boats for Caledonian MacBrayne, the west coast ferry operator.

Mr Mackay's admission came in the Scottish parliament when he was questioned by Jamie Greene, of the Scottish Conservatives.

Mr Greene seized on the disclosure, revealed in The Times last week, that Ferguson received two loans: one for £30 million this year and another for £15 million last year, which was not publicised by ministers at the time.

Asked to explain what the money was for, Mr Mackay said: "The financial support for Ferguson is to ensure the delivery of, the viability, the ongoing continuation of work at the yard, to ensure they had working capital. Of course they want the delivery of the new vessels as well."

Mr McColl took over Ferguson at Port Glasgow after it went into administration in 2014. It is owned by his Clyde Blowers empire. The following year the yard was awarded a £97 million contract to build the ferries.

Mr McColl, 66, was the most prominent business backer of the Yes campaign in 2014, although he has pulled back from his clear support for independence since then.

He is on the first minister's council of advisers and has blamed Caledonian Maritime, the company buying the ferries, for delays in the boats' delivery.
Scottish Government and Equal Pay (19/09/18)
The Herald reports that the Scottish Government has been providing financial help the shipbuilding industry as well as to Scotland's education sector.
So far at least, the Scottish Government has been silent on what kind of support might be available to Scotland's largest council to help Glasgow meet the cost of its equal pay obligations.
But I'm an optimist in these situations and I've always found that 'if there's a will, there's a way' - though I have to admit Glasgow's case would be a great deal stronger, if the voices of the city's 8 MSPs were being raised in support of their local constituents.
Because they've all been strangely silent up till now.
https://www.heraldscotland.com/news/16860964.row-over-secret-15m-loan-to-sturgeon-advisers-company/
Row over 'secret' £15m loan to Sturgeon adviser's company

By Tom Gordon - The Herald



First Minister Nicola Sturgeon with Ferguson Marine owner Jim McColl.

MSPs have voiced concern after it emerged the Scottish Government has now loaned almost £50m to a struggling firm owned by a billionaire adviser to Nicola Sturgeon.

Ministers announced earlier this year that they had loaned £30m of public money to ferry builder Ferguson Marine, the last commercial shipyard on the Clyde.

However it has now emerged that the government also gave a £15m loan to the firm, owned by Monaco-based engineering tycoon Jim McColl, in September last year.

The information was shared with Holyrood's finance committee but withheld from the taxpayers who ultimately supplied the funds because of "commercial confidentiality".

At the time, Ferguson Marine was struggling to meet the deadline for filing its accounts.

It was due to lodge its annual statements for 2016 by 30 September 2017.

It failed to do so, and has still not filed them with Companies House, meaning its last full-year public financial disclosure covers the year to 31 December 2015.

Mr McColl, who sits on the First Minister's council of economic advisers, bought Ferguson Marine in Port Glasgow after it went into administration in 2014.

READ MORE: £100m ferry contract branded 'shambles' after new delays

The following year Ferguson's won a £97m Scottish Government contract to build two new 'dual fuel' ferries for government-owned CalMac, securing work for the 150 staff.

However the contract has not gone smoothly, with the two vessels delayed from summer and autumn of this year to summer 2019 and spring 2020, despite Mr McColl personally reassuring ministers last year that the boats would be delivered on time.

In June, Finance Secretary Derek Mackay announced a £30m loan to Fergusons to help the firm "diversity" into low-carbon marine projects and decommissioning work.

"The loan is a strategic investment in our industrial capability as both the marine engineering sector and commercial shipbuilding have vital roles to play in Scotland's future," he said.

READ MORE: Greens demand details on £30m loan to Sturgeon adviser's business

However Mr Mackay made no mention that he had already loaned Ferguson up to £15m just nine months previously, and that this had already been fully drawn down by April.

That information only emerged after the Scottish Government was asked under freedom of information law if it had given any public funds besides the declared £30m loan to Ferguson Marine or to Mr McColl's Clyde Blowers empire, which ultimately owns the enterprise.

The government replied: "In September 2017 the Scottish Government agreed to provide a commercial loan facility of up to £15 million to Ferguson Marine Engineering Limited.

"This facility was fully drawn in the financial year 2017-18 and the expenditure will be recorded in the Scottish Government's Consolidated Accounts for 2017-18 when they are published in September 2018."

A government spokesman added: "Scottish shipbuilding has a long and proud history, and it is essential we continue to support the industry to thrive and help it reach its full potential."

Tory MSP Jamie Greene said: "This is a significant sum of public money secretly provided to a private company and the SNP has conspicuously failed to announce it or explain it.

"This revelation raises many serious unanswered questions: most importantly, why was this initial £15m given to Ferguson marine and what was the money spent on?

"The SNP must urgently clarify both the process by which Ferguson Marine received £45m of taxpayers' money and outline the loan terms and when or if taxpayers will see any return."

READ MORE: McColl hails progress of Clyde shipyard he rescued

Labour MSP Colin Smyth linked the cash to a "fundamental problem" with the delayed ferry orders, adding: "The lack of action by the Scottish government means more and more taxpayers' money is being poured in and these latest revelations show there has been a lack of transparency from government on how much."

Ferguson Marine Engineering has blamed unforeseen complexities with the ferry order for delays, as the vessels are of a novel duel-fuel type, pushing up costs.

A spokesman said: "As we work with to resolve these claims with [CalMac owners] CMAL, the Scottish Government has provided us with two commercial loans in the amount of £15m and £30m. These loans also support the further diversification of the business and the securing of new contracts for the yard."
Equal Pay - Where There's A Will, There's A Way! (10/09/18)
Paul Hutcheon reported in the Herald on Sunday that the Scottish Government is planning to inject an extra £35 million into the pay packets of Scotland's teachers.
Over the next 15 years this will add £525 million to the teachers' pay bill in Scotland which is 'interesting', to say the very least, given the unresolved issue of equal pay in Glasgow where the City Council's WPBR pay scheme has been judged to be 'unfit for purpose' by the Court of Session, Scotland's highest civil court.
Because the cost of settling Glasgow's long-running equal pay dispute is also likely to run to hundreds of millions and if this kind of money can be found for Scotland's teachers - then it really does go to show that where there's a will, there's a way.
So I plan to share this blog post with Glasgow's MSPs including the First Minister, Nicola Sturgeon, as they must now surely get behind the city's equal pay claimants who have been fighting against blatant pay discrimination in Glasgow for the past 12 years.
http://www.heraldscotland.com/news/16735846.teachers-could-get-10-pay-boost-under-35m-government-proposal/
Teachers could get 10% pay boost under £35m Government proposal

By Paul Hutcheon - Herald on Sunday


Derek Mackay

THOUSANDS of teachers could be in line for a pay boost of more than 10 per cent under a £35 million Scottish Government proposal.

The package would include a three per cent rise for teachers earning up to £80,000 a year and a separate £25m to overhaul the main grade scale for those in the profession.

However, details of the plan have angered a trade union for other local government staff who are not being offered an extra £25m.

Gary Smith, Scotland secretary of the GMB union, said: "If there is going to be a load more money for teachers, it's going to be an explosive cocktail for public-sector pay talks."

Read more: Teachers accuse councils of 'procrastination' over pay

Teachers' pay is determined by a tripartite body that includes the Scottish Government, representatives from councils – as the employer – and union negotiators.

However, the group has failed to reach an agreement after the teaching unions called for a 10 per cent pay rise.

The Educational Institute of Scotland (EIS), which represents most teachers north of the Border, has signalled that strike action could be taken unless their demand is met.

Leaked papers from the Convention of Scottish Local Authorities, which represents councils, provide a detailed summary of the revised proposal.

In March, Cosla made an initial offer to all bargaining groups, including teachers, of a three per cent rise for staff earning up to £36,500 and two per cent for those on higher salaries. The proposal was rejected.

Derek Mackay, the Cabinet Secretary for Finance, then wrote to Cosla last month and agreed to an additional £10m which would extend the three per cent rise to teachers earning between £36,501 and £80,000.

Read more: Proposals to boost teaching profession unveiled by Lib Dems

He also backed another £25m for a wider "restructuring" of the main pay scale, aimed at improving recruitment and retention.

The paper noted: "The Scottish Government has proposed a better offer for teachers and is prepared to fund it. Collectively it represents an investment over its two elements of £35m."

Cosla, which is responsible for making a formal pay offer, backed the plan this month and teacher representatives are now considering the detail.

A local authority source said the two elements, taken together, could result in a sizeable number of teachers getting a rise in excess of 10 per cent.

The Cosla paper cautioned that the new plan would not "guarantee a settlement" with the unions, but stated: "What it would do, however, is force a decision by the EIS to gamble or settle. Gambling on getting a mandate for industrial action in pursuit of an unachievable claim when three per cent is on the table and a desirable restructuring of the main grade on offer would be a bold move by a trade union not known for foolhardy decisions."

The document also suggested that the Government had "expressed an eagerness" to "de-couple" that rise from the pay scale revamp, on the grounds that the second element is a "policy intervention" designed to correct a "failure" in the teacher market.

Smith's GMB members, who include cleaners and care workers, have also been offered three per cent – which the union rejected – but not an additional £25m.

"We don't grudge teachers anything, but our members are doing more work than ever. It will add fuel to the fire," he said.

Councillor Gail MacGregor, Cosla resources spokesperson, said the Government's £10m had been "matched pound for pound" by council leaders for the general workforce: "It should not be forgotten that Scottish local government is the employer and the one making the offer. We are also funding the vast majority of the offer to teachers within the limited resources we have at our disposal – so it would be wrong to solely focus on the £10m from Government.

Read more: SNP under fire as public satisfaction in schools, NHS and transport plummets

"Secondly there is a separate discussion around the £25m for restructuring of the pay grade and a joint commitment to look at that – but that is nothing to do with the pay deal it is totally separate."

A Scottish Government spokesperson said: "Teachers' pay is a matter for the Scottish Negotiating Committee for Teachers (SNCT) and negotiations for 2018-19 are now well under way and making progress."

An EIS spokesperson said: "At this week's SNCT Extended Joint Chairs meeting an amended pay offer was proposed. The teachers' side of the SNCT will now consider the offer in detail. A further negotiating meeting of the Extended Joint Chairs is scheduled for the September 18, where the teachers' side will respond formally to the offer."
Who Gets What and Why? (07/09/16)

Over the past 16 years Scotland has put an extra £12.6 billion pounds in the pay of the country's school teachers, courtesy of the landmark McCrone Agreement which increased their basic pay by an eye-watering 23.5% in the year 2000.
The implementation cost of this fully funded pay increase was £800 million a year and this huge sum of money is now part of the Scottish Government's base budget - a budget which virtually double between 1997-2007, as did the spending power of Scotland's 32 local councils.
A year earlier the Scottish council employers signed up to the 1999 Single Status (Equal Pay) Agreement which was designed to tackle low pay at the bottom end of the local government pay ladder and sweep away years of widespread pay discrimination against a wide range of very low paid, female dominated jobs.
The 1999 Single Status Agreement covered over 100,000 of the lowest paid council employee and included cleaners, catering staff, clerical workers, classroom assistants, home carers and so on.
The cost of 'single status' was estimated at £450 million at the time, but unlike McCrone the landmark equal pay agreement
was not fully funded and relied upon future pay settlements and productivity gains to achieve its worthy goals.
So looking back all these years later the position is that 70,000 teachers have benefited to the tune of £800 million every year while more than 100,000 of the lowest paid council employees have had to fight tooth and nail for their right to equal pay.
Interestingly, a debate is now underway about the standard of teaching in Scotland's schools and one body of opinion is that the underlying problems are exacerbated by relative poverty and poor living standards amongst working class parents.
Now I don't grudge teachers a decent pay increase, but I think it is obscene that one group of council employees should be treated so much better than another which is, of course, exactly what happened over the McCrone and Single Status pay agreements.
The McCrone Agreement was struck by
the Labour/Lib Dem coalition government which was in power in Holyrood at the time, but the deal and allocation of an extra £800 million every year was supported by all of the mainstream political parties including the SNP which now dominates the political scene north of the border.
So the big question is how do the people at the bottom of the pay ladder catch up and improve their circumstances, comparatively speaking, if those above them in the pay pecking order keep pulling ahead?
If you ask me, a far better and more socially just use of that £800 million a year of public money would have been to allocate a large chunk of it to the people at the bottom of the pay ladder.
But for this to happen, in future, the government of the day will need to stop using public money to bolster the interests of comparatively well paid groups in Scottish society who also benefit hugely and disproportionately from other areas of public policy such as free university tuition and the extension of free school meals.