An independent poll by YouGov has just revealed that members of Unite, the UK's biggest union, support a People's Vote on the final terms Brexit by a massive majority of nearly 2 to 1.
Labour claims to be a democratic, member-led party and Unite claims to be a democratic, member-led trade union but judging by their respective positions on Brexit this only applies when the members fall into line with the leadership
Corbyn's Labour (29/04/18)

The Guardian reports that Unite boss Len McCluskey has again tried to throw his weight around inside the Labour Party by threatening MPs whom he regards as being overly critical of Jeremy Corbyn's handling of the party's anti-Semitism row.
Now this is rich because Jeremy Corbyn was an arch rebel himself for over 30 years and a fierce critic of every Labour leader from Neil Kinnock to Ed Miliband.
Yet Corbyn supporters now demand unstinting loyalty from backbench MPs - otherwise they face the threat of deselection
.
If you ask me, Len is one of the least impressive union bosses to emerge in the past 30 years and his stewardship of Unite over the past eight years is rightly tainted by the scandal of his £400,00 'loan' from low paid Unite members to help him buy a swish new flat in London's Borough Market and the sacking of his rival for job of general secretary, Gerard Coyne.
Gerard Coyne, a senior Unite official himself, was suspended by Andrew Murray, McCluskey's right hand man, and then dismissed soon after the election contest was over - Murray has since been recruited as a part-time consultant by Jeremy Corbyn although Unite continues to pay his salary.
So the politics of the Labour Party and the UK's largest union have become very up close and personal these days - McCluskey's former partner and mother of one of his children, Jennie Formby, is now Labour's general secretary and Len's daughter is working in the Labour leader's office.
https://www.theguardian.com/politics/2018/apr/26/keir-starmer-hits-back-at-mccluskey-labour-antisemitism-remarks
Sir Keir Starmer has hit back at the trade union chief Len McCluskey for accusing Labour MPs complaining about antisemitism of "smearing" Jeremy Corbyn.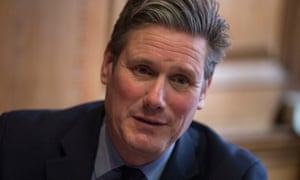 The shadow Brexit secretary suggested that those who denied the party had an issue with antisemitism were "part of the problem".

The Unite general secretary, a close ally of the Labour leader, faced criticism after singling out five "Corbyn-hater" MPs whom he accused of "working overtime" to present Labour as a "morass" of antisemitism.

Starmer said it was obvious that the party had an issue with antisemitism. "Jeremy Corbyn has made it clear, and it is obvious, that we have got a problem with antisemitism. We have got to deal with it robustly and effectively," he said.

Rudd urged to resign as she admits Home Office has used internal deportation targets - Politics live

"Part of that is the disciplinary procedure, which needs to be much quicker and much more effective, but there is also a cultural question. Part of that cultural question is to stop those denying that there is even a problem. That is part of the problem. So I am afraid I disagree with Len on this."

In an article for the New Statesman, McCluskey insisted he was fiercely opposed to antisemitism, but named five MPs – Chris Leslie, Neil Coyle, John Woodcock, Wes Streeting and Ian Austin – who he said were "polluting" the leader's efforts to tackle the problem.

"I look with disgust at the behaviour of the Corbyn-hater MPs who join forces with the most reactionary elements of the media establishment and I understand why there is a growing demand for mandatory reselection," he wrote.

Each of the MPs mentioned has taken a powerful stand against antisemitism in the party. They are all also fierce critics of their party leader.

The mention of reselection will alarm some Labour MPs. Corbyn's political secretary, Katy Clark, is carrying out a wide-reaching review of democracy in the party, which some fear could result in proposals that would make it easier for local parties to remove backbenchers critical of the leadership.

McCluskey's pointed intervention came as Corbyn attempted to show he was getting to grips with the antisemitism row, after Jewish leaders expressed disappointment about the outcome of a meeting earlier this week.

There are understood to be 90 cases under investigation by Labour – with 18 waiting to go through the NCC (national constitutional committee) – the party's most senior disciplinary body. Labour says that over the last three years there had been 300 complaints, and 20 people had been suspended in the last fortnight alone.

Unite was the largest single donor to Labour's 2017 general election campaign and the party's new general secretary, Jennie Formby, was previously a senior officer at the union. McCluskey himself is a close ally of Corbyn and his team.

The Guardian understands the McCluskey article was not cleared with Corbyn's office in advance.
All in the Labour Family (07/03/18)
As I was writing my post about the runners and riders to fill the post of Labour Party general secretary, I was struck by the following question:
"Is the daughter of Len McCluskey who is reported to be working in Jeremy Corbyn's office, the child he had with Jennie Formby?
Jennie Formby is the former political director of Unite and is reportedly one of the favourites to become the new general secretary.
It's all becoming a bit 'incestuous' if you ask me, and few people really know what's going on because these wheels within wheels are seldom reported in the mainstream media.
All in the Family (24/02/18)


I came across this Twitter post which deserves a much wider audience, assuming the claims made are accurate.
I dropped a note to Jeremy Corbyn days ago asking him if the tweet is accurate, but as the Labour leader has not responded I think it's fair to assume the figures are correct.
Jeremy Corbyn's son works for McDonnell earning £50k Len McCluskey's daughter works for Corbyn earning £40k John McDonnell's son works for Corbyn earning £50k Where's the outrage from Corbynistas or is this the level playing field they're always crying about? #WednesdayWisdom
Now this looks like the height of hypocrisy if you ask me - a classic case of saying one thing and then doing another - when it comes to equal opportunities recruitment and employing the best person for a job.
I suppose the saving grace is that if the offspring of these Labour 'leftists' all went to university, they will all now be able to start paying off their student fees courtesy of their generous public sector salaries.

But wait, their dads are planning to abolish student fees and wipe out student debt - in response to the nauseating 'entitlement rage' from the country's professional middle classes.