The BBC reports on the mess that Jeremy Corbyn's got himself into after making on the hoof spending pledges to 'deal with' student debt during the recent general election.
Now I don't follow Jezza's every word closely, I have to admit, but my impression was that Corbyn's promise to 'deal with' student debt meant that he was intending somehow or other to write this off, in part or in full.
Apparently the cost of such a policy would be in the region of £100 billion which would be in addition to the £11 or £12 billion a year it would cost to implement Labour's pledge to end tuition fees.
The problem with both of these policies if you ask me, is that they are directly aimed at the professional middle classes and the children of the professional middle classes - which would, of course, require a huge transfer of wealth from the low paid to the country's better off.
But why should such a free hand out of public money be restricted to the children of better off parents - if the country can afford to be so generous why not reward this who choose not to go to university in the first place?
Why is the daughter or son of a Doctor or a Teacher worth so much more than the children of a School Cleaner, a Home Carer or a Classroom Assistant?
Not only that, of course, because the professional middle classes have done not to badly out of the years of austerity once their housing costs have been taken into account and the effect of historically low interest rates.
IN truth it's the lower paid who have been worst hit by the double whammy of increasing rents and falling living standards, while many of the professional middle classes have been doing very nicely for themselves, thank you very much.
Which makes it all there surprising that Labour is supporting policies that give to the relatively comfortable middle classes at the expense of families who tend not to send their children to university - the kind of people who are still fighting for equal pay, for example.
Next thing you know, Jeremy Corbyn will be demanding that we bring back mortgage tax relief for the middle classes as well.
http://www.bbc.com/news/uk-politics-40697326
Jeremy Corbyn: Student debt write-off not a commitment
BBC UK Politics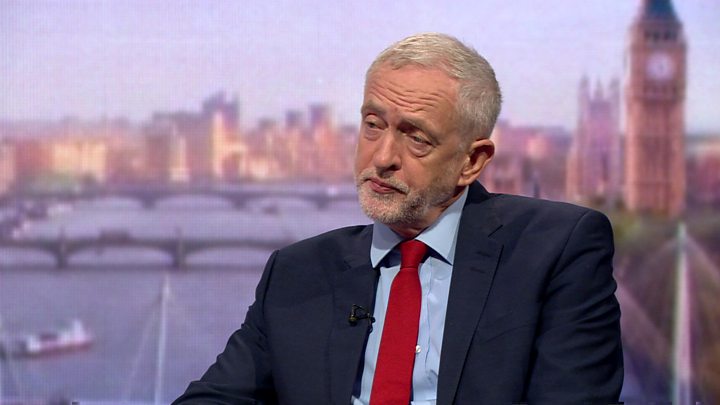 Jeremy Corbyn: "I did not make a commitment that we would write it off"

Jeremy Corbyn has insisted he did not promise to write off all student debt while appealing to young voters during the general election.

During the campaign, the Labour leader said he would "deal with" the issue of graduates burdened with debt since tuition fees rose to £9,000.

He told the BBC he had never promised to abolish all debt as Labour "were unaware of the size of it at the time".

Tory MPs have accused him of misleading students and said he should apologise.

Historical levels of student debt in England since tuition fees were introduced rose to £76.3bn last year and senior Labour figures have said an across the board debt moratorium could cost in the region of £100bn.

Student loan debt up for private sale
Labour 'aim' to wipe £100bn student debt

Many believe Labour's pledge to scrap university tuition fees for future undergraduates and help existing students was one of the factors behind its better-than-expected election performance last month.

An unexpectedly large turnout among students helped Labour win seats such as Canterbury, which it took for the first time in 100 years, and increase its majority in cities such as Cambridge, Bristol and Leeds.

Mr Corbyn has been accused of using students as "election fodder" after he claimed during the campaign that he would also look at ways to lengthen the period of paying existing debt off or "some other means of reducing that debt burden".

He told the music and lifestyle title NME he didn't see "why those that had the historical misfortune to be at university during the £9,000 period should be burdened excessively compared to those that went before or those that come after".

In recent weeks, senior Labour figures have distanced themselves from talk of a debt amnesty, saying that while it remains a long-term ambition, they do not yet know how it could be funded.
'Switch and bait'

Speaking on the Andrew Marr show, Mr Corbyn said his remarks during the election did not amount to a "commitment" to erase student debt and the party would be expanding on its position in the near future.

"I did not make a commitment we would write it off because I couldn't at that stage," he said.

"I pointed out we had written the manifesto in a short space of time because there was a surprise election but that we would look at ways of reducing that debt burden, recognising that a lot of it is never going to be collected anyway and try and reduce that."

"We never said we would completely abolish it because we were unaware of the size of it at the time," he added.

Universities minister Jo Johnson said Labour was abandoning what he called "a welter of outlandish promises" made to young people during the election.

"It is becoming ever clearer that Jeremy Corbyn is looking to walk away from a host of undeliverable pre-election promises to students, making this the most blatant example of switch and bait in recent political history," he said.

Under the current system, loans that are not repaid after 30 years are written off for graduates who began their degree courses after 2012 and after 25 years for those who studied between 2006 and 2012.

Recent research from the Institute for Fiscal Studies suggested students in England are set to graduate with average debts of £50,800, with many poorer students incurring much higher sums.
Give to the Needy (29/12/13)
In the run up to Christmas Scotland's largest teaching union, the EIS, burst into fairy-lights by demanding that Scotland's 'share' of the extra public spending announced recently by the Coalition Government at Westminster - should be used to provide free school meals to all children in primaries 1, 2 and 3.
Now this is serious money we're talking about - around £60 million a year, I think, because Scotland will expect to get 10% or so of the extra public spending announced by the Chancellor, George Osborne, in his autumn statement.
Which is of course a free handout of taxpayers money to people who earn above average incomes - because school meals are already free to people on low incomes and to those claiming benefits.
So, the big beneficiaries of the new policy in England and Wales are the better off - since the less well off gain absolutely nothing from extending free school meals to children whose working parents are perfectly well able to meet the cost themselves.
In fact the policy benefits people exactly like EIS members, as I can't believe that any of Scotland's teachers currently qualify for free school meals - as things stand.
But if I had a Magic Wand, I would target this £60 million on the less well off and probably not just those with children - since that leaves out a great many people who have never had children or whose kids have grown up.
To my mind, £60 million spent on those most in need, would do far more good than spreading £60 million across the whole population - or in this case just people with children of a certain age.
Now some people say that social benefits should be 'universal' or available to everyone on the same basis - free NHS prescriptions in Scotland are a good example although they are not really free since the cost is met out of general taxation.
Yet this approach does not apply to the cost of housing and I've written before about the £20 billion windfall that mortgage payers have enjoyed in recent times which has not been shared with people who rent their homes or living on a fixed income.
So why not use the extra money in a more meaningful and imaginative way, for example, by holding down rents in the social housing sector?
Because this particular group within the Scottish population has not benefited from the artificially low interest rates that Scotland's mortgage payers have experienced in the past 5 years - which means that since 2008 mortgage payers have effectively been receiving special treatment as far as their standard of living is concerned.
A much better and fairer use of £60 million, if you ask me, as such a policy would put a significant amount of money in the pockets of those at the bottom of the income ladder - instead of subsidising members of the teaching profession and EIS (Educational Institute of Scotland).
The statistics tell their own tale - Scotland's share of the great £20 billion mortgage windfall is around £2 billion which makes £60 million look like chickenfeed.
So the argument about universality, about everyone being treated the same way, does not stand up to serious scrutiny.
Who Gets What and Why? (06/04/14)
I've been saying for a long time that in these tough economic times people living in rented accommodation have been getting a raw deal compared to their neighbours and friends who have a mortgage.
And that's because mortgage payers have seen their housing costs fall significantly over the past five years with interest rates being at artificially low levels - whereas the cost of rented accommodation keeps going up as this article from the BBC web site shows with a big increase of 7.63% in West Dunbartonshire Council, for example.

Yet to add insult to injury the Scottish Government has announced extra spending on free school meals for a Primary 1-3 school pupils which is worth £114 million over two years or around £330 a year for each child - for families with children.
But not to the less well off families of course because their children already receive free school meals, so all these extra millions of pounds are going to support the better off - like Scotland's school teachers who enjoy much better than average pay.

Now Scotland's largest teaching union, the EIS, has been campaigning in support of these changes which is understandable as it is clearly in the interest of EIS members, but the bigger question is "Is such a policy fair and socially responsible?".
I say "No" because in my view the money would be much better spent on targeting the the less well off instead of further cushioning the lives of the better paid, especially when you stop and think that the majority of teachers will have been benefiting from the mortgage situation over the past five years.

So if you ask me, the Scottish Government and the Scottish Parliament has got this all wrong - the lower paid are the ones who deserve a break not people in already well paid jobs.



West Dunbartonshire Council announces housing rent rise



Rents for council house tenants in West Dunbartonshire are to rise by 7.63% from 1 April, it has been announced.

The council said the increase would add an extra £4.67 each week to the average weekly rent over the year.

Housing convener, Cllr David McBride, said the rent rise was "needed to pay for the major improvements required to our properties".

He added: "Increasing rents is never an easy decision but I believe our tenants understand why we need to do this."
P1-3 pupils in Scotland to get free school meals
The Scottish government matched a plan being introduced in England

All Scottish P1-P3 pupils will get free school meals from January 2015, First Minister Alex Salmond has announced.

He said the move, affecting 165,000 youngsters, would boost health and was worth £330 a year for each child to families.

The move matches a plan being introduced in England, in September this year.

Opposition parties accused the Scottish government of playing catch-up, and taking credit for Westminster policies.

The first minister also told the Scottish Parliament that free childcare would be expanded to every two-year-old from a workless household in Scotland by August, affecting about 8,400 youngsters.

Mr Salmond said a further extension of the policy to reach 15,400 two-year-olds by August 2015 would see Scotland delivering 80 million hours of childcare to pre-school children, which he said was the greatest amount in the UK.

The free meals announcement came after UK ministers announced plans to offer pupils in the first three years of primary school in England a free cooked lunch.

Scottish ministers followed suit, partly by using extra money going to Scotland, through the Barnett Formula, as a consequence of the English plan.

Mr Salmond said the Scottish government announcements would bring improvements, but fell short of the childcare revolution which Scotland needed.

Ahead of the independence referendum on 18 September, the Scottish government said all three and four-year-olds, and vulnerable two-year-olds, would get 1,140 hours of childcare a year by the end of the first parliament, in the event of a "Yes" vote.

But opposition parties said SNP ministers had the devolved powers to realise their childcare plans now.

Mr Salmond told MSPs: "We need to create a tax welfare and childcare system that doesn't plunge children into poverty, as the UK government is doing, that puts us on a par with the best childcare systems in the world.
"That is why the future of Scotland's children is the future of Scotland, and why Scotland's future is an independent one."

Scottish Labour leader Johann Lamont said the free school meals plan was promised by the SNP in 2007, but never delivered, adding: "Now it has been reprised, because the UK government has acted on it and provided the money."

She said of Mr Salmond's childcare vision: "What he had was an opportunity to show his new-found commitment to childcare was more than a referendum ploy and start delivering for working families and children now."

Ruth Davidson, the Scottish Conservative leader, added: "A cynic might say that the SNP, having promised the earth and failed to deliver for years, has only now re-discovered its commitment to free school meals because the coalition government is delivering it.

"Today, we have a Westminster policy delivered with Westminster money, and the SNP playing catch-up but trying to claim the credit."

From Democracy Live: Alex Salmond announced his plan in parliament


However, the free school meal and childcare expansion plan, being funded at a total cost of £114m over two years, was welcomed by Scottish Liberal Democrat leader Willie Rennie, a long-time campaigner on the issue.

"The best educational investment we can make is in two-year-olds, because that can change their life," he said.

"If we're going to break the inter-generational cycle of poverty we can make efforts at later stages - we can do stuff about youth unemployment, we can try and improve life chances through schools - but the best impact we can make is in doing it at the age of two."

John Dickie, head of the Child Poverty Action Group, told BBC Scotland the school meals announcement was long overdue, adding: "The pressures on families and their ability to support their children are extraordinary, so providing a free school lunch to children in primary one to primary three is a very immediate, direct and well-evidenced way of supporting families at a time of increasing pressures."
Analysis
BBC Political editor, Scotland

Alex Salmond's critics suggested his enthusiasm for free school meals was driven by external factors: the availability of cash from the Treasury as a consequence of the previous announcement of a comparable scheme for England; a desire to cosset parents - and especially mothers - with an eye to the referendum.

The first minister insisted he was persuaded by the advantages of the policy: it encouraged uptake including among those who were nominally eligible at present; it improved the health and wellbeing of youngsters and thus their educational attainment