I suppose it was only a matter of time before more crazy conspiracy theories surfaced over the Grenfell Tower fire tragedy.
The latest bizarre claim comes from an Islamist activist, Nazim Ali a director of the Islamic Human Rights Commission, who says the victims were murdered by Zionists.
Read the full story via the link below to The Telegraph.
http://www.telegraph.co.uk/news/2017/07/08/outrage-islamist-claims-grenfell-tower-victims-murdered-zionists/
Outrage as Islamist claims Grenfell Tower victims were 'murdered by Zionists' who fund Conservative Party
Grenfell Tower CREDIT: AFP

By Robert Mendick - The Telegraph

An Islamist activist has claimed the Grenfell Tower victims "were murdered" by Zionists who fund the Conservative party in an astonishing outburst now being investigated by police.

Nazim Ali, a director of the Islamic Human Rights Commission (IHRC), is accused of exploiting the tragedy during an anti-Israel demonstration in the days after the fire.

The Metropolitan Police said it was now investigating allegations of anti-Semitic comments made during the protest.

Mr Ali, who is managing partner of a private health clinic in west London which charges patients up to £150 for a GP consultation, told the rally on June 18: "As we know in Grenfell, many innocents were murdered by Theresa May's cronies, many of which are supporters of Zionist ideology."

In video footage posted online, Mr Ali goes on: "Let us not forget that some of the biggest corporations who were supporting the Conservative Party are Zionists. They are responsible for the murder of the people in Grenfell, in those towers in Grenfell, the Zionist supporters of the Tory Party."
Conspiracy Rhetoric (28/07/17)
I've long thought that the lunatics have taken over the asylum at Labour Party HQ, but more evidence has arrived in the shape of the London Labour MP David Lammy who claims that the true death toll in the Grenfell Tower fire tragedy may have been covered up.
So no sooner have MPs of all parties, along with the London Mayor Sadie Khan, praised the efforts of the emergency services - police, fire and ambulance - than Mr Lammy decides to accuse them of colluding (with whom?) to disguise the actual number deaths.
Now Mr Lammy has no evidence whatsover to back up his claims which he attributes to local unnamed local residents, but that doesn't stop him repeating such nonsense and generally trying to exploit the situation for short term political gain.
If you ask, he is taking his lead from Labour's shadow chancellor John McDonnell whose comments about victims of the Grenfell Tower fire being 'murdered by political decisions' have been disowned by wiser heads on his own side.
https://www.politicshome.com/news/uk/political-parties/labour-party/news/87042/labour-mp-david-lammy-suggests-true-grenfell-tower?
LABOUR MP DAVID LAMMY SUGGESTS TRUE GRENFELL TOWER DEATH TOLL MAY HAVE BEEN COVERED UP
By Emilio Casalicchio - Politics Home

The death toll from the Grenfell Tower disaster may have been covered up to keep public anger at bay, a prominent Labour MP has suggested.
Protesters took to the streets after the Government's failure to respond properly to the Grenfell Tower tragedy - Credit: PA Images

David Lammy said he had "no idea" if the total was being kept quiet but said he was "sympathetic" to the theory and would march with residents who do believe that was the case.

Police have so far confirmed 79 victims are either dead or presumed dead after flames ripped through the west London high rise two weeks ago.

'Not in my name': Senior Labour MP rejects John McDonnell's claim Grenfell victims were 'murdered'

John McDonnell claims Grenfell victims were 'murdered by political decisions'

Grenfell Tower survivors first in line for discretionary housing payments

Mr Lammy told BBC Newsnight: "What people say is that if you put the numbers out early, there could be civil unrest.

The Tottenham MP added: "I am sympathetic to it, I am going to walk alongside those people."

And he continued: "The truth is the media cycle is now beginning to move on to other things, that's the truth.

"And so what people say is that in two, three weeks' time, if you start to reveal the numbers, things have moved on."

His comments come as ministers revealed 75 buildings in 26 councils had failed fire safety tests - a 100% failure rate so far.

Hundreds of residents have been moved from tower blocks in the London borough of Camden over the weekend, after concerns were raised over cladding, gas insulation and fire doors.

Over the weekend Shadow Chancellor John McDonnell claimed victims of the fire were "murdered" by a series of political decisions.

But former Labour minister Margaret Hodges said Mr McDonnell's comments were "not in my name".
Fiery Rhetoric (26/06/17)
The Labour Party seems to have taken a strategic decision to try and turn the Grenfell Tower fire tragedy to its political advantage, if the latest comments of the shadow chancellor, John McDonnell, are anything to go by.
Which is rather odd if you ask me, since the 'cladding' in high rise blocks tower block across the country, including several Labour-run London councils, appear to have failed crucial fire safety tests.
Now Jeremy Corbyn has been a London MP since 1983 and key allies such as John McDonnell, Diane Abbott and Ken Livingstone have all been high profile London politicians for the past 35 years or so.
But I don't recall a single campaign about fire safety and cladding in high rise blocks - until now of course.
The shape off things to come, I suspect.



John McDonnell: Grenfell victims 'murdered by political decisions'



BBC UK Politics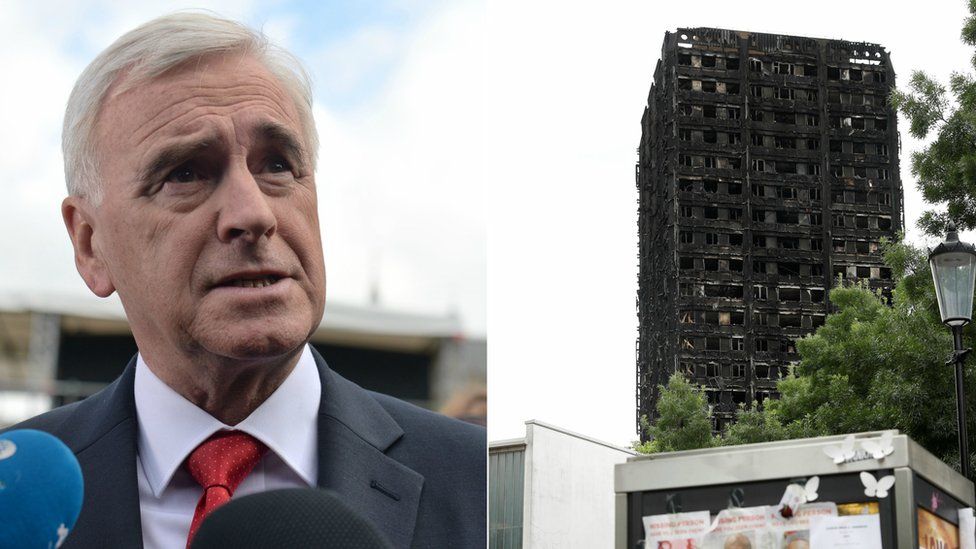 Image copyright - PA

Labour's John McDonnell has claimed victims of the Grenfell Tower fire were "murdered" by "political decisions".

Speaking at Glastonbury Festival on Sunday, the shadow chancellor blamed the decision to "view housing as only for financial speculation".

At least 79 people are feared to have died in the fire in west London, which began in the early hours of 14 June.

Housing minister Alok Sharma said it was "disappointing" that people wanted to make it "a party political issue".

It is thought the building's recently-installed cladding may have helped the fire to spread.

Cladding is being tested from as many as 600 tower blocks across England.

So far, cladding on 60 high-rise buildings in 25 areas has failed, and none has passed.
More high-rises fail fire safety tests
Where have cladding fire tests failed?
Holyrood to review tower block safety

The prime minister ordered a public inquiry on 15 June and she is due to chair a meeting of the Grenfell Tower Recovery Taskforce on Monday.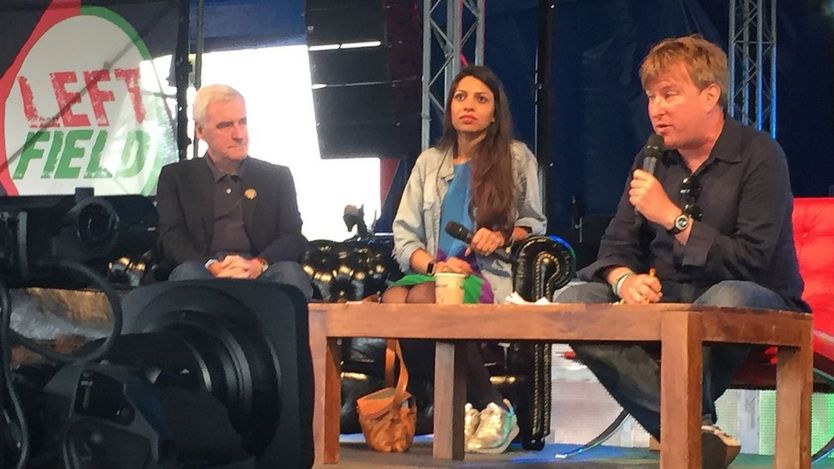 Image copyright - PA Image caption - Mr McDonnell with economist Faiza Shaheen and journalist John Harris at the Left Field debate

Mr McDonnell, the MP for Hayes and Harlington, was speaking in a panel debate at Glastonbury's Left Field event, chaired by Guardian journalist John Harris.

He said: "Is democracy working? It didn't work if you were a family living on the 20th floor of Grenfell Tower.

"Those families, those individuals - 79 so far and there will be more - were murdered by political decisions that were taken over recent decades.

"The decision not to build homes and to view housing as only for financial speculation rather than for meeting a basic human need made by politicians over decades murdered those families.

"The decision to close fire stations and to cut 10,000 fire fighters and then to freeze their pay for over a decade contributed to those deaths inevitably, and they were political decisions."

A source close to Mr McDonnell confirmed the quotes were accurate.

Mr Sharma, who replaced Gavin Barwell as the housing minister following the general election, said the cladding in question had been installed over a wide time period and under councils controlled by different political parties.

Pressed on a timescale to complete the testing, he said the government was working "round the clock" to get the work done.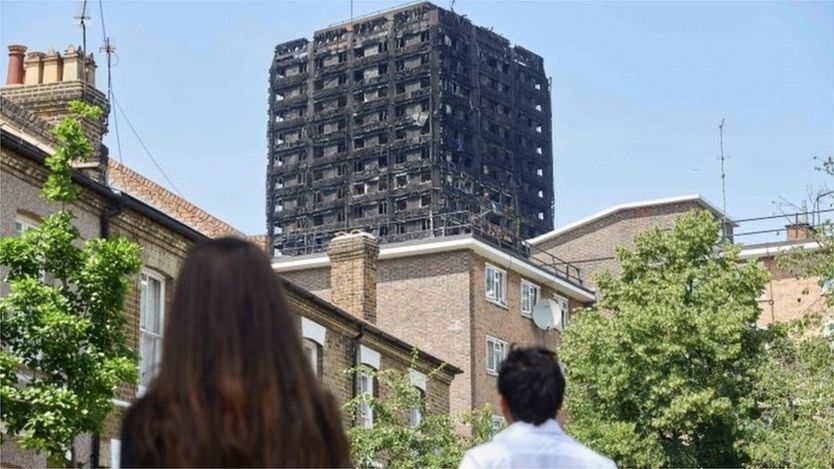 Image copyright - AFP

Over the weekend, Camden Council evacuated 650 people from four tower blocks in Swiss Cottage area, after London Fire Brigade raised concerns about cladding, gas pipe insulation, and fire doors.

The four blocks were renovated by Rydon between 2006 and 2009 - the same company which oversaw the refurbishment of Grenfell Tower from 2015 to 2016.

Buildings have been also declared unsafe in Doncaster, Norwich, Stockton-on-Tees, Sunderland, Manchester, Plymouth and Portsmouth.

In Scotland, Holyrood is going to hold its own investigation into the safety of tower blocks, expanding an ongoing inquiry into housing and building regulations.

The Scottish Government has already said that no council or housing association high-rise block has cladding of the type believed to have been used in Grenfell Tower.
London tower block residents 'must leave' says council



BBC UK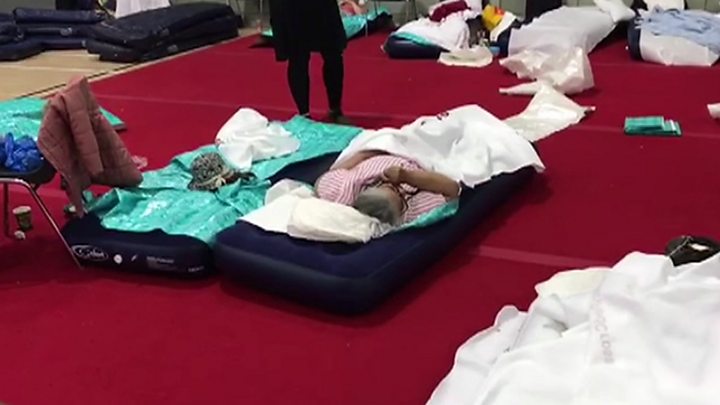 Media caption - Mohammed Iskander shows us around the evacuation centre in Swiss Cottage

Residents who refused to leave north London tower blocks over fire safety fears are being told they "must leave".

Camden Council said on Sunday that staff would continue asking those people who had not yet left the Chalcots Estate in Swiss Cottage to vacate their flats.

About 20 households had refused to leave their homes by Saturday evening.

Meanwhile, cladding on 34 tower blocks in 17 council areas in England has failed fire safety tests.

Where have fire cladding tests failed?

The leader of Camden Council, Georgia Gould, said staff will conduct further door knocking to ask anyone remaining to leave "and issue another letter reiterating to residents who are still remaining in the Taplow, Bray, Dorney and Burnham blocks, that they must leave".

"By remaining in the blocks these residents risk delaying the work that is required and that we are undertaking to make these homes safe.

"It is not safe to remain in these blocks and our residents' safety will continue to be the council's number one priority."

She added: "There are various legal routes that Camden Council could explore. However, we really don't want to do this. We want to work with residents who are yet to evacuate and strongly encourage them to leave their homes and fix up temporary accommodation."

Four of the five blocks on the Chalcots Estate were evacuated on Friday due to concerns about external cladding, gas pipe insulation, and fire doors.

Camden Council said it had no option but to move residents from 650 flats while work takes place.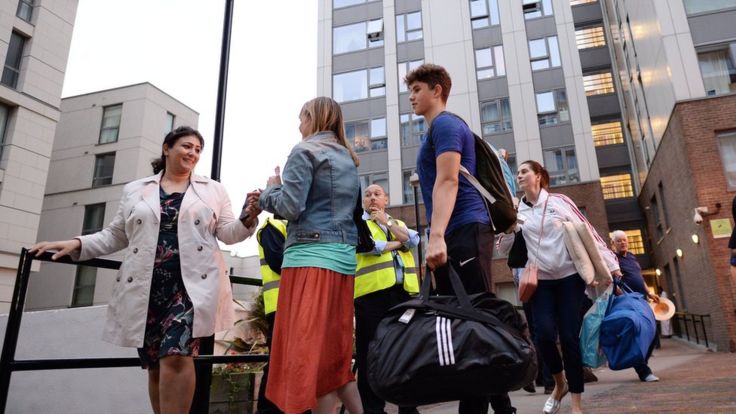 Image copyright - PA Image caption - Residents were told to leave four of the estate's blocks on Friday

The government plans to examine cladding from up to 600 blocks and so far, every sample submitted from tower blocks has failed the tests.

But - across the country - not every block that fails safety tests will be evacuated.

Communities Secretary Sajid Javid - while agreeing with the decision in Camden - said: "A failure in testing of the cladding does not necessarily mean that a building will have to be evacuated.

"The decision by Camden Council was because the failed testing of the external cladding was compounded by multiple other fire safety failures."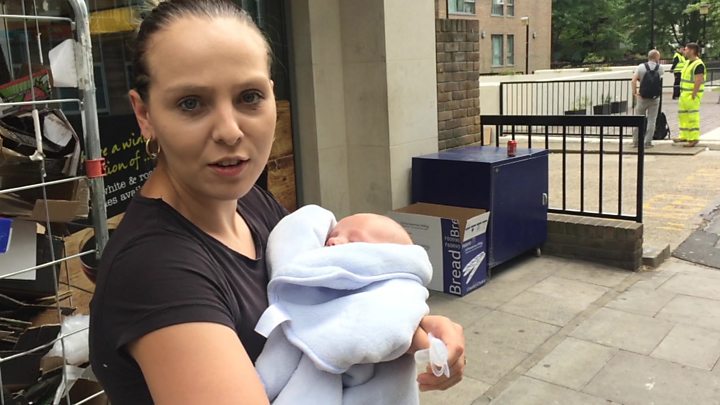 Media caption - Watch: Meet Rosie, who refused to leave Taplow Tower in Camden

The Local Government Association said some councils have introduced 24-hour warden patrols to mitigate the risk before cladding is removed.

It said in a statement: "For those areas still waiting for results of tests on aluminium composite material cladding, our advice to them is to prepare contingency plans so they can take any measures needed quickly."

The Department for Communities and Local Government's testing programme, which began on Wednesday, is able to test 100 samples a day.

Although every sample has failed the test so far, the DCLG pointed out that local authorities have been asked to prioritise buildings they had most concern over.

Lord Kerslake, the former head of the civil service, who who now chairs the Peabody housing association in London, called for the testing process to be accelerated.

"We are told they can do 100 a day - that should be the number they are meeting," he told The World This Weekend on BBC Radio 4.

He said: "This is clearly a terrible national disaster and demands a national response... As well as the public inquiry on the lessons learned we need to establish where the areas of the highest risk are and take action immediately. That's been a priority for me."

Some of the local authorities where high-rise buildings have failed fire safety tests have been named.
They include:
Camden - where residents have been evacuated from four blocks on the Chalcots Estate
Brent - where a housing association tower block, Elizabeth House, has cladding but London Fire Brigade advises it is not a risk
Barnet - where cladding put up on three towers in Granville Road, NW2, in 2012 is to be removed as precautionary measure
Hounslow - where Clements Court tower in Cranford is to have outer cladding removed
Manchester - where 78 panels are being removed from one area of the Village 135 development in Wythenshawe
Salford - where cladding is also to be removed from nine tower blocks
Bootle - where cladding is being removed from Cygnet House and Wren House in St James Drive
Plymouth - where three blocks on the Mount Wise Tower estatewere found to have cladding made from similar material to Grenfell Tower
Portsmouth - where the city council is removing cladding from Horatia House and Leamington House in Somerstown
The Chalcots Estate's cladding is similar to Grenfell Tower in North Kensington, west London, where a fire is feared to have killed 79 people.

Chalcots was refurbished between 2006 and 2009 by the same firm, Rydon, that oversaw work at Grenfell Tower in 2015-16.
One flat destroyed in London fire
Confusion and anger after evacuation
Grenfell Tower fire began in fridge-freezer

After the evacuation, emergency accommodation was set up at Swiss Cottage leisure centre and at the Camden Centre in King's Cross.

Camden Council - which said it already spent £500,000 on hotel rooms - said it would reimburse residents who have paid for their own temporary accommodation.

It has also set aside £100,000 for food and essential items for displaced residents.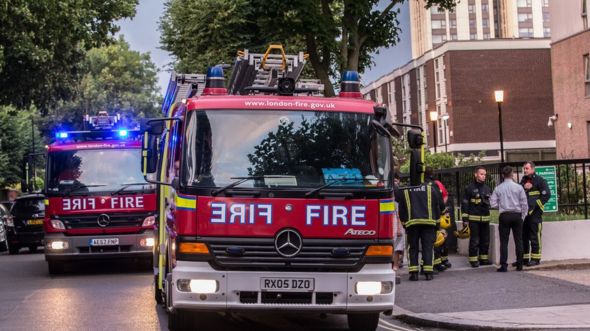 Image copyright - GRAHAM EVA Image caption - Fire crews have been put on watch at the Chalcots estate

The work at Chalcots is expected to take three to four weeks.

Sayed Mead, a resident on the estate who left his flat, told BBC Breakfast that not knowing where he was going to be housed had been "eating me away".

He has now been given accommodation but said the council had created "panic" among the residents.