Len McCluskey famously called for the Labour leader in Scotland, Jim Murphy, to resign after a disastrous showing in the 2015 general election.
But now that his pal Jeremy Corbyn is in the hot seat, McCluskey is setting the bar far lower - Jezza can go down to defeat, says the Unite boss, and if the Labour leader loses by only 30 seats, he will be regarded as a great success.
The Conservatives must be rubbing their hands at the prospect of a Labour Party run by Jeremy Corbyn and Len McCluskey.
'Kamikaze' McCluskey (10/07/16)


The boss of the Unite union, Len McCluskey, issued the following statement after talks collapsed over Jeremy Corbyn's continued leadership of the Labour Party:
"I am dismayed at the statement issued by Tom Watson announcing his withdrawal from talks aimed at resolving the crisis in the Labour party.
"Extraordinarily, I received no notice of this statement before it was issued. I had made arrangements for a meeting of trade union leaders, Tom Watson and representatives of the PLP and the party leader for tomorrow, arrangements requested by Tom Watson and his colleagues, specifically for Mr Watson's convenience.
"In that context, when the possibility of a workable plan had never seemed closer, Tom Watson's actions today can only look like an act of sabotage fraught with peril for the future of the Labour party.
"I must clarify one point in Tom Watson's statement; I made it absolutely clear from the outset of these discussions that Jeremy Corbyn's resignation as the leader was not on the agenda. Watson knew that, and it is entirely wrong to suggest that any public statement by Jeremy represented any change in the situation. This is a deeply disingenuous manoeuvre.
"I will continue to work with trade union colleagues and others to chart a way forward, including meeting the legitimate concerns of Labour MPs."
Now if McCluskey had already made plain that Corbyn's position as leader was 'non-negotiable', then the talks were doomed from the outset, the vast majority of Labour MPs (from all wings of the party) having concluded that Jeremy is simply not up to the job.
So it's worth remembering that Len McCluskey's style of leadership almost led to the closure of the giant Ineos plant at Grangemouth after Unite foolishly called a damaging strike over a local union steward who was called to account for carrying out work for the Labour Party during his employer's time.
Resign! (26/09/15)
The Scottish Labour leader Jim Murphy won a vote of confidence (17-14) at the Scottish party's executive committee the other day, but decided to stand down nonetheless because of the wrecking tactics of his most vocal critics, including Len McCluskey the boss of the Unite trade union.
Unite has wasted £14 million of its members money in donations to the Labour Party since Ed Miliband became leader in 2010 and last year the union called a disastrous strike at the giant Ineos plant in Grangemouth which almost cost thousands of Unite members their jobs
So why doesn't Len McCluskey follow his own 'lead' and resign as the Unite general secretary because by any standards he's done a lousy job after accepting that the vast majority of Unite members in Scotland supported the SNP in the general election, having deserted the Labour Party in droves over recent years.
Jim Murphy gave Len McCluskey both barrels in announcing his decision to resign and has pledged to table a report of proposed reforms to the Scottish Labour executive next month.
Here's what he had to say:
"It is clear that a small minority who didn't accept my election as leader of the Scottish Labour Party just five months ago won't accept the vote of the executive today and that will continue to divide the party.

Today I received more support in the executive vote than I did from members of the executive when I stood for election five months ago.

When I table that report at next month's meeting of the Scottish Labour Party executive, I will also table my resignation as leader of the Scottish Labour Party.

It will be for the party executive to decide whether it accepts the reforms proposed, but a party in such urgent need of reform blocks those changes at its peril."
The Labour Party's problem is not the link with trade unions, or even the relationship with Unite members - far from it.

It is the destructive behaviour of one high profile trade unionist.

One of the things about stepping down is that you can say things in public that so many people in the Labour Party only say in private.

So whether it is in Scotland or in the contest to come in the UK, we cannot have our leaders selected or deselected by the grudges and grievances of one prominent man.

The leader of the Scottish Labour Party doesn't serve at the grace of Len McCluskey, and the next leader of the UK Labour Party should not be picked by Len McCluskey."
General election 2017: Len McCluskey 'can't see Labour winning'

BBC Election 2017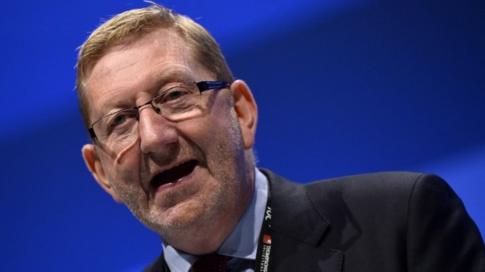 Image copyright - REUTERS Image caption - The Unite boss is one of Mr Corbyn's strongest allies

One of Jeremy Corbyn's key allies, Unite boss Len McCluskey, has said he cannot see Labour winning the election.

The union leader told Politico that a Labour victory on 8 June would be "extraordinary" given the state of the party and criticism of it in the media.

He suggested winning 200 seats - nearly 30 fewer than in 2015 - would be a "successful" result for Mr Corbyn.

It came as Labour and the Tories clashed over Labour's plans to nationalise two key industries.
The Conservatives said bringing the National Grid and the water industry back into public ownership, which would require a future Labour government to compensate existing shareholders, would add £14bn to the national debt in one year alone and claimed there was a £58bn "black hole" across all of Labour's manifesto plans.

Labour said this was "absolute rubbish" and that the Tories were trying to "avoid scrutiny of their own spending plans".

Its manifesto - published on Tuesday - did not set out how plans to nationalise the National Grid and the water industry would be funded.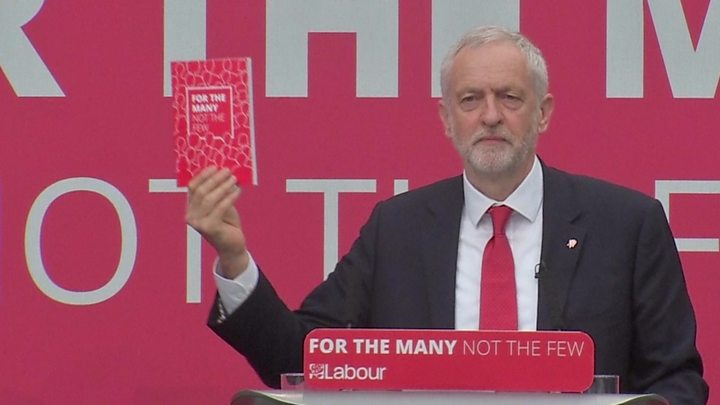 Media caption - Jeremy Corbyn: "This is a manifesto for all generations. We are providing hope and genuine opportunity for everybody"

But the party, which has also pledged to nationalise the railways and Royal Mail, said it could be done at no net expense to the public purse and that consumers would see their bills come down by as much as £220 a year.

In other election developments:
Mr McCluskey's intervention came hours after Mr Corbyn launched his party's manifesto, which the Labour leader described as a "programme of hope" and which included billions for schools and the NHS and an expansion of free childcare.

The leader of the UK's biggest union said he was supportive of the manifesto but was not "optimistic" about Labour's chances on 8 June, given the hostility which he said it faced in large sections of the media.

"In terms of the imagery of Jeremy, that's a huge task," Politico quoted him as saying.

"He's got now just under four weeks to try to see if you can break through that image and it's going to be a very, very difficult task... whether that breakthrough can happen, we'll wait and see."

He added: "People like me are always optimistic… things can happen. But I don't see Labour winning."

He went on to suggest that if Labour emerged with 200 seats - which would be about 30 fewer than Ed Miliband secured in 2015 - it would represent a "successful campaign" given the circumstances it found itself in. Should that happen, it would be Labour's worst result since 1935.

"I believe that if Labour can hold on to 200 seats or so it will be a successful campaign," he said.

"It will mean that Theresa May will have had an election, will have increased her majority but not dramatically."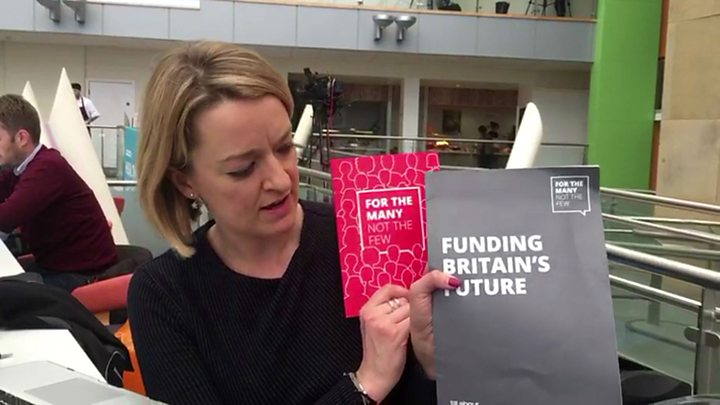 Media caption - Laura Kuenssberg on three key points from Labour's manifesto launch

Mr Corbyn was earlier in the campaign as saying he would stay on whatever the result of the election, citing the mandate he had from his leadership victories in 2015 and 2016.

Both Gordon Brown and Ed Miliband resigned after leading Labour to defeats in 2010 and 2015 but, amid speculation that jockeying for position has already begun, there have been suggestions that Mr Corbyn could stay on if he equals the 30.4% vote share that Ed Miliband got in 2015.
'Made-up numbers'

Labour is defending its plans to exert state control over key utilities amid uncertainty over what the final price tag will be and how it will be paid for.

It said it would not put an "arbitrary figure" on how much it would cost to nationalise England's water companies and the National Grid, saying the compensation due to existing shareholders would depend on a range of factors and would ultimately be decided by Parliament.

But it said it would be achieved by exchanging government bonds for shares in the companies and, since profits currently used to pay dividends would be used instead to pay interest on those bonds, there would be "no net cost" to the exchequer.

The Conservatives criticised "the premise that nationalising the water market and energy grid don't add to borrowing", saying the result would inevitably be higher taxes or rising bills.

"Jeremy Corbyn can't deliver any of this," a Tory spokesman said.

"These are made up numbers, based on a shambolic manifesto with a £58bn black hole at its heart. While his figures are a fantasy, it is ordinary working families who will pay."

Labour, which has said it would return the railways to public ownership as franchises expire, has also made a series of multi-billion-pound spending commitments on health and education.

It insists they are fully costed and will be covered by tax rises, including increasing corporation tax from 19% to 26% and raising the top rate of tax for earnings above £80,000 to 45p and to 50p for income over £123,000.

But the Institute for Fiscal Studies has said it is "genuinely uncertain" whether increases to income tax would raise the £6.4bn Labour has suggested, adding that they would be a "big increase" for high earners.