Donald Trump's presidency is turning out to be a bigger disaster than anyone predicted as the business tycoon lurches from one scandal to another.
The latest being the revelation that Trump asked the FBI director, James Comey, whom he subsequently fired to drop an investigation into his national security adviser (Mike Flynn) who he also fired.





Trump asked FBI's Comey to drop Flynn inquiry - reports
BBC US & Canada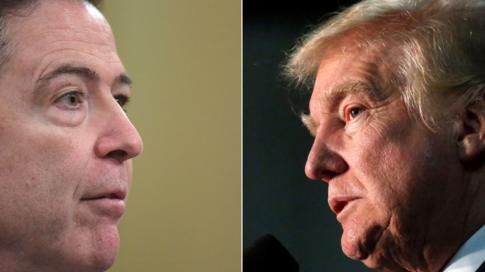 Image copyright - GETTY IMAGES Image caption - James Comey (left) was sacked as FBI chief by Mr Trump (right)

President Donald Trump asked FBI chief James Comey to drop an inquiry into links between his ex-national security adviser and Russia, US media report.

"I hope you can let this go," Mr Trump reportedly told Mr Comey after a White House meeting in February, according to a memo written by the ex-FBI director.

The memo was written immediately after the meeting, a day after Michael Flynn resigned, according to media reports.

The White House has denied the allegation in a statement.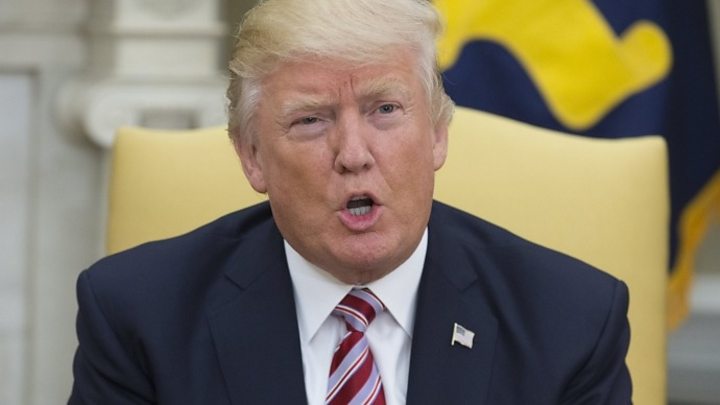 Media caption - A wild week for Trump in Washington

"The president has never asked Mr Comey or anyone else to end any investigation, including any investigation involving General Flynn," it said.

An influential Republican congressman has called for the FBI to hand over all relevant documents within a week.

Jason Chaffetz, who chairs the House Oversight Committee, demanded all correspondence relating to communications between Mr Comey and the president be presented by 24 May.

Mr Flynn was forced out in February after he misled the vice-president about his conversations with Russia's ambassador before Mr Trump took office.

The latest Russian twist, first reported by the New York Times, comes a week after Mr Trump fired Mr Comey over his handling of the FBI investigation into Hillary Clinton's use of a private email server while at the state department.

Mr Comey's dismissal sent shockwaves through Washington, with critics accusing the president of trying to thwart the FBI investigation into Russia's alleged interference in the US election and any Moscow ties to Trump associates.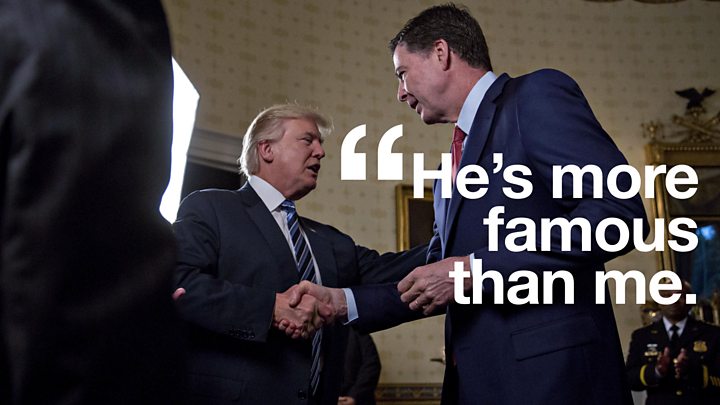 Media caption - Trump's love-hate relationship with Comey over a tumultuous year

What's the latest allegation?

Mr Comey reportedly wrote a memo following a meeting with the president on 14 February that revealed Mr Trump had asked him to close an investigation into Mr Flynn's actions.

He reportedly shared the memo with top FBI associates.

"I hope you can see your way clear to letting this go, to letting Flynn go," the president told Mr Comey, according to the memo. "He is a good guy."

Mr Comey did not respond to his request, according to the memo, but replied: "I agree he is a good guy."

In response to the report, a White House official pointed out that acting FBI director Andrew McCabe had testified last week that there had been "no effort to impede our investigation to date".

The I-word surfaces - Anthony Zurcher, BBC News, Washington

The "I" word - impeachment - has already been broached by politicians as moderate as independent Senator Angus King of Maine. If this were a Democratic-controlled House of Representatives, articles of impeachment would likely be in the drafting process.

Republicans still call the shots in Congress, however, and it's a significant leap to get them to abandon the Trump presidency and any hope of advancing their agenda for the foreseeable future.

But some, like Senator John McCain - who said this has become a scandal of "Watergate size and scale" - are clearly wavering.

The former Republican presidential nominee is a bit of a wild card, of course.

For the rank-and-file to turn on the president will require them to admit their complicity in a failed presidency.

Read in full - How damaging is this for Trump?
Why was Flynn being investigated?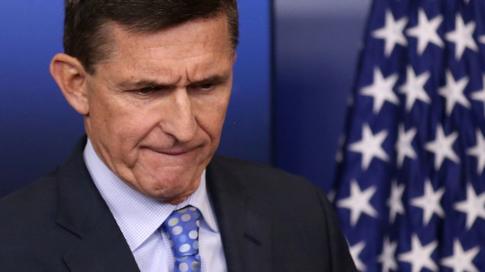 Image copyright - REUTERS Image caption - Flynn was fired for misleading colleagues

Trump 'asked FBI to drop Flynn inquiry'

Mr Flynn's departure in February came months after suspicions were raised among intelligence officials.

He resigned as White House national security adviser after just 23 days on the job over revelations that he had discussed lifting sanctions on Moscow with Russian ambassador Sergei Kislyak, before Mr Trump was sworn in.

It is illegal for private citizens to conduct US diplomacy.

Since Mr Flynn stepped down, the Pentagon has launched an investigation into whether he failed to disclose payments from Russian and Turkish lobbyists for speeches and consulting work.

Mr Flynn's Russian ties are under investigation by the FBI and the House and Senate Intelligence Committees, as part of wider inquiries into claims Moscow sought to tip the election in favour of Mr Trump.
Who is Michael Flynn?
Russia: The scandal Trump can't shake
Has Trump obstructed justice?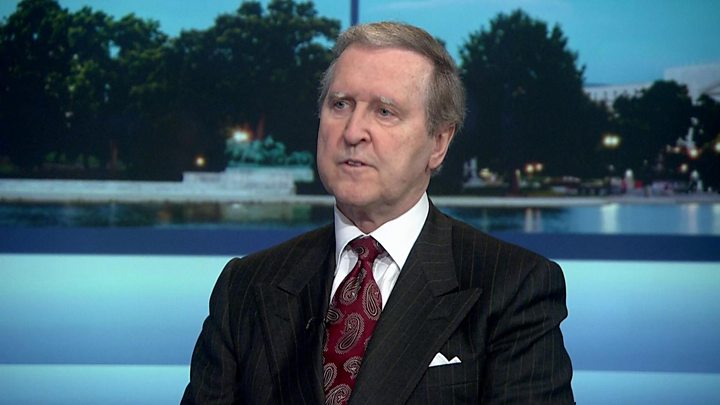 Media caption - Trump sharing intelligence 'very serious' says ex-defence chief

Adam Schiff, the highest ranked Democrat on the House Intelligence Committee, said this intervention by Mr Trump, if correct, amounted to "interference or obstruction of the investigation".

Senator John McCain reportedly said at a dinner that the Trump scandals had now reached "Watergate size".

The key legal statute is 18 US Code Section 1512, which contains a broad definition allowing charges to be brought against someone who "obstructs, influences, or impedes any official proceeding, or attempts to do so".

Section 1512 requires a person not only to attempt to obstruct justice but to do it with "corrupt" intent, and legal experts have told the Washington Post that is not clear in this case.
What is the US media saying?

An opinion piece in the New York Times, which first reported on Mr Comey's memo, expresses frustration with Republican lawmakers.

"When will Republicans in Congress decide that enough is enough?" it reads. "Do they need Mr. Trump's approval ratings to dip below 30%? Do they need first to ram through their deeply unpopular agenda? Or it is possible they might at last consult their consciences, and recall that they took an oath to uphold the Constitution?"

Dan Balz in the Washington Post says the Republican strategy of hoping the storm would pass has run aground, though many will continue to resist.

"But the double revelations of the past two days show that events are forcing a change in everyone's calculations," he writes.

Politico says Republicans are in a bind because the crisis could threaten their entire legislative programme.

"If Republicans are paralysed and can't pass anything despite control of the White House and Congress, how can they justify their majorities when they go before voters next year?" it says.

Meanwhile Tucker Carlson on Fox News urged viewers not to take everything they read at face value. He said "an awful lot of people in Washington" wanted to remove the president.

"What are their motives? In a lot of cases those are completely unknown. A lot of what you hear and accept uncritically you ought to question." he said.
Another Fine Mess (28/04/17)
Donald Trump had to sack his own National Security Adviser, Mike Flynn, just days after appointing the former American general to such an important role in his new administration.
Now Flynn led ugly ''lock her up' chants against Hillary Clinton during the presidential election campaign, but now it appears that the general has broken the law by accepting large sums of money from foreign powers including Russia and Turkey.
After yet another 'fine mess' the Trump White House is beginning to look like the West Wing run by Laurel and Hardy.
http://www.bbc.com/news/world-us-canada-39710527
White House blocks Flynn document request



BBC US & Canada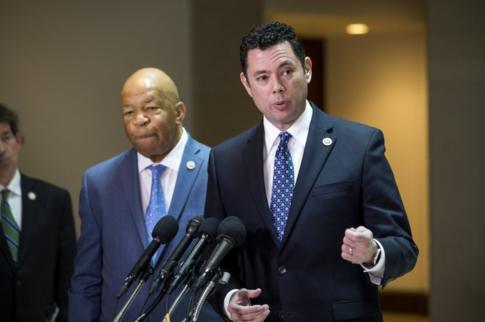 Image copyright - GETTY IMAGES Image caption - Congressman Jason Chaffetz said there could be 'repercussions' if Flynn broke the law

The White House has told a US congressional committee it will not comply with a request to release files related to a controversial former aide.

The House Oversight Committee is looking into payments to fired National Security Adviser Michael Flynn.

Lawmakers suspect he failed to disclose money he received in December 2015 to attend a Moscow gala, where he sat next to President Vladimir Putin.

Mr Flynn quit in February after misleading the White House.

The retired US Army lieutenant general had failed to divulge his conversations with the Russian ambassador, to Vice-President Mike Pence.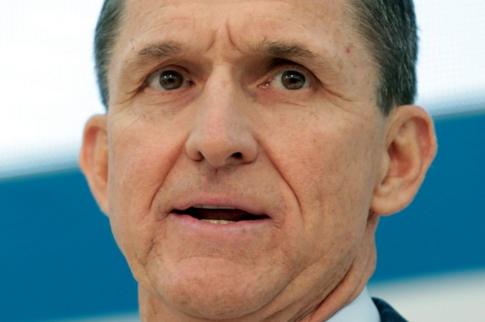 Image copyright - GETTY IMAGES Image caption - Flynn gave campaign speeches for Trump during the election

Mr Flynn's links to Russia are being scrutinised by the FBI and two congressional committees, as part of wider investigations into claims that Moscow sought to help Donald Trump win the US presidential election.

In addition to those inquiries, the House Oversight Committee is looking into whether Mr Flynn fully disclosed payments from Russian and Turkish or other foreign sources.

The oversight panel wanted to see his application for security clearance before he joined the White House administration in January.

But the White House referred the request to the Defence Department.

White House legislative affairs director Marc Short said in a letter on 19 April that he would be "unable to accommodate" the request because it relates to Mr Flynn's actions before joining the White House.
Massive vetting breakdown - Anthony Zurcher, BBC News, Washington
The legal noose appears to be tightening around Michael Flynn's neck.

While he was forced to resign as Donald Trump's national security adviser because of political concerns - what the White House said was a lack of honesty with Mr Pence and other administration officials - he's now being accused of disclosure violations that could carry criminal charges.

While this is obviously concerning to Mr Flynn, it's also a significant embarrassment for the White House, as these revelations represent a massive breakdown in the vetting process for its high-ranking officials.

The position of national security adviser is extremely sensitive - effectively the president's eyes and ears within the defence and intelligence communities - and the person who fills the role should be free from any possible foreign entanglements or possible ethical conflicts.

The contours of Mr Flynn's Russian connections were firmly in view as he emerged as a contender for a White House job and yet, it appears, the president and his team either pressed on without delving deeper into the matter or - perhaps more concerning - allowed the former general to come on board in spite of everything they may have known.

Such actions border on gross negligence.

The Republican chairman of the oversight committee, Jason Chaffetz, said Mr Flynn did not report payments for the 2015 Russia trip on his top-level security clearance form.

"I see no data to support the notion that General Flynn complied with the law," said Mr Chaffetz.

Mr Flynn received more than $33,000 (£25,700) from Russian broadcaster RT for giving a speech at its Moscow gala. He was seated at a table next to the Russian president.

Mr Flynn did not initially disclose payments received by foreign governments when filing financial disclosure forms related to his White House security clearance.

He filed an amended form in March, revealing three payments from the Russian government.

He also received more than $500,000 from Turkey for lobbying he undertook on their behalf in Washington after leaving the Defense Intelligence Agency in August 2014, and before joining the Trump administration.

Mr Flynn wants immunity to testify before Congress on alleged Russian election meddling, his lawyer has said.

"As a former military officer, you simply cannot take money from Russia, Turkey or anybody else," Mr Chaffetz said.

"And it appears as if he did take that money. It was inappropriate.

"And there are repercussions for the violation of law."
Guilty As Hell (04/04/17)
Donald Trump appears to be completely shameless about saying one thing and then doing another when it comes to his comments about standards in public life.
Because during the presidential election campaign 'candidate' Trump asked the rhetorical question:
"If you're not guilty of a crime, what do you need immunity for?"
Yet President Trump now supports a request for immunity from prosecution from his former national security adviser Mike Flynn, in return for Flynn giving evidence to a Senate inquiry into Team Trump's ties to Russia.
True to form, Flynn expressed exactly the same views as candidate Trump did before the election which means that even judged by their own standards both men must be guilty as hell.
http://www.bbc.co.uk/news/world-us-canada-39461356
Fired Trump aide Michael Flynn's immunity bid 'momentous'



BBC US & Canada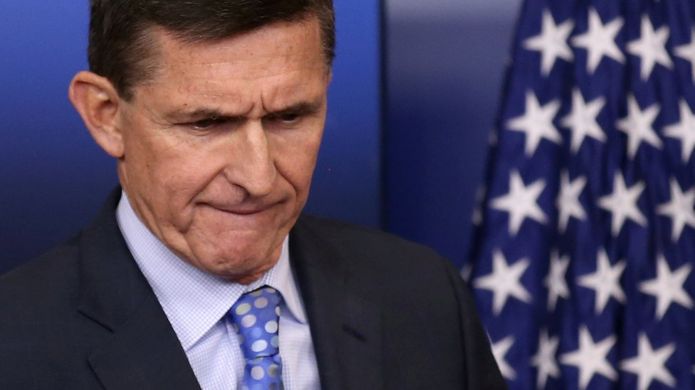 Image copyright - REUTERS Image caption - Mr Flynn "has a story to tell," his lawyer says

Trump takes office
The House Intelligence Committee's top Democrat says a request by the fired US national security adviser for immunity to testify to the panel is "momentous".

Representative Adam Schiff said they were interested in hearing Michael Flynn's evidence, but it was too early to shield him from any prosecution.

Two congressional committees and the FBI are investigating alleged Russian meddling in the US election.

Mr Flynn's ties with Russia have been under scrutiny.

The retired army lieutenant general was sacked in February after misleading the White House about a conversation he had with the Moscow ambassador shortly after the election.

Why immunity? Anthony Zurcher, BBC News, Washington

Michael Flynn may have a "story to tell", but what it is at this point is anybody's guess.

Donald Trump's critics will probably imagine grand revelations of possible campaign contacts with Russian operatives or even the "c" word - collusion. Beyond the news reports of ongoing conversations between Mr Flynn's lawyer and federal investigators, however, there is no firm ground for such speculation.

It's entirely possible the immunity request is nothing more than the former senior Trump adviser attempting to insulate himself from legal trouble if he were to answer detailed questions about his foreign contacts and lobbying efforts. For instance, if he actively represented overseas interests, he may have run afoul of federal disclosure rules.

There's also the chance that Mr Flynn could be uneasy about what he told FBI agents in January, when they asked about his conversations with Russian Ambassador Sergei Kislyak.

Either of those possibilities would be of great concern to Mr Flynn, who has a six-figure military pension to preserve, but it wouldn't be the kind of political bombshell that would directly threaten Mr Trump or his administration.

Given the uncertainty of the situation, however, there's sure to be some sleepless nights ahead for the White House.

On Friday morning, President Donald Trump tweeted that his sacked former aide should ask for immunity, also arguing it was a witch hunt.

Mr Schiff said in a statement that the panel would discuss any such request with the justice department and the Senate Intelligence Committee.

Mr Flynn's step was "grave and momentous", he added.

The California Democrat also said: "As with any investigation - and particularly one that grows in severity and magnitude by the day - there is still much work and many more witnesses and documents to obtain before any immunity request from any witness can be considered."

Meanwhile the White House continued to insist that there was evidence that the Trump campaign was subject to "politically motivated" snooping.

No evidence has been provided for the president's claim, which has been repudiated even by his fellow Republicans.

But press secretary Sean Spicer told journalists on Friday that the Obama administration had done "very, very bad things".

Mr Flynn was forced to resign as national security adviser on 13 February for failing to disclose talks with Russian ambassador Sergei Kislyak about US sanctions on Moscow.

He also misled US Vice-President Mike Pence about the chats, which occurred before Mr Trump took office.

Russia has denied allegations it hacked emails of Democratic groups and leaked information to tip the scales in favour of Mr Trump before last November's presidential election.

But the Senate Intelligence Committee, beginning its hearings on Thursday, heard claims the Kremlin had tried to sway the vote through "propaganda on steroids".

Ranking Democrat Mark Warner also said Moscow had paid an army of more than 1,000 people to create fake anti-Hillary Clinton news stories targeting key swing states.



Image copyright@REALDONALDTRUMP

Critics have highlighted a comment that Mr Flynn made in an NBC interview last September in which he said: "When you get given immunity that means you've probably committed a crime."

He was talking about reports that some of Mrs Clinton's aides had been granted immunity from prosecution amid an FBI inquiry into her emails.

At last summer's Republican party convention, Mr Flynn led chants of "lock her up" aimed at the Democratic candidate.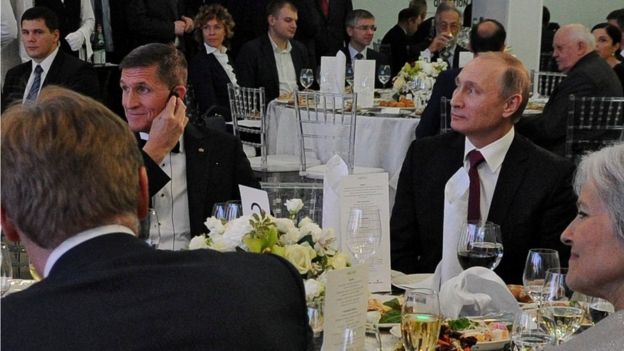 Image copyright - REUTERS Image caption - Mr Flynn was pictured dining with Russian leader Vladimir Putin in December 2015
10th Rate Flynn (15/02/17)
Depending on which White House spokesperson you believe Lieutenant General Michale Flynn was with sacked or allowed to resign his post as national security adviser after was exposed for having inappropriate contact with Russian officials weeks before he even took up his great office of state.
Yet here he is rabble rousing a crowd on Donald Trump's behalf while gleefully accusing Hillary Clinton of putting America's national security at risk.
Trump Mired in Scandal (14/02/17)
The BBC reports that Vladimir Putin's spokesman (Dmitry Peskov) tried to help America's national security adviser, Michael Flynn, cover up the fact that he had spoken with the Kremlin officials about sanctions on Russia.
Flynn has now been forced to resign in disgrace after days of dissembling during which his story became a version of the 'Yes, No, I Don't Know Show'.
Strangely enough the recent telephone conversation between President Trump and President Putin is the only one of its kind for which no official records exist because White House aides turned the recording equipment off.
After just three weeks in office Donald Trump's presidency is mired in scandal and controversy.
Michael Flynn: Trump's national security adviser quits



BBC US & Canada


Image copyright - REUTERS Image caption - Michael Flynn encouraged a softer policy on Russia and a harder line on Iran

Donald Trump's national security adviser, Michael Flynn, has resigned over his contacts with Russia, the White House has announced.

Mr Flynn is alleged to have discussed US sanctions with the Russian ambassador before Mr Trump took office.

He is said to have misled officials about the conversation.

Earlier, US media reported that the Justice Department had warned the White House about the contacts late last month.

They said that Mr Flynn might be vulnerable to Russian blackmail.

Senior Democrats had called for Mr Flynn to be fired.

It is illegal for private citizens to conduct US diplomacy, and the calls happened late last year before Mr Flynn was appointed to the administration.

The national security adviser is appointed by the president to serve as his or her chief adviser on international affairs and defence.

What did Mr Flynn say about the phone call?

In his letter of resignation, Mr Flynn said he had "inadvertently briefed the vice-president-elect and others with incomplete information regarding my phone calls with the Russian ambassador".

A White House statement said Lt Gen Joseph Keith Kellogg had been appointed as interim replacement for the post.
Image copyright - APImage caption - Questions have been raised about Mr Flynn's closeness with Russia. He was pictured dining with Russian leader Vladimir Putin in December 2015

Mr Flynn, a retired Army lieutenant general, initially denied having discussed sanctions with Ambassador Sergei Kislyak, and Vice-President Mike Pence publicly denied the allegations on his behalf.

However, Mr Flynn later told the White House that sanctions may have been discussed.

Kremlin spokesman Dmitry Peskov told reporters on Monday that Mr Flynn and Mr Kislyak did not discuss lifting sanctions.
Is Trump implicated? - Anthony Zurcher, BBC North America reporter
Image copyrightREUTERS

From inauguration to full-blown scandal punctuated by a high-level resignation in 24 days. That simply has to be some kind of record.

Donald Trump never does anything small. If his administration is going to have a political crisis, why waste any time?

From the day he was announced as Mr Trump's national security adviser, there were concerns about Michael Flynn's questionable contacts with Russia both before and after November's election.

The ground crumbled beneath his feet only recently, however, after revelations that his conversation with a Russian ambassador included talk of US-imposed sanctions. The mortal blow came late on Monday, with reports that Obama-era government officials had warned the Trump White House about the details of these calls in January.

Now Mr Flynn has been cut loose, but that may not be enough to staunch the bleeding.

Congressional Democrats - and perhaps some Republicans - will want to find out who was informed about Mr Flynn's contradictory stories and why nothing was done earlier. How far up the chain of command does it go?

All of this has some observers dusting off language from the mother of all presidential scandals, Watergate.

What did the president know, and when did he know it?
What was the reaction to the phone call?

Several House Democrats have called on Oversight Committee Chairman Jason Chaffetz to launch an investigation into Mr Flynn's ties to Russia.

Republican Senator Susan Collins of Maine said it would also be "troubling'' if Flynn had been negotiating with a foreign government before taking office.

Mr Flynn, who was previously fired by Barack Obama as head of the Defense Intelligence Agency, was an ardent supporter of Mr Trump during the campaign.

He became a close ally of both the president and his chief strategist, Steve Bannon.

He encouraged tougher policies on Iran and a softer policy on Russia, but questions were raised about his perceived closeness to Moscow.
How Flynn floundered
Mr Flynn is known to have spoken with Russian ambassador Sergei Kislyak several times by phone in December;
Mr Flynn denied that he and Mr Kislyak had discussed US sanctions and Vice-President Mike Pence also denied the claims on his behalf;
A spokesman for Mr Flynn then backtracked, telling reporters the adviser "couldn't be certain" he had not discussed the sanctions;
On Monday, White House counsellor Kellyanne Conway said Mr Trump had "full confidence" in Mr Flynn;
White House spokesman Sean Spicer later said the president was "evaluating the situation". Hours later, Mr Flynn resigned.
Who's the man who replaces him?
Image copyright - REUTERS

Retired Lt Gen Joseph Keith Kellogg has been appointed acting national security adviser, and is far from a newcomer to the Trump team.

He brings more than 30 years' experience in the army, and served in Vietnam, Cambodia, Panama and the Gulf.

During the Iraq war, he helped manage the coalition authority running the country in 2003 and 2004, before working for a defence contractor, according to Bloomberg.

More recently, he advised Mr Trump on national security issues during his campaign, and went on to be appointed chief of staff in the new administration's National Security Council.

Former CIA director retired General David Petraeus and Robert Harward, a former deputy commander of US Central Command, are also under consideration for the post, a White House official has said.