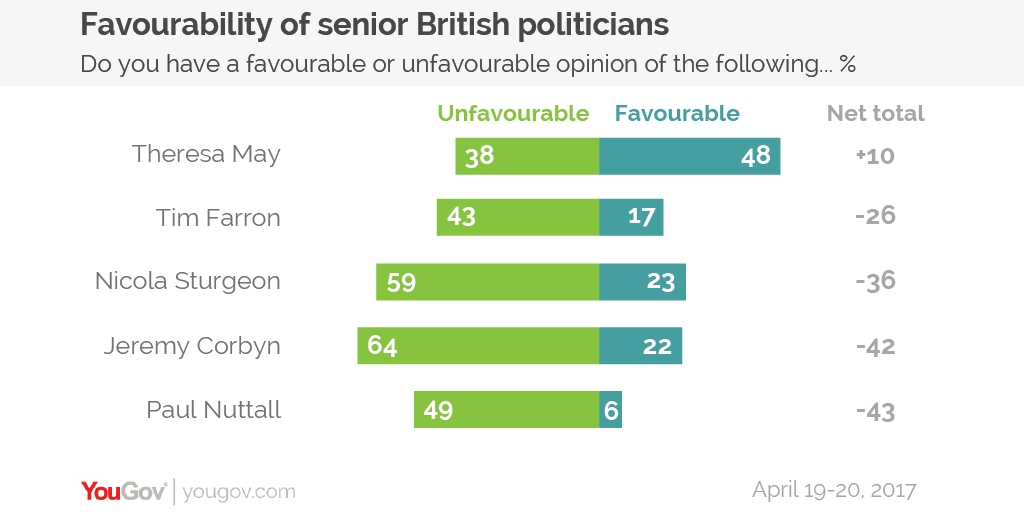 All may not be lost yet for Labour as the latest YouGov opinion polls show Jeremy Corbyn narrowly beating Ukip's Paul Nuttall to avoid coming last, albeit very narrowly, in the approval ratings.
Twenty years ago Labour was trouncing the Conservatives in the opinion polls which is a measure of just how far the party has fallen under Jeremy Corbyn's leadership.
20 Years Ago Today (04/03/17)
How times change: Guardian poll 20 years ago today Labour 48% Conservatives 30% Lib Dems 16% Others 6% (Via
@newdawn1997
)


"It was twenty years ago today

Sgt. Pepper taught the band to play

They've been going in and out of style

But they're guaranteed to raise a smile

So may I introduce to you

The act you've known for all these years

Sgt Pepper's Lonely Hearts Club Band"
Mandate Wars (03/03/17)

Over the past 20 years or so we've had Old Labour, New Labour, Real Labour - and now we have Deluded Labour under the leadership of Jeremy Corbyn.
In the wake of a disastrous by-election result in Copeland, the Labour leader reached for the safety blanket of his 'big' mandate before insisting that:
"Labour's share of the vote in Copeland has been falling for 20 years and of course I take my share of responsibility.

"We haven't done enough yet to rebuild trust with people who have been ripped off and sold out for decades and don't feel Labour represents them.

"I was re-elected... five months ago with a bigger majority and I am determined to finish that job; to reconnect Labour with our working-class voters and values so we can win power to rebuild and transform Britain for the many, not just the few."
But Labour's deputy leader (who also has a 'big' mandate) took a rather different and more critical view of his party's performance:

"I'm hugely disappointed that Gillian Troughton won't be joining [Labour] in Parliament as the MP for Copeland.

"That means that all of us with leadership roles in the Labour Party need to have a long, hard look at ourselves and what's not working. Seven years into a Tory government, we shouldn't be facing questions about whether we can retain the seats we already hold.
"Our job at the next election is to gain over 100 seats. Keeping what we have is supposed to be the easy bit. We have to do better. We cannot sustain this level of distance from the electorate, from our natural supporters. So things have to change."
Quite so, but how that will happen with Jeremy Corbyn as leader is difficult to imagine particularly Jezza has surrounded himself with an unrepresentative 'leftist' clique.
1997 vs 2017 (02/03/17)
Back in 1997 the Labour Party had an impressive array of politicians whose mission was to persuade voters that they were capable of forming an alternative government, after 18 long years of Conservative rule.
Peter Brookes captures how much has changed and just how far Labour have fallen 20 years on with this great cartoon for The Times.
Killer Facts (26/02/17)


The journalist Patrick Wintour made the telling point on Twitter that Labour's by-election loss is Copeland was not the inevitable result of a 20-year decline that started with New Labour.

But the records tell a different story since New Labour managed to increase the party's share of the vote from 44% with Michael Foot to 58% under Tony Blair's leadership

Labour Copeland vote
44% - 1983 (Michael Foot) 47% - 1987 (Neil Kinnock) 49% - 1992 (Neil Kinnock) 58% - 1997 (Tony Blair)
51% - 2005 (Tony Blair) 46% - 2010 (Gordon Brown) 42% - 2015 (Ed Miliband) 37% - 2017 (Jeremy Corbyn)

As Patrick Winter observed:

"Funny how these graphs start in 1997 to allow the Left comfort itself that New Labour caused Copeland. How did Lab reach 1997 peak?"
Meanwhile Team Corbyn continues to delude
itself that the party's leader is not major obstacle in its fight to become politically relevant again.