Jeremy Corbyn has had another disastrous few days which have cemented the Labour leader's reputation as politician with a reverse 'Midas Touch'.
First of all, Jeremy infuriated Labour colleagues in Scotland with his laid back comments about indyref2 being 'absolutely fine' which resulted in Labour's only Scottish MP to accuse Mr Corbyn of "destroying the party".
Jezza followed this up just hours later by throwing his shadow business secretary (Rebecca Long-Bailey) 'under the bus' and distancing himself from claims she had made about Labour's spending programme during a major interview on the BBC's Andrew Marr Programme.
http://www.bbc.co.uk/news/uk-scotland-scotland-politics-39244890
Scottish independence: Jeremy Corbyn says indyref2 'absolutely fine'

BBC Scotland politics


Image copyright - PA Image caption - Mr Corbyn was in Glasgow to speak at the party's economic conference

Labour leader Jeremy Corbyn has said that another referendum on Scottish independence would be "absolutely fine".

Nicola Sturgeon has repeatedly warned a fresh vote is "highly likely".

But Scottish Labour leader Kezia Dugdale has said her party would oppose any attempt to hold a referendum.

However, Mr Corbyn told the Press Association it was not the job of Labour "to prevent people holding referenda".

Senior Scottish Labour figures have strongly condemned Mr Corbyn - with the party's justice spokeswoman, Jackie Baillie, describing his comments as "misguided and irresponsible".

She added: "They are an insult to the dedicated work of Scottish Labour MSPs, councillors, and thousands of activists who have campaigned against a divisive second referendum."

'Destroying the party'

Labour's only MP in Scotland, Ian Murray, tweeted that Mr Corbyn was "destroying the party" - but Ms Sturgeon, the Scottish first minister and SNP leader, tweeted that it was "always a pleasure to have Jeremy Corbyn campaigning in Scotland".

Mr Corbyn's remarks come amid speculation that Ms Sturgeon is about to demand a Section 30 order from Westminster, allowing another legally binding vote on Scotland's place in the UK to be held.

Prime Minister Theresa May has so far avoided saying whether or not she would grant permission - instead saying only that she does not believe a second referendum should be held.

Mr Corbyn suggested he did not think Westminster should seek to block a referendum, and was quoted by PA as saying that Labour "wouldn't block it".

He added: "If a referendum is held then it is absolutely fine, it should be held. I don't think it's the job of Westminster or the Labour Party to prevent people holding referenda."

He also stressed the importance of the economic ties between Scotland and the rest of the UK, and on the issue of further devolution stressed any new powers transferred north as a result of Brexit should go further than just Holyrood.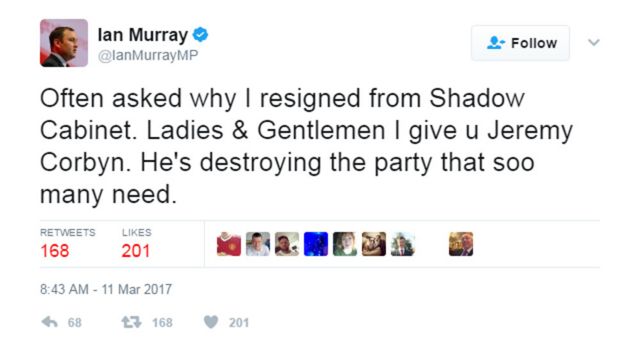 Image copyright@IANMURRAYMPImage captionLabour's only MP in Scotland, the former Scottish secretary Ian Murray, tweeted his verdict on Mr Corbyn's comments

Image copyright@NICOLASTURGEONImage captionNicola Sturgeon also made her feelings on Mr Corbyn clear

Mr Corbyn said: "I do think we should set it within the context of the economic relationship with the rest of the UK and the question of devolution of EU to English regions and to Scotland, and to parts of Scotland rather than just to the government in Holyrood.

"The principle of regionalism is it goes to everybody within a region, not just to the central powers and the SNP have a bit of a tendency to centralise things around themselves."

A spokesman for Mr Corbyn later told the BBC: "Jeremy reaffirmed our position today that if the Scottish Parliament votes for a referendum, it would be wrong for Westminster to block it.

"Labour continues to oppose a further referendum in the Scottish Parliament and would campaign against independence if one were held."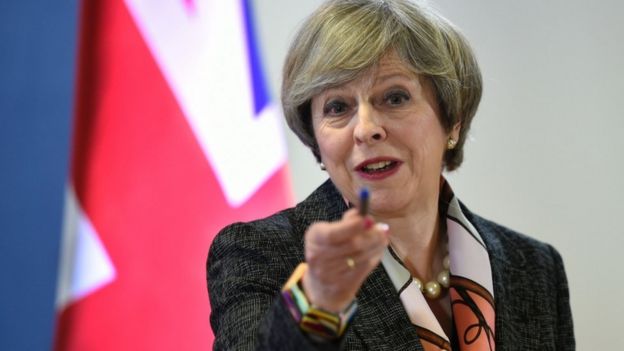 Image copyright - GETTY IMAGES Image caption - The prime minister has not said whether she would grant permission for a second independence referendum

Mr Corbyn was speaking ahead of a speech to Labour's economic conference in Glasgow.

His comments appeared to echo those of former Liberal Democrat leader Nick Clegg, who told the Herald newspaper that it would be "very difficult for any government of any composition in London to try and impose a fatwa on any move towards a referendum, if that was something which was being pushed, however unwelcome that is."

However, Scottish Lib Dem leader Willie Rennie told ITV Borders that the party would vote against a referendum in both Holyrood and Westminster.

SNP MSP Stuart McMillan said Mr Clegg and Mr Corbyn had "both recognised the Scottish government's cast-iron democratic mandate for a second independence referendum if that is the chosen route to protect our national interests."

'Economically disastrous'

He added: "This was a specific manifesto commitment on which the SNP was re-elected just 10 months ago.

"Scotland voted clearly and decisively to remain in the EU: not for an economically disastrous Tory hard Brexit outside the Single Market, and yet Lib Dem and Labour MSPs will happily sit on their hands and let that happen.

"It's embarrassing that Lib Dem and Labour in Holyrood want to deny Scotland the opportunity to avoid a damaging hard Tory Brexit while Corbyn and Clegg agree that it would be wrong to block Scotland having a choice on our future if that is what is needed."

Scottish Conservative chief whip John Lamont said: "Jeremy Corbyn clearly doesn't understand that most people in Scotland don't want another divisive referendum.

"A second referendum on independence should not take take place and, unlike Mr Corbyn, the Scottish Conservatives will not support the SNP in making it any easier to take place.

"The less he says on this issue, the better."
Jeremy Corbyn puts Labour spending plans under spotlight



BBC UK Politics

Media captionJeremy Corbyn tells Radio 4's Today his party's spending programme is "not complete"

Labour leader Jeremy Corbyn has said his party's spending plans are not complete, and appeared to contradict his business spokeswoman.

Shadow business secretary Rebecca Long-Bailey discussed on Sunday's Andrew Marr Show how Labour would raise money to pay for £63bn of extra spending.

But Mr Corbyn told BBC Radio 4's Today: "I don't recognise the figure.

"Our programme is not complete... the figure that was used on the Marr programme is not one we recognise."

During her interview with the BBC's Andrew Marr, Ms Long-Bailey was repeatedly challenged over how her party would raise the £63bn to pay for promised extra commitments if it got into government.

She said independent research showed that reverses to a series of tax cuts would raise £70bn by 2020: "We certainly wouldn't have made the decisions that this government has, for example, slashing taxes for the most wealthy in society - inheritance tax, capital gains tax, the bank levy, corporation tax."

During an interview with BBC Radio 4's Today programme, Mr Corbyn rejected suggestions that Labour would spend £60-70bn more than the Conservatives paid for by taxation, stressing: "I don't recognise the £60bn figure.

"Corporation tax was 28%, it's now dropping and is due to drop to 17% - and indeed both the prime minister and chancellor threatened to drop it even further if Brexit didn't work and they would go down to an Irish figure of 12%.

"On a calculation of OBR figures, [it] shows that by 2022 £70bn will have been given to corporations and the very wealthiest by tax breaks and tax cuts - we would reverse the corporation tax cut, yes, and put corporation tax up."

Mr Corbyn said some of the cash would come from inheritance tax and the threshold for higher paid earners.

"But our programme is not complete - I fully concede that - it could not be, we're still working that out," he said. "So the figure you gave and was used on the Marr programme yesterday was not one we recognise."