Donald Trump has such a monstrous, all consuming ego that he seems unmoved by the damage his uncontrolled Twitter outbursts are having on the office of President of the United States (POTUS).
The latest nonsense that UK security services helped President Obama 'wiretap' Trump's phone has brought a furious denial from

GCHQ which said the allegations, made by White House press secretary Sean Spicer, were "nonsense, utterly ridiculous and should be ignored".
Hardly a day goes by now without
Donald
Trump playing into the hands of his critics and providing more evidence that the job of POTUS is way beyond his limited talents.
In fact Trump's beginning to sound a bit like the increasingly unhinged President Erdogan of Turkey.
http://www.bbc.co.uk/news/world-us-canada-39297439
Senate intelligence panel rejects Trump wiretap claim

BBC US & Canada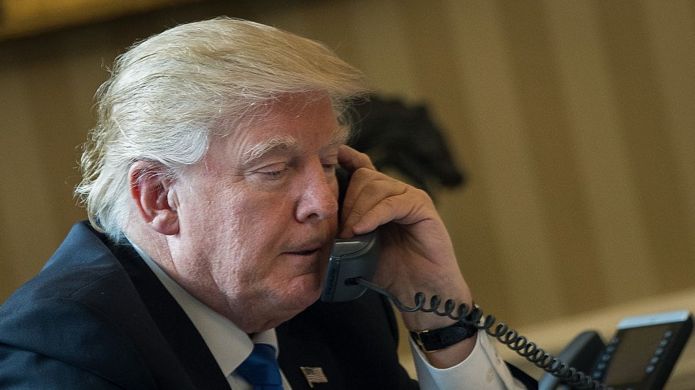 Image copyright - GETTY IMAGES Image caption - Trump said his predecessor wiretapped his phone but has produced no evidence

There are "no indications" that Trump Tower was under surveillance by the US government before or after the election, a Senate committee has said.

The statement from Republican Senator Richard Burr, Senate Intelligence Committee chairman, dismissed Donald Trump's claim his phones were tapped.

Mr Trump had accused his predecessor Barack Obama of wiretapping Trump Tower during the presidential race.

But White House spokesman Sean Spicer said Mr Trump maintains his claims.

"He stands by it," Mr Spicer said at a daily news briefing on Thursday.

The press secretary also refused to accept the Senate Intelligence Committee report, saying "they're not findings".

Mr Burr joins a cadre of Republican lawmakers who have rejected the allegation.

White House softens Trump wiretap claims
Did Obama really wiretap Trump Tower?
Why Republican support for Trump is sky-high
Russia: The scandal Trump can't shake

"Based on the information available to us, we see no indications that Trump Tower was the subject of surveillance by any element of the United States government either before or after Election Day 2016" Mr Burr said in a joint statement with Senator Mark Warner, the committee's vice-chairman.

Earlier on Thursday, House Speaker Paul Ryan also said "no such wiretap existed".

Republican chairman of the House intelligence committee Devin Nunes said on Wednesday he doesn't believe "there was an actual tap of Trump Tower".

Republicans have questions about Trump and his wiretap claim

But that has not deterred Mr Trump, who on Wednesday told Fox News a "wiretap covers a lot of different things".

He also hinted that more details about the alleged surveillance could be revealed in the coming weeks.

"Wiretap covers a lot of different things. I think you're going to find some very interesting items coming to the forefront over the next two weeks," he said in an interview broadcast on Wednesday night.

No evidence of wiretapping, according to:
former President Barack Obama
FBI Director James Comey
ex-Director of National Intelligence James Clapper
ex-CIA Director John Brennan
Republican chairman of House intelligence committee, Devin Nunes
Republican John McCain, who chairs Senate Committee on Armed Services
House Speaker Paul Ryan
Former White House Chief of Staff Denis McDonough
Mr Trump echoed comments from White House Press Secretary Sean Spicer, who said the president used the word "wiretap" in quotes to broadly refer to "surveillance and other activities".

The White House has yet to provide any evidence of the president's claims, and instead has asked Congress to examine the allegation as part of a wider investigation into alleged Russian interference in last year's election.
Microwave Madness (14/03/17)
The BBC reported Donald Trump's accusation that President Obama had wire-tapped his phone which most people denounced as completely crazy at the time.
Some of Trump's cheerleaders even took the allegations a step further by suggesting that this 'covert surveillance' could have been done via the medium of a microwave oven, raising their paranoid conspiracy theories to a whole new level.
But the White House press secretary Sean Spicer has since clarified that President Trump wasn't referring to wiretapping when he tweeted about wiretapping, instead he meant "surveillance and other activities".
Mr Trump, by the way, is still known income quarters as the leader of the free world.
http://www.bbc.co.uk/news/world-us-canada-39167110
Trump accuses Obama of tapping his phone



BBC US & Canada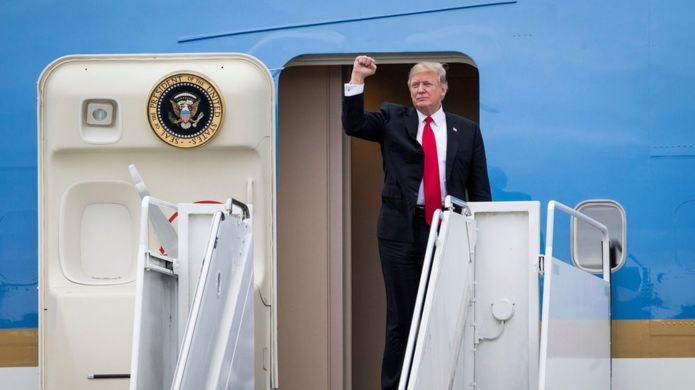 Image copyright - AP

US President Donald Trump has accused his predecessor of wire-tapping his phone a month before he was elected.

President Trump tweeted early on Saturday: "Terrible! Just found out that Obama had my "wires tapped" in Trump Tower just before the victory. Nothing found. This is McCarthyism!"

He went on to say that a court had earlier denied a wiretap request.

The US president has given no details to back up the claim - or suggested which court order he was referring to.

Media reports in the last few weeks have suggested the FBI had sought a warrant from the foreign intelligence surveillance court (Fisa) last summer in order to monitor members of the Trump team suspected of irregular contacts with Russian officials.

The warrant was first turned down but then approved in October, according to the media reports.

There has been no official confirmation and it is also not clear if this evolved into a full investigation.




There has been no comment from ex-President Barack Obama.

Mr Trump called the alleged tapping "a new low" and said "This is Nixon/Watergate" - referring to the most notorious political scandal of 1972, which led to the downfall of President Richard Nixon after a web of political spying, sabotage and bribery was exposed by the media.

He also called it McCarthyism - the persecution for US Communists and their allies led by Senator Joe McCarthy in the 1950s.

Read more:

Why is Watergate in the news again?
Russia: The scandal Trump can't shake

Mr Trump has been reeling from accusations of links between his campaign team and Russia, following an intelligence report that Moscow was involved in hacking in order to get Mr Trump elected.

In the latest twist, his Attorney-General Jeff Sessions has been forced to remove himself from an investigation into the Russian role.




This followed revelations that he had met the Russian ambassador during the campaign, despite denying this at his confirmation hearings.

Mr Trump's National Security Adviser Michael Flynn was forced to resign after four weeks in office for misleading the White House over his contacts with the Russian envoy during the election campaign. Sanctions against Russia were allegedly discussed.

Referring to contacts with Ambassador Sergei Kislyak, Mr Trump tweeted: "Just out: The same Russian Ambassador that met Jeff Sessions visited the Obama White House 22 times, and 4 times last year alone."
Looney Tune President (02/09/16)
The looney tune president of Venezuela, Nicolas
Maduro, has to be one of Jeremy Corbyn's favourite politicians, given than he (Jezza) was such a fan of his Maduro's predecessor, Hugo Chavez.
In another demonstration that he has turned into a demagogue and elected dictator, Maduro has called for the sacking of public sector workers who signed a petition backing his recall.
Just imagine what Jeremy and his 'toytown' leftist revolutionaries would have to say if this outrageous was taking place in some other part of the world.
Venezuela public workers face sack over referendum



BBC Latin America & Caribbean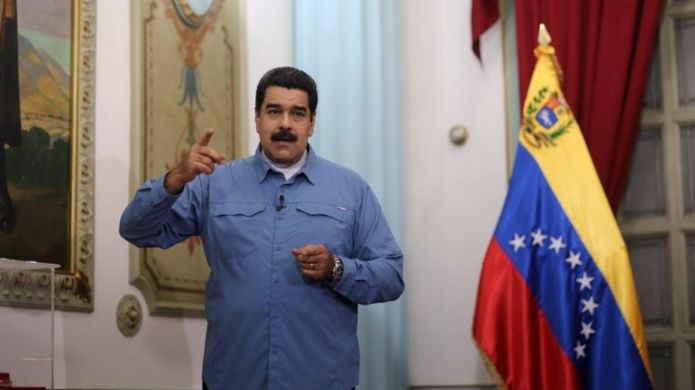 Image copyright - REUTERS Image caption - President Maduro gave ministries 48 hours to sack senior workers who had signed the petition

Venezuelan public sector workers who signed a petition backing a referendum to recall President Nicolas Maduro could face dismissal, a spokesman of the governing Socialist Party said.

The spokesman said President Maduro had ordered that any manager in five key ministries who signed the petition should be sacked.

The petition is the first step towards a referendum which could see Mr Maduro ousted.

Mr Maduro has been in power since 2013.
48-hour deadline

He is a supporter of the "Bolivarian Revolution", the socialist movement his predecessor in office, Hugo Chavez, founded.

Government critics argue that their socialist policies have driven Venezuela into a severe economic crisis.
They have called for a recall referendum to be held this year to remove Mr Maduro from the presidency and trigger fresh elections.

They handed in a petition to that effect in May signed by almost two million people, many more than the 1% of registered voters they needed.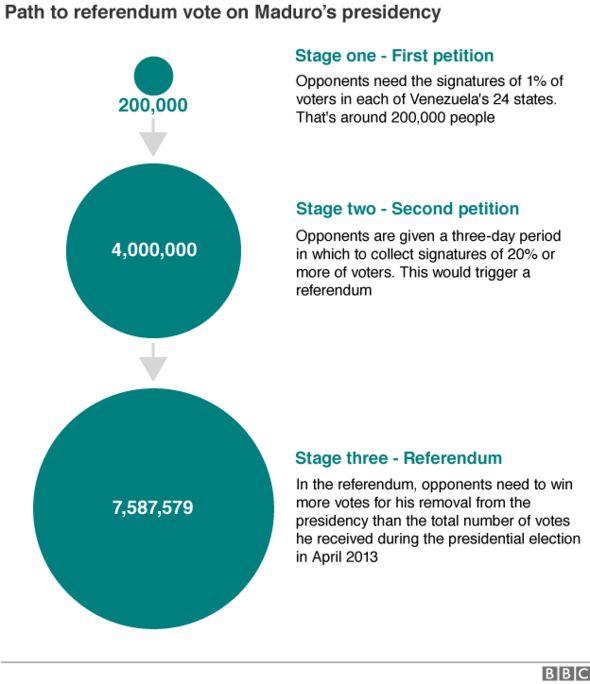 On Monday, Socialist Party (PSUV) spokesman Jorge Rodriguez said that those in senior public positions who had signed the petition would have to leave their posts.

"Today, by order of the [governing Socialist] party president Nicolas Maduro, five ministries ... cannot have people that are against the Revolution and the president in management positions".

He said that President Maduro had given the ministries of food, basic industries and finance among others a deadline of 48 hours to dismiss those in senior positions who had signed the petition.
Race against time

The announcement follows reports by pressure groups and opposition parties that public sector workers who had signed the petition were pressured and sometimes sacked.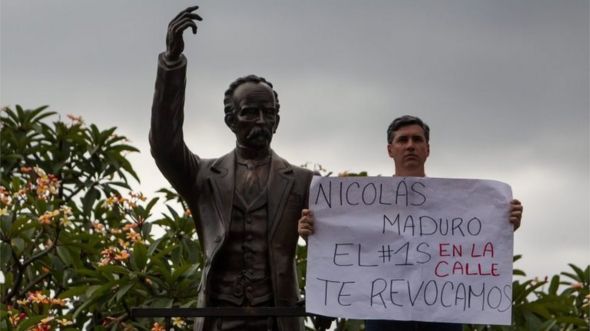 Image copyrightEPAImage captionOpposition politicians have urged their supporters to take to the streets on 1 September to demand a recall referendum

Opposition politicians behind the drive for a recall referendum say the government is doing everything in its power to try to derail, or at least delay, the referendum.

The electoral authorities have told the opposition that they can only start collecting signatures in late October for the second petition needed to trigger a referendum.

Timing is key as the date when the referendum is held will determine what happens next.

If a referendum should go against the president before 10 January, new elections will be held, which the opposition hopes to win.

But if it is held after that date and Mr Maduro is recalled, his loyal vice-president will serve out the end of his term until 2019.

The opposition has called on its supporters to join a protest march on 1 September to demand that the electoral authorities allow the referendum to go ahead before the 10 January, which marks the day when Mr Maduro will have served four years in office.
Spitting Image (12/11/13)
Anyone looking for confirmation that Venezuelan President, Nicolas Maduro, is nothing more that a political snake-oil salesman should consider his latest crazy antics - his claim, for example, that a 'miraculous' image of Hugo Chavez (his mentor and predecessor) appeared on the wall of an underground construction site.
Now I've posted the 'miraculous' image with this post and have to say that I can't see this as the 'spitting image' of Hugo Chavez - no matter how hard I try.
In fact it looks at best to me like one of those misshapen vegetables that attract publicity from time-to-time as loosely resemble a human face - good for a laugh perhaps, but that's all.
Yet Nicolas is keen on interpreting this as another miracle, a sign that Hugo Chavez is somehow watching over his country and giving his blessing from beyond the grave to the increasingly wacky Maduro administration - which has price inflation running at an astonishing 50%.
Now Nicolas is a 'socialist' politician of course, but he seems more than happy to inject a little voodoo into his pitch to the voters - many of whom are deeply religious.
Which is a load of old bollix, if you ask me - and while you would think that no socialist worth their salt would indulge in this kind of mumbo jumbo, President Maduro appears unabashed.
So, I would not be in the least surprised if he is carted off by men in white coats any day now - or perhaps even the military - because there seems little doubt that the President is losing the plot.
Here's a report on the 'Chavez is everywhere' story from the Telegraph newspaper - which made me laugh out loud.
Hugo Chavez 'appears' on construction site wall

President Nicolas Maduro claims marks on a wall are the image of late Venezuelan leader Hugo Chavez


Stories of Chavez appearances draw mockery from the roughly half of Venezuelans who do not support Mr Maduro Photo: Reuters

Venezuelan President Nicolas Maduro said an image of his political idol and predecessor, the late socialist leader Hugo Chavez, had appeared miraculously in the wall of an underground construction site.

Since his death from cancer earlier this year, Chavez has taken on mythical proportions for supporters, and Mr Maduro has spoken of seeing his former mentor's spirit several times, including in the shape of a bird.

In the latest incident, Mr Maduro said Chavez's face briefly appeared to workers building a subway line in Caracas in the middle of the night.

"My hair stands on end just telling you about it," Mr Maduro said on state TV late, showing a photo of a white-plaster wall with marks that appear like eyes and a nose.

"Who is that face? That gaze is the gaze of the fatherland that is everywhere around us, including in inexplicable phenomena," added Mr Maduro, who won an April election to replace Chavez after his 14-year presidency.

Mr Maduro's reverence for Chavez plays well with government supporters, who treat the charismatic former leader's memory with religious adoration. The 50-year-old Maduro, who mixes Catholic beliefs with a penchant for Asian spirituality, has been a devoted personal follower of Chavez since first meeting him at a jail in 1993.

Workers took the photo with a mobile phone during the image's brief appearance, the president added.

"Just as it appeared, so it disappeared. So you see, what you say is right, Chavez is everywhere, we are Chavez, you are Chavez," Mr Maduro said during an event on live TV.

Stories of Chavez appearances draw mockery, however, from the roughly half of Venezuelans who do not support Mr Maduro. Many of them regard him as a buffoon riding on Chavez's image and causing embarrassment for Venezuela's international standing.

Both sides are gearing up for local elections in December that will be a major test of Mr Maduro's standing in the OPEC nation of 29 million people. Rampant violent crime and economic problems are the main issues taxing voters.

The president's first six months in office have been characterized by dozens of accusations ranging from assassination and coup plots to sabotage of the power grid. Critics say that is a smokescreen to cover up domestic problems.

Edited by Bonnie Malkin
Sleep Disorder (19 October 2013)
I've been taking a keen interest in what's going on in Venezuela these days as I'm fascinated by the rise to power of President Nicolas Maduro to power - because I'm convinced he's a political panhandler, a phoney or as we might say here in Scotland a complete chancer.
My reason for saying this is that the Venezuelan Maduro sees 'dead people' when it suits his purpose and one in particular - his predecessor Hugo Chavez who appeared to him in the form of a little bird at the height of the presidential election.
But this kind of shameless behaviour has continued with the new President letting it be known that he beds down frequently in the mausoleum where Hugo Chavez's remains have been paid to rest - in the Mountain Barracks which is a 19th century fort in a run-down areas of Caracas.
Apparently, the 'Great Leader's' tomb is housed in the ornate central atrium of the military barracks and is now guarded - around the clock - by soldiers replete with red and yellow hussars uniforms and swords, although what Hugo Chavez is being protected from is anyone's guess.
President Maduro 'slipped out' this revelation, quite deliberately of course, and announced portentously to his people
:
"I sometimes come at night. At times, many times, I sleep here. We enter at night and we stay to sleep. At night we reflect on things here."
The royal 'we' in this case is the president's entourage who join him in the mausoleum, but it's all clearly just a silly political stunt designed to reinforce the personality cult that grew up around Hugo Chavez - in the hope that some of this will rub off on Maduro.
The latest wheeze from the new President is to ask parliament to grant him special powers - so that Nicolas can govern by Presidential decree for up to three years - allegedly to tackle corruption and economic sabotage.
Yet the language used by President Maduro in seeking these new powers is very revealing and i
n a three-hour speech to the Parliament he reportedly called it a "matter of life or death" for the country's socialist revolution, before adding:

"If corruption keeps expanding and perpetuating its destructive capitalist logic, there will be no socialism here."

Now the problem with this kind of overblown rhetoric is that it's empty-headed, rabble-rousing nonsense of course - since all kinds of people around the world will tell you that 'capitalist' countries have no monopoly on political corruption.
If politics has taught me anything, it's that people with 'left' or 'right' wing views are both very capable of behaving very badly - and that by and large it's bad for democracy and the body politic for any one person or party to remain in power for too long - because as the saying goes 'Power corrupts and absolute power corrupts, absolutely'.
Looney Tunes (7 May 2013)
A few weeks ago, the acting President of Venezuela - Nicolas Maduro - told the world that the former President of Venezuela - Hugo Chavez - had appeared to him during the presidential election campaign in the form of a little bird.
Now at the time I said Nicolas was either bonkers or a complete charlatan - and evidence in support of my statement continues to pile up as the Venezuelan leader sees plots around every corner.
Is the President paranoid?, seems a fair question to ask in the circumstances - but I think not, I suspect it's all just a cynical political act.
The latest claim from Nicolas
Maduro is that he is the target of an alleged Colombian plot to assassinate the Venezuelan President - an incendiary charge to make towards a neighbour and one for which Nicolas has not a shred of evidence to back up his claim.
Just like Hugo Chavez appearing to him in the form of a little bird - it's an emotional appeal that's designed to exploit people's feelings - their sense of loss over Chavez and now their sense of resentment towards a neighbouring country, Colombia.
So the newly elected President Maduro has accused former Colombian leader - Alvaro Uribe - of plotting to assassinate him - and Nicolas has
alleged other conspiracies against him since taking over from the late Hugo Chavez - and winning disputed elections last month.
The BBC reported Maduro as saying last week:
"Uribe is behind a plot to kill me. Uribe is a killer.
I have enough evidence of who is conspiring, and there are sectors of the Venezuelan right involved."
Yet, conveniently, no evidence has been produced - and this latest outburst seems like yet another inflammatory attempt by Maduro to portray his critics variously as killers, traitors, fascists and bogeymen.
Meanwhile, Mr Uribe responded by describing President Maduro as 'immature' - which seems an very apt description to me of a new President who appears to be way, way out of his depth.