The Telegraph reports on the mysterious death of yet another Russian citizen whose activities were making uncomfortable news headlines for President Vladimir Putin.
http://www.telegraph.co.uk/news/2017/01/27/mystery-death-ex-kgb-chief-linked-mi6-spys-dossier-donald-trump/
Mystery death of ex-KGB chief linked to MI6 spy's dossier on Donald Trump
Oleg Erovinkin

By Robert Mendick - The Telegraph
PhotoCredit - Robert Verkaik

An ex-KGB chief suspected of helping the former MI6 spy Christopher Steele to compile his dossier on Donald Trump may have been murdered by the Kremlin and his death covered up. it has been claimed.

Oleg Erovinkin, a former general in the KGB and its successor the FSB, was found dead in the back of his car in Moscow on Boxing Day in mysterious circumstances.

Erovinkin was a key aide to Igor Sechin, a former deputy prime minister and now head of Rosneft, the state-owned oil company, who is repeatedly named in the dossier.


Christopher Steele
Putin's Russia (19/12/16)
The Independent reports on the unusual death of another of President Putin's critics - a well known journalist called Alexander Shchetinin who became a Ukranian national recently after giving up his Russian citizenship.
Now it could be entirely coincidental, course, as people do sadly decide to take they own lives, but at the same time the news comes on the back of a number of strange deaths - from Alexander Litvinenko who was poisoned with radioactive Polonium to Borsi Nemtsov who was gunned won while walking across a Moscow bridge.
So either Vladimir's having a 'run of bad luck' (or good luck depending on your point off view) or some other force is at play.
Read the full article via the link below to The Independent.
http://www.independent.co.uk/news/world/russian-journalist-vladmir-putin-critic-alexander-schetinin-found-dead-on-birthday-kiev-ukraine-a7214286.html
Russian journalist critical of Vladimir Putin found dead on his birthday with gunshot wound to his head



Alexander Shchetinin found dead with a gun near his body after friends tried to visit him at home
By Rachael Pells - The Independent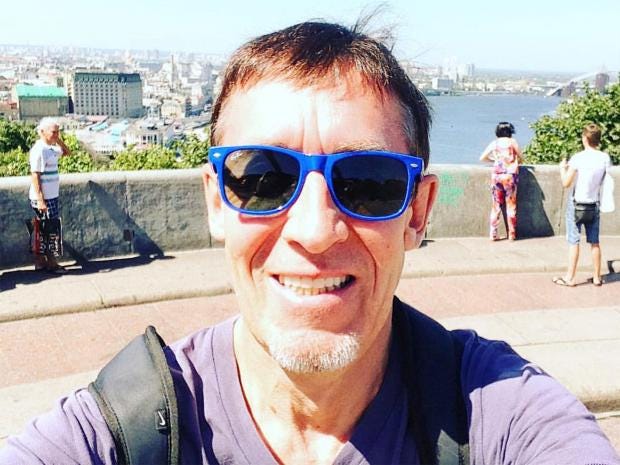 Mr Shchetinin gave up his Russian citizenship before becoming a Ukrainian national and settling in Kiev Facebook

A well-known Russian journalist and critic of President Vladimir Putin has been found dead in his Kiev apartment with a gunshot wound to the head.

The body of Alexander Shchetinin, founder the Novy Region (New Region) press agency, was found at his flat after friends tried to visit him on his birthday.

A police spokesperson said Kiev forces were alerted of Ms Shchetinin's death at around midnight on Saturday. He is believed to have died a few hours earlier, between 8 and 9.30pm.
More Strange Deaths (25/11/16)
I'm not a big fan of conspiracy theories, but I think there are good grounds to make an exception in the case of any incidents connected to the terrible murder of Alexander Litvinenko, a critic of President Putin and former Russian spy.
The manner of Alexander Litvinenko's reads like something out of a James Bond movie and there is not doubt that the Russian state, if not the Putin government, was involved in his macabre killing.
The Times reports that a radiation expert, Matthew Pulcher, who helped to investigate Litvinenko's poisoning by radioactive Polonium was found dead five months after a trip to Russia.
Apparently, Mr Puncher bled to death after stabbing himself multiple times (a highly unusual way of committing suicide) and while a pathologist concluded that his injuries were self-inflicted, the pathologist also said that he could not "entirely exclude" the possibility that someone else was involved.
Read the full story via the following link to The Times.
http://www.thetimes.co.uk/edition/news/litvinenko-expert-took-his-own-life-0v29n0hqg
Russia in the Dock (23/07/14)
In November 2006 Alexander Litvinenko, a former Russian agent, met with two former colleagues,
Andrei Lugovoi and Dmitri Kovtun, in London.
A few days later he was admitted into hospital suffering from poisoning, but not just any old poisoning because somehow he had ingested radioactive Polonium 210 which finally killed him 22 days later - with the poison being traced back to a teapot in the London hotel where he had shared a cup of tea with his fellow countrymen from Russia.
Suspicious, damning even, or what?
Because it's not everyone, of course, who has ready access to a highly volatile, dangerous radioactive isotope and the ability to administer such a deadly substance to an 'enemy' they intended to kill, without being anywhere near the scene of the crime when their deadly deed finally came to light.
So it's great news that Marina Litvinenko has been granted the public inquiry that her husband's terrible murder deserves, as explained in the following report from the BBC.
Alexander Litvinenko death: UK announces public inquiry
A public inquiry will be held into the death of the Russian dissident Alexander Litvinenko, the UK Home Secretary Theresa May has announced.

Mr Litvinenko, a former KGB officer who became a British citizen, died in 2006 in a London hospital after he was poisoned with radioactive polonium.

The investigation will examine whether the Russian state was behind his death.

Mr Litvinenko's widow, Marina, said she was "relieved and delighted", saying the "truth will win out in the end".

Announcing the inquiry - which will be chaired by senior judge Sir Robert Owen - Mrs May said she hoped it would be of "some comfort" to Mrs Litvinenko.

The former Russian spy, 43, died after he was poisoned with radioactive polonium while drinking tea with two Russian men, one a former KGB officer, at a London hotel.

His family believes he was working for MI6 at the time of his death and was killed on the orders of the Kremlin.

'For truth'

Speaking at a press conference, Mrs Litvinenko - who had legally challenged the government's earlier decision not to hold a public inquiry - said she had pursued the case "for justice", adding: "I did this for truth."

"I would like to be able to show people that you are able to get justice, in any difficult situation," she added.

But she added that she did not believe the suspects would face trial in the UK.

One of the suspects, Andrei Lugovoi, told the Russian Interfax news agency the decision to launch an inquiry was "the height of cynicism".

In May 2007, the UK said Mr Lugovoi - now a politician in Russia - should be charged with the murder of Mr Litvinenko. Russia refused to extradite Mr Lugovoi, who denies any involvement.

The inquiry will seek to establish how Mr Litvinenko died and where the responsibility for his death lies. It will also have powers to make recommendations.

The government had previously resisted calls for a public inquiry, saying it would first "wait and see" what a judge-led inquest found.

However, Sir Robert - who was the coroner overseeing Mr Litvinenko's inquest last year and will now chair the inquiry - called for a public inquiry to be set up.

In a written ruling, he said an inquest could not take sensitive evidence due to national security fears. As a result any verdict would be "potentially misleading and unfair", he said.

As the law stands, inquests cannot consider some material relating to national security because of rules preventing its public disclosure.

The inquiry will be able to be mostly held in public but have closed sessions to consider sensitive evidence.

In February - following a legal challenge by Mrs Litvinenko - the High Court said the Home Office had been wrong to rule out an inquiry before the outcome of an inquest.

Analysis from BBC security correspondent Gordon Corera

Until now, the government has steadfastly resisted holding a public inquiry.

That was because there are layers of secrets surrounding the death of Alexander Litvinenko. This is thought to include secret intelligence that may relate to whether the Russian state was responsible for his murder.

There are also secrets about Mr Litvinenko's own relationship with MI6. The government demanded all these secrets be kept out of an inquest.

But the former Russian security officer's widow has fought a long legal battle to get to the truth.

A public inquiry will now look at where responsibility lies for the death although it does not look as if it will look at whether his relationship with MI6 means that more should be done to have protected him.

Lawyers for Mrs Litvinenko had claimed that the issue of state responsibility was being closed down precisely to try to improve relations with Russia.

If so, then changing times may explain a government's change of heart. And so we may get one step closer to finding out who was behind a radioactive murder on the streets of London.

A Downing Street spokesman said Sir Robert would have the jurisdiction to demand the production of both witnesses - including security agents - and documents from the security and intelligence services.

However, the inquiry will have no such powers in relation to evidence from Russia, he added.

The inquiry is due to begin on 31 July and is expected to conclude by the end of 2015.

A government spokesman said Mr Litvinenko's death was "an appalling crime and we want to see those responsible prosecuted through the courts".
Safe Havens (16 July 2013)

While the former American spook, Eric Snowden, is thinking about seeking political asylum in Russia I wonder if he might like to raise the curious case of Alexander Litvinenko - with his new comrades and friends.
Now I'm sure that Alexander Litvinenko became a useful source of information to British intelligence handlers - a 'spy' in the very broadest sense of that word - but in no way could he have been regarded as an on-going threat to Russian security.
Yet he was murdered by consuming radioactive Polonium shortly after taking tea with two former Russian intelligence agents in a London hotel - an act which could only have been organised by a very sophisticated state machine with a motive to kill a Russian defector.
So Russia looks like a very unpromising place for
an American spy to call his new home from home - although this is a very murky world where things are not necessarily as reliable or believable as they would first appear.
Andrew Lugovoi has since become a Russian MP, of course, which makes it unlawful for the Russian authorities even to consider extraditing him to the UK - where he is wanted for questioning in connection with a cowardly and vile murder plot.
Here's a little history of the Litvinenko case which I came across on the BBC web site - I can't say I'm surprised that the Government has decided not to proceed with a public inquiry.
Because what would that tell us other than it is almost certainly the case that Russia and its intelligence services - were responsible for Alexander Litvinenko's untimely and unnatural death.
The Litvinenko case
1 Nov 2006 - Alexander Litvinenko has tea with former agents Andrei Lugovoi and Dmitri Kovtun in London

4 Nov 2006 - After three days of vomiting he is admitted to hospital, and dies 22 days later. His death is attributed to radiation poisoning

May 2007 - The UK decides Mr Lugovoi should be charged with the murder of Mr Litvinenko. He denies any involvement but says Mr Litvinenko was a British spy

5 Jul 2007 - Russia officially refuses to extradite Mr Lugovoi, prompting a diplomatic row

20 Sept 2012 - Pre-inquest review hears that Russia's links to the death will be probed

May-June 2013 - Inquest into Mr Litvinenko's death delayed as coroner decides a public inquiry would be preferable
Putin's Russia (28/02/15)
The violent death of yet another critic of President Vladimir Putin confirms to me that Russia has become a rogue state which is willing to eliminate its political opponents both at home and abroad.
The BBC has published a helpful list of Russian figures who stood up to President Putin in one way or another only to meet with a violent and/or mysterious death - and the list does not include Sergei Magnitsky who died on remand in a Russian jail and was convicted after his death in a bizarre propaganda show trial.
Now for all its huge resources (from the Russian state) I've never seen these issues reported or discussed seriously on Russian TV from which you can draw your own conclusions.
Perhaps the most glaring act of murder and tyranny involved the carefully planned execution on UK soil of Alexander Litvinenko who was poisoned with radioactive Polonium with the key suspects in his murder leaving their radioactive fingerprints all across London as they fled the scene of their crime - both men are now being sheltered by the Russian state and one, Andrei Lugovoi, has since become a member of the Russian Duma (Parliament).
So the time has come for a major
re-appraisal of relations between Russia and the western because there seems little doubt that under President Putin's leadership Russia is now turning the clock back, trying to reinvent itself as a 21st century version of the old Soviet Union.
Russia opposition politician Boris Nemtsov shot dead
Mr Nemtsov was shot on a bridge within sight of St Basil's Cathedral and the Kremlin

A leading Russian opposition politician, former Deputy Prime Minister Boris Nemtsov, has been shot dead in Moscow, Russian officials say.

An unidentified attacker in a car shot Mr Nemtsov four times in the back as he crossed a bridge in view of the Kremlin, police say.

He died hours after appealing for support for a march on Sunday in Moscow against the war in Ukraine.

Russian President Vladimir Putin has condemned the murder, the Kremlin says.

President Putin has assumed "personal control" of the investigation into the killing, said his spokesman Dmitry Peskov.

It "bears the hallmarks of a contract killing," said Mr Peskov.

US President Barack Obama condemned the "brutal murder" and called on the Russian government to conduct a "prompt, impartial and transparent investigation".

Ukrainian President Petro Poroshenko described Mr Nemtsov as a "bridge between Ukraine and Russia".

"The murderers' shot has destroyed it. I think it is not by accident," he said in a statement published on his administration's Facebook page.
Boris Nemtsov was one of Russia's leading economic reformers in the 1990s (file photo from 2009)

In a recent interview, Mr Nemtsov had said he feared Mr Putin would have him killed because of his opposition to the war in Ukraine.

Mr Nemtsov, 55, served as first deputy prime minister under President Boris Yeltsin in the 1990s.

He had earned a reputation as an economic reformer while governor of one of Russia's biggest cities, Nizhny Novgorod.

Falling out of favour with Yeltsin's successor, Mr Putin, he became an outspoken opposition politician.


Analysis: Sarah Rainsford, BBC Moscow correspondent

A lawyer for Mr Nemtsov reported that he had received death threats over social media in recent months; but for now there's only speculation as to why he was targeted. He openly opposed Moscow's role in the crisis in Ukraine - and the annexation by Russia of Crimea.

He had been planning a rare public protest on Sunday against both things - and a growing economic crisis in this country.

Since his death, social media has been flooded with tributes to a man remembered by friends as decent, honest and a democrat. He had been pushed to the political margins in Vladimir Putin's Russia, but he was still prominent enough for someone to want to kill him.

Profile: Boris Nemtsov

Russian and world reaction
Mr Nemtsov was shot at around 23:40 (20:40 GMT) on Friday while crossing Moskvoretsky Bridge accompanied by a woman, Russia's interior ministry said.

He was shot with a pistol from a white car which fled the scene, a police source told Russia's Interfax news agency.

According to Russian-language news website Meduza, "several people" got out of a car and shot him.

One of the politician's colleagues in his RPR-Parnassus party, Ilya Yashin, confirmed Mr Nemtsov's death.

"Unfortunately I can see the corpse of Boris Nemtsov in front of me now," he was quoted as saying by Russia's lenta.ru news website.

Flowers were left at the site of the shooting through the night.
People came during the night to leave flowers at the scene
Russian opposition leaders Ilya Yashin, left, and Ksenia Sobchak react to news of the death of Mr Nemtsov
Mr Nemtsov feared his vocal opposition to President Putin's policies on Ukraine could get him killed
Violent deaths of Putin opponents

April 2003 - Liberal politician Sergey Yushenkov assassinated near his Moscow home

July 2003 - Investigative journalist Yuri Shchekochikhin died after 16-day mysterious illness

July 2004 - Forbes magazine Russian editor Paul Klebnikov shot from moving car on Moscow street, died later in hospital

October 2006 - Investigative journalist Anna Politkovskaya shot dead outside her Moscow apartment

November 2006 - Former Russian spy Alexander Litvinenko died nearly three weeks after drinking tea laced with polonium in London hotel

March 2013 - Boris Berezovsky, former Kremlin power broker turned Putin critic, found dead in his UK home
'Putin's aggression'

In his last tweet, Mr Nemtsov sent out an appeal for Russia's divided opposition to unite at an anti-war march he was planning for Sunday.

"If you support stopping Russia's war with Ukraine, if you support stopping Putin's aggression, come to the Spring March in Maryino on 1 March," he wrote.

Speaking earlier this month to Russia's Sobesednik news website, he had spoken of his fears for his own life.

"I'm afraid Putin will kill me," he said in the article (in Russian) on 10 February.

"I believe that he was the one who unleashed the war in the Ukraine," he added. "I couldn't dislike him more."

Mr Putin has been widely accused of fomenting the bloody rebellion in east Ukraine - an accusation he denies. Fighting there followed Russia's annexation of Crimea in March last year.

Almost 5,800 people have died and at least 1.25 million have fled their homes, according to the UN.

The Ukrainian government, Western leaders and Nato say there is clear evidence that Russia is helping the rebels with heavy weapons and soldiers.

Independent experts echo that accusation while Moscow denies it, insisting that any Russians serving with the rebels are "volunteers".