The BBC reports that the Kremlin has rushed to the aid of Donald Trump as the embattled American President tries to brush off claims that his administration has been in cahoots with Russian spies.
Vladimir Putin's spokesperson dismissed allegations that the Kremlin had been in close contact with the Trump camp, but this is course is the same person (Dmitry Peskov) who lied about Russia's dealings with Donald Trump's national security adviser Mike Flynn.
Flynn was forced to resign his post after denying that he had spoken with Kremlin officials about western sanctions
against Russia - and Flynn's conduct is now under investigation by both the FBI and a US Senate committee.
Trump meanwhile is furiously trying to divert attention away from himself and what he knows about the affair by complaining bitterly about leaks from within the security agencies.
Despite the fact that Trump warmly welcomed the leaking of such information when he was just another candidate on the election campaign trail.
http://www.bbc.com/news/world-us-canada-38983742
Trump hits back at US media reports on Russia contacts



BBC US & Canada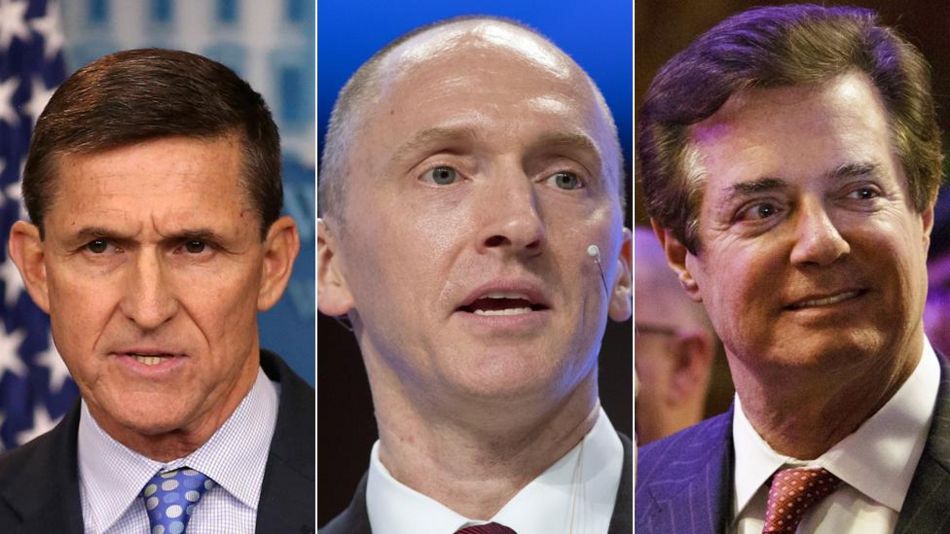 Image copyright - COMPOSITE OF IMAGES FROM REUTERS, AP AND EPAImage caption - Former Trump aides Michael Flynn, Carter Page and Paul Manafort are under scrutiny for their alleged links with Russia

President Donald Trump has lashed out at the US intelligence community and media after new reports of contacts between members of his team and Russia.

Mr Trump accused the National Security Agency (NSA) and FBI of giving out information illegally.

Some US media say top Trump aides were in constant communication with Russian officials in the election campaign.

Intelligence officials previously said they believed Russia tried to influence the vote in favour of Mr Trump.

Moscow has dismissed the claim, with Kremlin spokesman Dmitry Peskov saying on Wednesday that the latest reports of contacts with Trump aides were "not based on any facts".

On Thursday Rex Tillerson is due for his first meeting as US secretary of state with Russian Foreign Minister Sergei Lavrov, at a G20 gathering in the German city of Bonn.

The latest allegations look set to reignite tensions between the president and his own intelligence services, which flared during the 2016 election campaign, says BBC Washington correspondent Gary O'Donoghue.

They come a day after National Security Adviser Michael Flynn resigned amid a row over reports he discussed US sanctions by phone with a Russian diplomat before Mr Trump took office.

Leading Republicans have joined calls for a wide investigation into Mr Flynn's links with Russia.

And on Wednesday Adam Schiff, a Democrat on the House of Representatives Intelligence Committee, said he would push for the committee's investigations into Russian hacking to be expanded to include Mr Flynn's phone calls, Reuters news agency reported.

The FBI and a Senate committee are also investigating the claims.

Mr Trump appeared to attack the NSA and the FBI for what he described as leaks to the media about the contacts.

"Information is being illegally given to the failing @nytimes & @washingtonpost by the intelligence community (NSA and FBI?)," he tweeted.
More on the Flynn scandal
But in another tweet he suggested that the reports were "non-sense" produced by his Democratic opponents.

"This Russian connection non-sense is merely an attempt to cover-up the many mistakes made in Hillary Clinton's losing campaign."

The tweets came after the New York Times quoted unnamed former and current officials as saying that the communications were intercepted as evidence of Russian hacking of the Democratic National Committee was coming to light. Other media have since corroborated the reports.

The intercepted communications were said to be between Trump campaign officials and other associates on the one hand, and Russian intelligence and government officials on the other.

However, the officials interviewed by the Times said they had seen no evidence of the Trump team colluding in the hacking.

Mr Flynn and Mr Trump's former campaign manager, Paul Manafort, were said to be among those mentioned by the officials.

Mr Manafort told the newspaper: "I have never knowingly spoken to Russian intelligence officers, and I have never been involved with anything to do with the Russian government or the Putin administration or any other issues under investigation today.

"It's not like these people wear badges that say: 'I'm a Russian intelligence officer.'"

Mr Manafort and former Trump foreign policy aide Carter Page both left the campaign after reports emerged of their close links with Russia.
Trump Mired in Scandal (14/02/17)
The BBC reports that Vladimir Putin's spokesman (Dmitry Peskov) tried to help America's national security adviser, Michael Flynn, cover up the fact that he had spoken with the Kremlin officials about sanctions on Russia.
Flynn has now been forced to resign in disgrace after days of dissembling during which his story became a version of the 'Yes, No, I Don't Know Show'.
Strangely enough the recent telephone conversation between President Trump and President Putin is the only one of its kind for which no official records exist because White House aides turned the recording equipment off.
After just three weeks in office Donald Trump's presidency is mired in scandal and controversy.
Michael Flynn: Trump's national security adviser quits



BBC US & Canada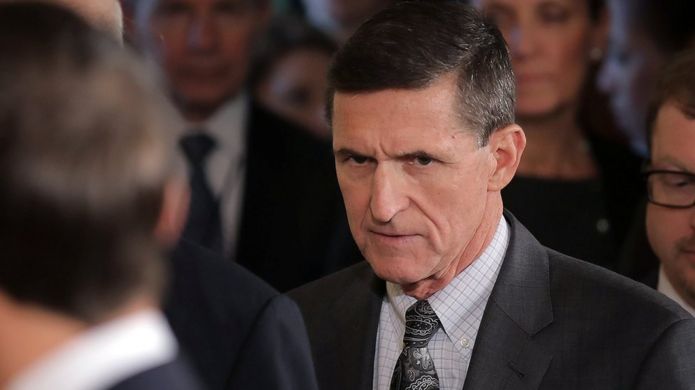 Image copyright - REUTERS Image caption - Michael Flynn encouraged a softer policy on Russia and a harder line on Iran

Donald Trump's national security adviser, Michael Flynn, has resigned over his contacts with Russia, the White House has announced.

Mr Flynn is alleged to have discussed US sanctions with the Russian ambassador before Mr Trump took office.

He is said to have misled officials about the conversation.

Earlier, US media reported that the Justice Department had warned the White House about the contacts late last month.

They said that Mr Flynn might be vulnerable to Russian blackmail.

Senior Democrats had called for Mr Flynn to be fired.

It is illegal for private citizens to conduct US diplomacy, and the calls happened late last year before Mr Flynn was appointed to the administration.

The national security adviser is appointed by the president to serve as his or her chief adviser on international affairs and defence.

What did Mr Flynn say about the phone call?

In his letter of resignation, Mr Flynn said he had "inadvertently briefed the vice-president-elect and others with incomplete information regarding my phone calls with the Russian ambassador".

A White House statement said Lt Gen Joseph Keith Kellogg had been appointed as interim replacement for the post.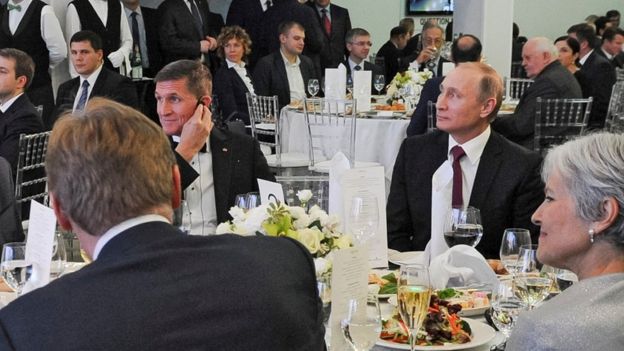 Image copyright - APImage caption - Questions have been raised about Mr Flynn's closeness with Russia. He was pictured dining with Russian leader Vladimir Putin in December 2015

Mr Flynn, a retired Army lieutenant general, initially denied having discussed sanctions with Ambassador Sergei Kislyak, and Vice-President Mike Pence publicly denied the allegations on his behalf.

However, Mr Flynn later told the White House that sanctions may have been discussed.

Kremlin spokesman Dmitry Peskov told reporters on Monday that Mr Flynn and Mr Kislyak did not discuss lifting sanctions.
Is Trump implicated? - Anthony Zurcher, BBC North America reporter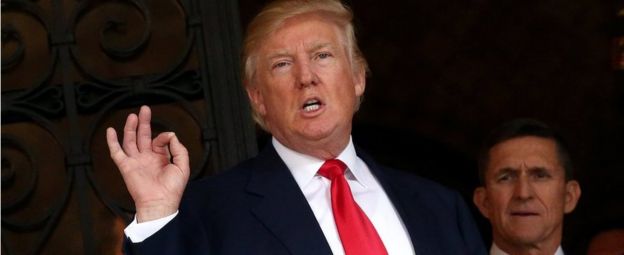 Image copyrightREUTERS

From inauguration to full-blown scandal punctuated by a high-level resignation in 24 days. That simply has to be some kind of record.

Donald Trump never does anything small. If his administration is going to have a political crisis, why waste any time?

From the day he was announced as Mr Trump's national security adviser, there were concerns about Michael Flynn's questionable contacts with Russia both before and after November's election.

The ground crumbled beneath his feet only recently, however, after revelations that his conversation with a Russian ambassador included talk of US-imposed sanctions. The mortal blow came late on Monday, with reports that Obama-era government officials had warned the Trump White House about the details of these calls in January.

Now Mr Flynn has been cut loose, but that may not be enough to staunch the bleeding.

Congressional Democrats - and perhaps some Republicans - will want to find out who was informed about Mr Flynn's contradictory stories and why nothing was done earlier. How far up the chain of command does it go?

All of this has some observers dusting off language from the mother of all presidential scandals, Watergate.

What did the president know, and when did he know it?
What was the reaction to the phone call?

Several House Democrats have called on Oversight Committee Chairman Jason Chaffetz to launch an investigation into Mr Flynn's ties to Russia.

Republican Senator Susan Collins of Maine said it would also be "troubling'' if Flynn had been negotiating with a foreign government before taking office.

Mr Flynn, who was previously fired by Barack Obama as head of the Defense Intelligence Agency, was an ardent supporter of Mr Trump during the campaign.

He became a close ally of both the president and his chief strategist, Steve Bannon.

He encouraged tougher policies on Iran and a softer policy on Russia, but questions were raised about his perceived closeness to Moscow.
How Flynn floundered
Mr Flynn is known to have spoken with Russian ambassador Sergei Kislyak several times by phone in December;
Mr Flynn denied that he and Mr Kislyak had discussed US sanctions and Vice-President Mike Pence also denied the claims on his behalf;
A spokesman for Mr Flynn then backtracked, telling reporters the adviser "couldn't be certain" he had not discussed the sanctions;
On Monday, White House counsellor Kellyanne Conway said Mr Trump had "full confidence" in Mr Flynn;
White House spokesman Sean Spicer later said the president was "evaluating the situation". Hours later, Mr Flynn resigned.
Who's the man who replaces him?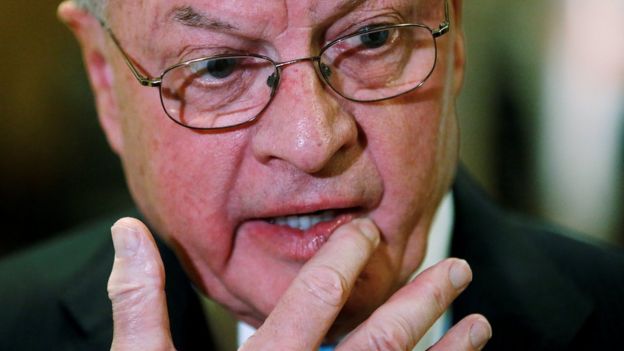 Image copyright - REUTERS

Retired Lt Gen Joseph Keith Kellogg has been appointed acting national security adviser, and is far from a newcomer to the Trump team.

He brings more than 30 years' experience in the army, and served in Vietnam, Cambodia, Panama and the Gulf.

During the Iraq war, he helped manage the coalition authority running the country in 2003 and 2004, before working for a defence contractor, according to Bloomberg.

More recently, he advised Mr Trump on national security issues during his campaign, and went on to be appointed chief of staff in the new administration's National Security Council.

Former CIA director retired General David Petraeus and Robert Harward, a former deputy commander of US Central Command, are also under consideration for the post, a White House official has said.