Donald Trump brags that if he shot somebody on 5th Avenue and his loyal supporters wouldn't mind.
I think that's probably true, sadly, but if you ask me this is the ugly language of dictators and demagogues.
In fact it's quite similar to a comment made by Grace Mugabe (51) that her 92-year-old husband President Robert Mugabe could stand for election as a corpse.
I think that's probably true as well and Isn't it curious that both Mugabe and Trump have much younger 'trophy wives'.
http://www.bbc.com/news/world-africa-39010667
Even a dead Robert Mugabe could stand in Zimbabwe election - wife



BBC Africa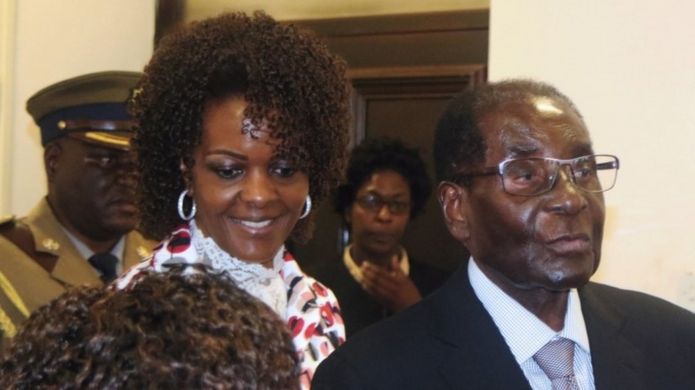 Image copyright - REUTERS Image caption - Grace Mugabe (left) has often professed undying loyalty to her nonagenarian husband

The wife of Zimbabwe's 92-year-old President, Robert Mugabe, has said that he is so popular that if he died, he could run as a corpse in next year's election and still win votes.

Grace Mugabe, 51, was addressing a rally of the governing Zanu-PF party.

Mr Mugabe has governed Zimbabwe since the end of white-majority rule in 1980 following a bitterly fought war.

His wife, who has often professed her undying loyalty to her husband, has assumed an increasingly high profile.

"One day when God decides that Mugabe dies, we will have his corpse appear as a candidate on the ballot paper," Mrs Mugabe told the rally in Buhera, south-east of the capital Harare.
Zimbabwe pastor held over death prophecy
Mugabe jokes over health rumours
Zimbabwe sculptor denies mocking president

"You will see people voting for Mugabe as a corpse. I am seriously telling you - just to show people how people love their president."

President Mugabe has been backed by his party to stand again in next year's election, but recently cut back on his public engagements.

Grace Mugabe has warned contemporaries of Mr Mugabe from the guerrilla war era that they are not in a position to replace him because they likewise would be too old.

"Anyone who was with Mugabe in 1980 has no right to tell him he is old. If you want Mugabe to go, then you leave together. You also have to leave. Then we take over because we were not there in 1980," she said, gesticulating towards herself.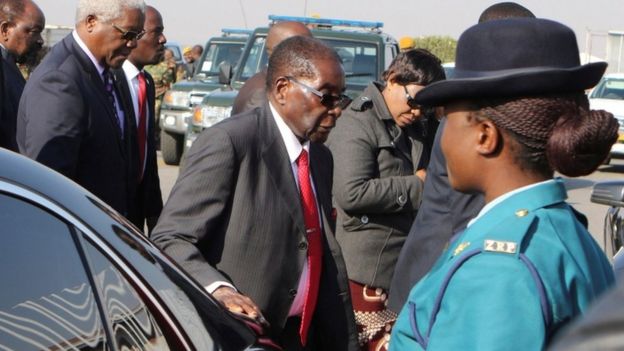 Image copyright - REUTERS Image caption - Mr Mugabe, 92, has mocked previous rumours of his death

Last September, the president was rumoured to have died after he reportedly cut short his attendance of an AU summit to fly to Dubai for a health check.

Mr Mugabe later joked about the rumours, saying he indeed died but was only resurrecte
d.
Democracy vs Demagogues (01/01/17)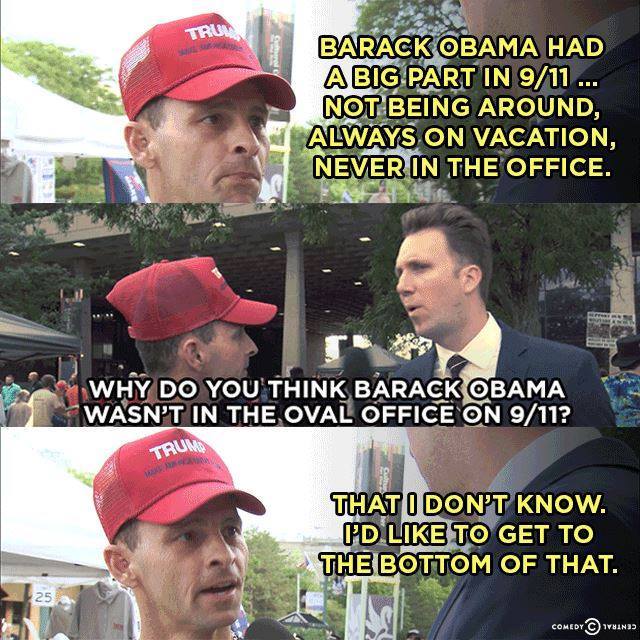 Jordan Klepper and the The Daily Show provide a valuable insight into the mind the average Trump supporter.
Scary, if you ask me, and a big wake-up call that democrats everywhere have their work cut out in dealing with demagogues like Donald Trump.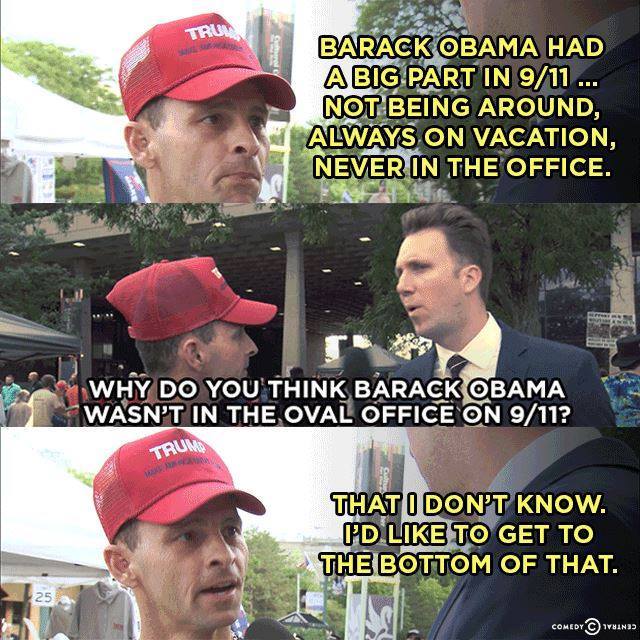 Lots of Donald Trump's supporters are successful, intelligent and often people, but a significant number are lumpen 'hillbillies' like this chap who believes that Barack Obama played a big part in the 9/11 terror attacks on America in 2001.
Now that was fully seven years before Barack Obama won his first presidential election in 2008, but why let the facts get in the way of a good story, as the saying goes.
But that's the state of American politics these days where ugly lies and fake 'news' stories are all 'grist to the mill' of Trump's right wing supporters who have taken over the Republican Party.
Ape in Heels (14/12/116)
Donald Trump is seldom away from Twitter as everyone knows (to coin a favourite phrase), but I've yet to hear him call out one of his own supporters who described Michelle Obama, as an '
ape in heels'.
Now there is no doubt that these words from a public official amount to ugly, unacceptable and racist language - from one of his own "Make America Great Again' supporters.
So you would think that the President-elect would have no hesitation in condemning such vile behaviour in the strongest possible terms.
But while Donald rails against Saturday Night Live (a satirical programme) for poking fun at his (often bizarre) behaviour, he's as quite as a church mouse when it comes to denouncing this racial abuse of America's First Lady.
http://www.independent.co.uk/news/world/americas/west-virginia-michelle-obama-ape-in-heels-pamela-taylor-return-to-work-a7470261.html
West Virginia official who called Michelle Obama 'ape in heels' returns to work



Pamela Ramsey Taylor says 'it will be refreshing to have a classy, beautiful, dignified First Lady in the White House'
By Shehab Khan - The Independent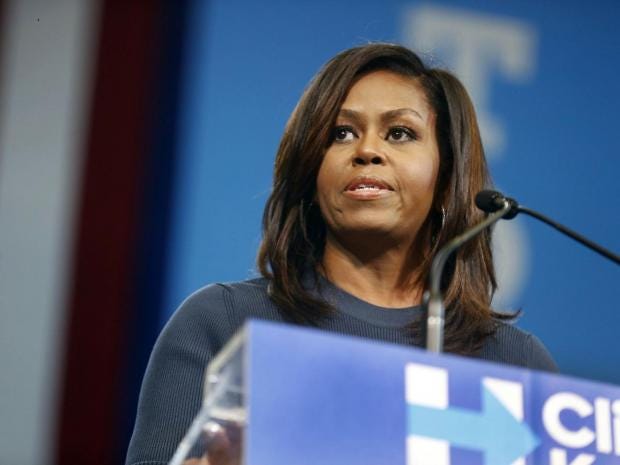 Michelle Obama - AP

The director of a non-profit organisation in West Virginia will return to work after being suspended for referring to Michelle Obama as an "ape".

Pamela Ramsey Taylor, a director at Clay County Development Corporation, West Virginia, posted the comment on Facebook and was suspended from her role at the Development Corporation.

She is now set to return to her job later this month, according to a letter seen by Charleston Gazette-Mail.

Ms Taylor initially took to Facebook in support of Donald Trump's victory in the US election.
Trump Supporters (16/11/16)
The Washington Post reports on the ugly behaviour of two public officials in West Virginian who mocked Michelle Obama, America's First Lady, as "a Ape in heels."
Pamela Ramsey Taylor, a director of Clay County development corporation posted the following comment on Facebook after Donald Trump's election as president, ushering in Michelle Obama's replacement as First Lady by Melania Trump:
"It will be so refreshing to have a classy, beautiful, dignified First Lady back in the White House", before adding:
"I'm tired of seeing a Ape in heels."
The local mayor Beverly Whaling is then reported as replying with the words:
"Just made my day Pam."
"What the fuck's wrong with these people?" is the question any reasonable person is bound to ask and, of course, Team Trump bears some responsibility given the hateful tone of the recent election campaign.
Read the full story in via the link below to The Washington Post, but as usual having been caught red-handed the two individuals involved deny their behaviour was racist.
https://www.washingtonpost.com/news/post-nation/wp/2016/11/14/ape-in-heels-w-va-officials-under-fire-after-comments-about-michelle-obama/?wpisrc=nl_most-draw8&wp