I love this cartoon from Norway which captures perfectly, for me, the man-child essence of Donald Trump.
Because Trump's behaviour swings between that of an overbearing, misogynistic bully at one extreme, but when this grown man (and supposed leader of the free world) doesn't get his way - he turns into a two-year-old with
a terrible tantrum.
America's Next President (10/01/17)

The next President of the United States is an overbearing, thin-skinned bully who loves to 'dish it out', but who squawks at the first hint of personal criticism.
Donald Trump mocked a disabled journalist with the comment "Oh you gotta see this guy" before launching into an impression of Serge Kovaleski.
Meryl Streep calls him out over his behaviour and he responds by dissing her career as one of Holywoods biggest stars for movies such as 'Sophie's Choice' and 'The Bridges of Madison County'
.
Seeing is Believing (09/01/17)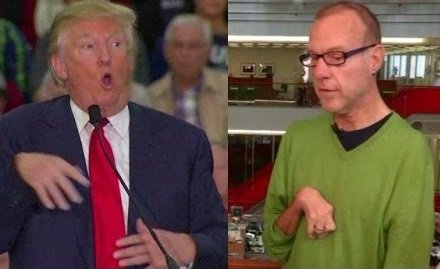 Meryl Streep tore into Donald Trump during her speech at at the Golden Globes Awards last night for mocking a disabled reporter from the The New York Times, Serge Kovaleski.
Trump's acolytes responded quickly on social media by saying that the President-elect was not making fun of someone's disability, but have a look at the following YouTube video and decide for yourself.
And here is Meryl Streep's take on the whole affair.
Trump as Foghorn (09/12/15)
Politics is a funny old business.
Just the other day I heard chap on the TV, a Stop the War (STW) supporter I believe, arguing that 'we' should sit down and talk to the head-choppers from the Islamic State (IS) who murder innocent people for fun and have no qualms about forcing women and young girls into sexual slavery.
A short time later Donald Trump makes the most outrageous and inflammatory remarks he can think of regarding Muslims entering America and the knee-jerk reaction from some is to call for an immediate ban on the businessman turned politician from visiting to the UK.
Now if you ask me this is the perfect opportunity to make Trump eat his words by inviting him to explain and debate his views with some of our own politicians such as Sajiv David, the UK Government's business secretary, who comes from a Muslim family and whose father was a bus driver.
My view is that Trump is a terrible bully and blowhard, the Republican Party's answer to the cartoon character Foghorn Leghorn from the aptly named Looney Tunes stable - and that UK politicians from the mainstream political parties would make complete mincemeat of him.
So, far from banning him or censoring what he has to say I'd invite Trump over on the next available plane.
Because another advantage Sajiv David would have is that his head is shaved completely bald whereas Donald Trump sports a ridiculous hairpiece, spookily like the crazy rooster, Foghorn Leghorn.

Fat Clown (10/01/17)

I am grateful to the reader who got in touch yesterday to suggest an alternative 'fat clown' image for my Glasgow Humour post from 7th January.
Now it's not my normal practice to comment on people's size or body shape.
But given Donald Trump's crude comments about women over the years and his ghastly behaviour during the American presidential campaign, I think he's what you could call 'fair game'.
Glasgow Humour (07/01/17)

The BBC reports on the trial of two men accused of attacking a journalist at his home in Glasgow and while the incident itself is not remotely funny, I had to laugh at the sheer of Russell Findlay for mocking his assailant with the words:
At one point I said' Why did they send a fat clown like you as a hitman. Is this alI I'm worth."
Now that's Glasgow 'gallows' humour for you at its very best, especially in the face of such adversity
Sun journalist tells jury of acid attack at his home



BBC Glasgow and West Scotland

The investigations editor for the Scottish Sun newspaper has told a jury how acid was thrown at his face during an attack at his home in Glasgow.

Russell Findlay, 44, was giving evidence at the trial of William Burns, 56, and Alexander Porter, 48, who deny targeting him in December 2015.

Mr Findlay said his face became hot after a man who claimed to be a postman splashed liquid on him.

He also described grappling with the man before his daughter ran for help.

As well as working for the Sun newspaper, Mr Findlay is the author of books about Glasgow crime gangs.

'Corrosive substance'

On the first day of the trial at the High Court in Glasgow, he said that he answered the doorbell at his west end home at about 08:30 on 23 December 2015.

He said a man in a red jacket, claiming to be from the Royal Mail, said he needed a signature for a package.

The journalist said that as he turned to write his signature on a form he felt a liquid splash onto the right side of his face.

This was followed by a bottle flying past and then the man, whom he identified in court as William Burns, trying to barge his way into the house.

Mr Findlay said he believed the liquid was "a toxic corrosive substance" and described fighting with the man.

Mr Findlay told the court that his attacker managed to get two or three feet into his home, but he bundled him outside and they grappled on the area outside.

The journalist said that while the incident was going on, his 10-year-old daughter came to the door.

Daughter 'very scared'

He added: "She was clearly very scared and I shouted at her to go and get help from the neighbours and get them to call the police."

While his daughter ran to neighbour's Mr Findlay managed to hold on to his attacker.

He said: "At one point I said' Why did they send a fat clown like you as a hitman. Is this alI I'm worth."

Mr Findlay was asked if his attacker said anything and he replied: "He said very little. But towards the end I asked him who had sent him and he said 'Wee Jamie sends his regards."

The court was told that a knife was found in the doorway of his home and a set of broken false teeth were found on the driveway.

Mr Findlay was asked who the teeth belonged to and replied: "They are my assailant's false teeth."

Defence advocate Thomas Ross told Mr Findlay: "Mr Burns does not dispute he was the person at your door, but he will tell the jury there was no liquid, no delivery card, no knife."

Mr Findlay replied: "He was wearing a Royal Mail uniform , had a delivery card and threw acid, good luck with that."

The journalist denied a suggestion that he had phoned Mr Burns the night before and the accused had said he would meet him at his home the next day.

Facial burns

It was claimed the call had been to do with the death of a man by the River Gryffe at Bridge of Weir, but Mr Findlay said he knew nothing about that.

The court heard that as a result of the incident, Mr Findlay suffered burns to the right side of his face and had blurry vision in his right eye for a number of weeks afterwards.

Mr Findlay's daughter also gave evidence by police interview and told of seeing her father wrestling with a man whom she believed was delivering a parcel.

She said: "It caused the biggest fright of my life. All I could think about was my dad. I was crying and I couldn't stop."

Mr Burns and Mr Porter, from Paisley, are alleged to have shot Ross Sherlock in a murder attempt near St Helen's Primary in Bishopbriggs last September.

Both men are also accused of assaulting Mr Findlay to the danger of his life.

They deny the charges.

The trial before Judge Sean Murphy QC continues.
Ghastly Old Groper (07/01/17)
President-elect Donald Trump assumes office in just over a week and his reputation as a ghastly old groper is firmly cemented in the mind of the world's cartoonists.
But to be fair Trump has rather brought this on himself with his ugly talk about women which he tries to dismiss as 'locker-room' banter.
Meet the New Boss!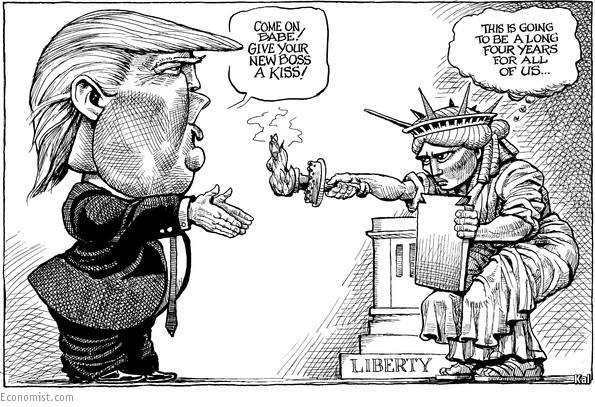 Here's the most popular cartoon of 2016 from Kevin Kal Kallaugher, whose work is published in The Economist Magazine.
Apparently the title of the cartoon is 'C'mon Babe' which does the President-elect Donald Trump justice, I'm sad to say.
Sexual Predator (10/10/16)
"Grab them by the pussy" is locker-room banter according to Donald Trump, but it's not the kind of foul language or ugly mindset that you'd expect from a professional person never mind someone aspiring to become President of the United States.
So the race for the White House has been dragged into the world of sexual predators by the unguarded comments of the Republican nominee while his 'partner in crime', a TV presenter named Billy Bush, has been suspended by the NBC Today programme.
NBC has said there is "simply no excuse for Billy's behaviour and language on that tape", yet Trump carries on after issuing a perfunctory apology which completely ingress the fact that he was in a professional setting at the time and nowhere near a locker-room.
To their credit most of the Bush family have said they will not be voting for this buffoon and while Trump's poll ratings are taking a well-deserved hit, especially among women voters, I suspect there's much more to come in the days ahead.
http://www.bbc.com/news/uk-37605883
Billy Bush suspended by NBC after Trump tape emerges


BBC - Entertainment & Arts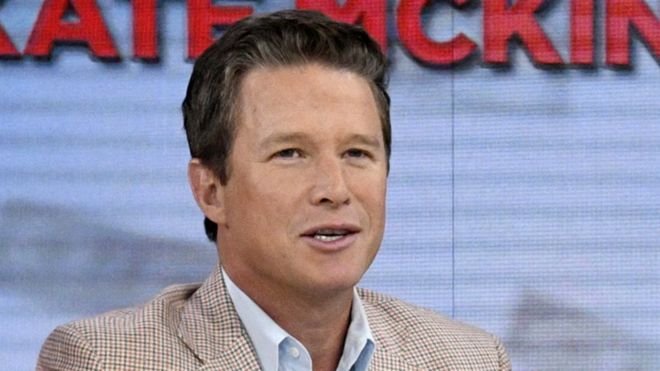 Image copyright AP Image caption - Billy Bush has said that he is "very sorry" for the 2005 remarks

US TV host Billy Bush has been suspended from NBC's Today show after a video tape emerged in which he and Donald Trump made lewd comments.

Today executive Noah Oppenheim wrote in a memo to the morning show's staff that there is "simply no excuse for Billy's language and behaviour on that tape".

Mr Bush has said he was "embarrassed and ashamed" at the remarks.

US presidential candidate Mr Trump has also apologised for the obscene comments made in the 2005 tape.

In the video, Mr Trump was on a bus talking to Mr Bush - then host of NBC's Access Hollywood - ahead of a segment they were about to record.

Mr Trump says "you can do anything" to women "when you're a star" and also brags about trying to grope and kiss women.

Mr Bush tells Mr Trump at one point "the Donald has scored" and also comments on a woman's "good legs".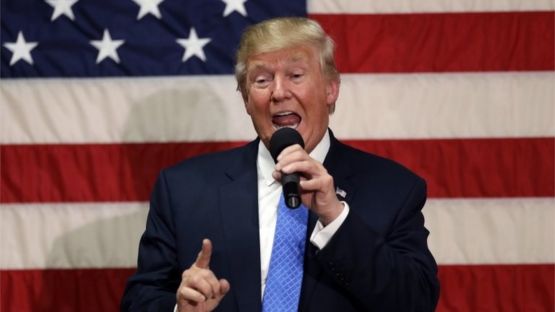 Image copyrightAPImage caption - Mr Trump has said the words "don't reflect" who he is

The presenter, who is the first cousin of former President George W Bush, has since said: "It's no excuse, but this happened 11 years ago - I was younger, less mature, and acted foolishly in playing along. I'm very sorry."

Top Republicans have condemned Mr Trump for the comments. His election rival Hillary Clinton called them "horrific".

The Republican party nominee has said "these words don't reflect who I am... I apologise".

Bush joined the Today team in August, having been anchor of Access Hollywood since 2009 and co-host of Access Hollywood Live since 2010.

Mr Oppenheim said that there would be a "further review" of the matter and did not say how long Mr Bush would be suspended for.