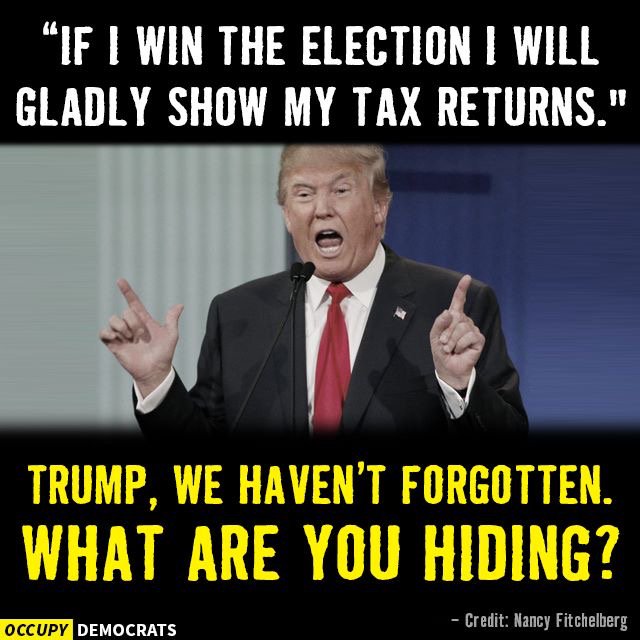 Donald Trump claims to hate fake news stories, but here's one he made up all by himself after repeated claims that he would be happy to publish his tax returns.
In a recent ABC News/Washington Post poll 74% agree that they the President-elect should release this information, as his predecessors have all done in the past.
So unless he changes his ways it's hard to disagree with this blog post by Peter Superman, which argues that Donald Trump's behaviour makes Richard Nixon look like a model of transparency and accountability.
http://reason.com/blog/2016/07/27/donald-trump-who-promised-repeatedly-to
Donald Trump, Who Promised Repeatedly to Release His Tax Returns, Definitely Won't Release His Tax Returns

Even Nixon released his taxes while under audit.

By Peter Suderman

Credit - David T. Foster III/TNS/Newscom
More than a year ago, in February of 2015, Donald Trump—who was not yet running for president—said he would "certainly" release his personal tax returns. "I would release tax returns," he told conservative radio host Hugh Hewitt, reiterating later in the interview that, "I have no objection to certainly showing tax returns."

In January of this year, as Trump was leading in the GOP primary polls, he again said that the returns were forthcoming. "We're working on that now. I have big returns, as you know, and I have everything all approved and very beautiful and we'll be working that over in the next period of time," he said on MSNBC.

In May, after he had effectively locked up the nomination, he said once again that he planned to release them—though perhaps not until after the election. "So, the answer is, I'll release. Hopefully before the election I'll release," he said on Fox News. "And I'd like to release." The hold-up, he explained, was that he was under audit by the Internal Revenue Service.

Trump formally accepted the Republican party's nomination for president last week. And this morning, his campaign manager, Paul Manafort, confirmed what Trump's year-plus-long dodge on the matter has always implied: Donald Trump won't release his tax returns before the presidential election this November.

"Mr. Trump has said that his taxes are under audit and he will not be releasing them," Manafort said this morning.

This isn't a violation of any rule. But as with so much of Trump's campaign, it's a violation of norms and expectations. He will be the first major party nominee in more than 40 years to not make any returns public. There's no modern precedent for his refusal to release this information; instead, Trump is setting a precedent, paving the way for candidates of the future to avoid transparency.

There's lots of speculation about why, exactly, Trump won't release the information. Would it show financial connections to Russia? Would it reveal that he paid no taxes, or that he made very little money? Would it suggest that Trump is not nearly as rich as he says he is?

These sorts of guessing games, while interesting, don't get us far. But the refusal to release the returns is telling enough. It's more evidence that his word isn't worth a damn, and neither are his excuses.

Trump's vows to release his tax returns, like so many of his promises, were totally worthless. And his stated reason—that he is under audit by the IRS—doesn't hold up either.

There's no rule whatsoever prohibiting Trump from releasing returns, even in the midst of an audit, presuming that he is, in fact, being audited (and there's some question about whether this is even true). He could do so if he wanted.

Indeed, there's a precedent for a presidential candidate releasing his returns even as an audit is ongoing. In 1973, Richard Nixon was embroiled in a tax scandal over a charitable donation on his personal tax returns. As a result of the scandal, according to tax historian Joseph Thorndike, Nixon's taxes were scrutinized by the Joint Committee on Taxation, which found that he owed nearly half a million dollars more than he had paid. The IRS eventually agreed. Despite all this, Nixon still managed to make his tax returns public.

That's how shady Trump is: He makes Nixon look like a model of transparency and accountability.

(Correction: Nixon wasn't running for re-election in 1973! Apologies for the error.)
More Fake News (13/01/17)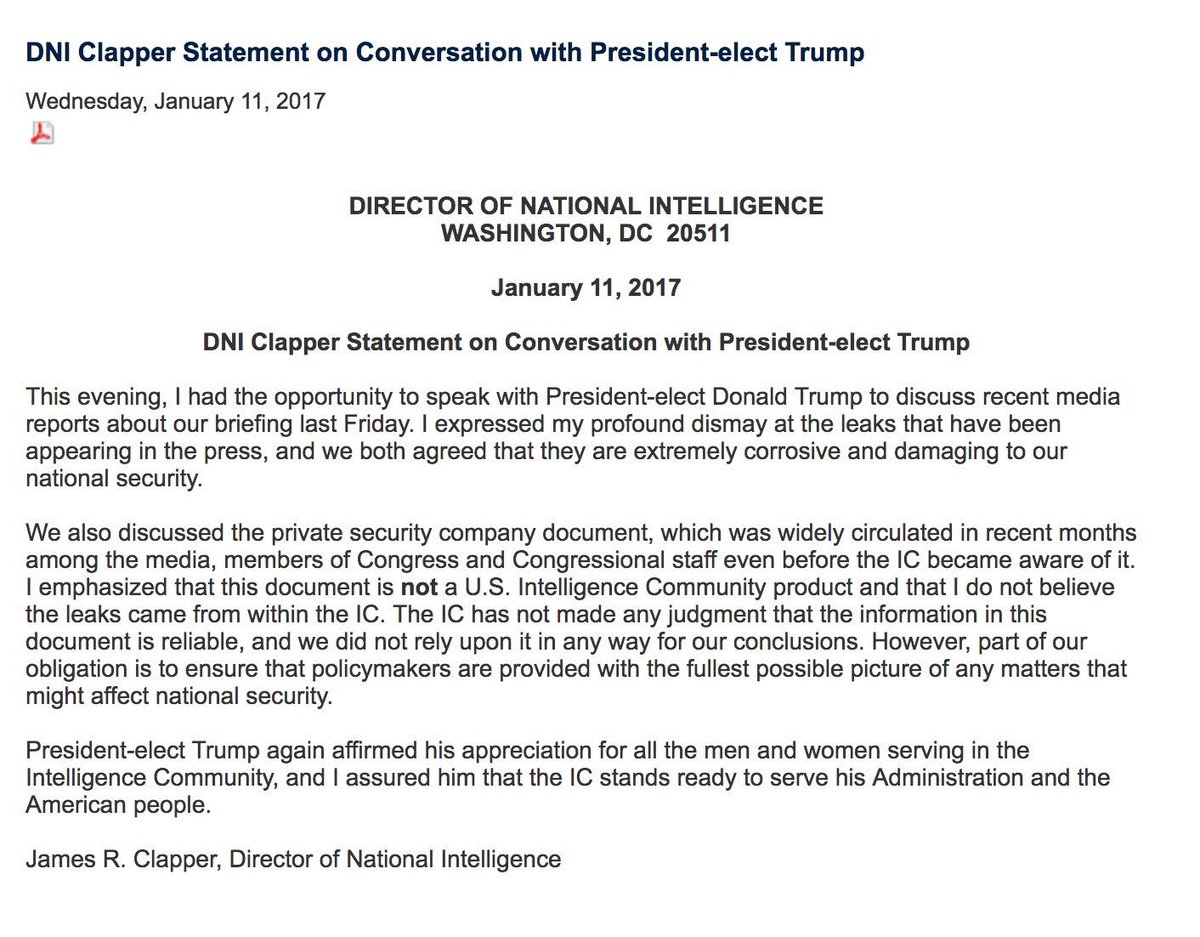 Donald Trump complained bitterly about 'fake news' stories the
other day
after reports emerged that the President-elect may be susceptible to blackmail threats by Russia.
Mr Trump then went on to issue one of his crazy tweets claiming that the American intelligence chief James Clapper had contacted him to denounce the dossier as "Made up, phony facts".
Meanwhile Mr Clapper issues a detailed statement of his own to confirm that "The IC has not made any judgment that the information in this document is reliable".
In other words Donald Trump is the one 'making shit up' as he's done before - time and time again.
http://www.bbc.com/news/world-us-canada-38596459
Trump claims intelligence chief James Clapper denounced dossier



BBC US & Canada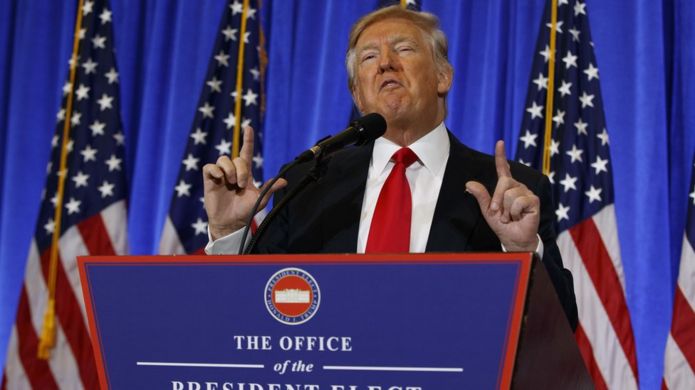 Image copyrightAP

Donald Trump says the top US spy called him to "denounce" allegations that Russian intelligence have compromising information about the president-elect.

Mr Trump tweeted that the unverified claims were "false and fictitious".

But Director of National Intelligence James Clapper said on Wednesday that the intelligence community had made no judgment on whether they were reliable.

Mr Clapper also said he had rejected Mr Trump's suggestion that US intelligence was responsible for leaking the claims.
The claims - how and why?
Trump's briefing a theatre of the absurd
Did Trump answer our questions?

The spymaster said both men had agreed the security breach was "extremely corrosive and damaging to our national security".

Mr Clapper said he had also assured the president-elect the intelligence community "stands ready to serve his administration".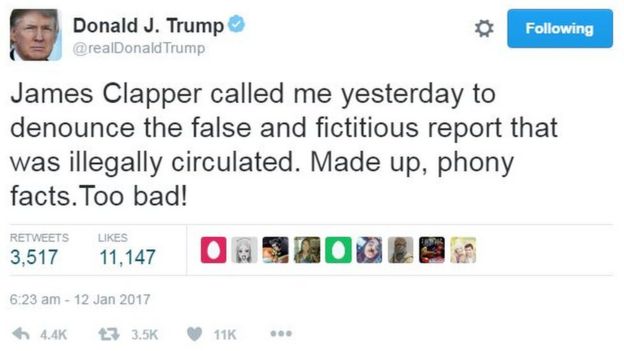 Intelligence agencies considered the claims relevant enough to brief both Mr Trump and President Barack Obama last week.

In his first news conference as president-elect on Wednesday, Mr Trump said it would be a "tremendous blot" on the reputation of US intelligence agencies if they had been responsible for the leak from the briefing.

"That's something that Nazi Germany would have done," he said.

At Trump Tower in New York, a combative Mr Trump told journalists the claims were "fake news" and "crap".

Media captionHere's what Donald Trump had to say at his press conference

The 35-page dossier of allegations - which was circulating in political and media circles before November's presidential election - was published in full on Buzzfeed on Tuesday evening.

It claims Russia has damaging information about the president-elect's business interests, and footage of him using prostitutes at the Ritz-Carlton hotel in Moscow.

Russia has strongly denied the allegations as "pulp fiction".

The dossier - which is believed to have been commissioned initially by Republicans opposed to Mr Trump - was prepared by a former MI6 officer who now runs a London-based private consultancy.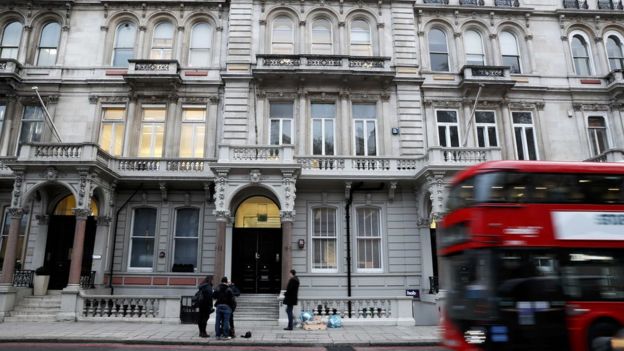 Image copyrightREUTERSImage captionOrbis, the private consultancy where Christopher Steele works, in central London

Christopher Steele, who was formerly based in Moscow with the British foreign spy agency, is believed to have left his home this week and is now in hiding, the BBC understands.

The initial purpose of Wednesday's news conference was for Mr Trump to answer questions about how he would distance himself from his family-owned property and licensing business.

Halfway through the event, a lawyer stepped up to the podium and announced the president-elect was handing over control of the Trump Organization to his adult sons and an executive.

New international business deals would be banned, but the company would be allowed to start new projects in the US, said the attorney.

The decision appears to contradict Mr Trump's recent tweet that "no new deals" would be done while he was in office.

The director of the US Office of Government Ethics said Donald Trump's plan to avoid conflicts of interest does not match the standards of US presidents over the past 40 years.

Walter Shaub said the arrangement meant that Mr Trump would still see information about the businesses and deals being made in the newspapers and on television.
Baby Trump (12/01/17)
Donald Trump held his first press conference in six months yesterday, but the event was overshadowed by claims that the President-elect is compromised and susceptible to blackmail by Russia.
"Fake news!" screamed Team Trump in response, conveniently ignoring the fact that Trump has deliberately promoted smears and fake news stories about his political opponents, notably his completely false claim that President Barack Obama was not an American citizen.
Trump has never apologised for his outrageous behaviour, yet as soon as he's on the receiving end the President-elect cries foul which just goes to show that Trump really is a big baby.
Norway Nails Trump (11/01/17)

I love this cartoon from Norway which captures perfectly, for me, the man-child essence of Donald Trump.
Because Trump's behaviour swings between that of an overbearing, misogynistic bully at one extreme, but when this grown man (and supposed leader of the free world) doesn't get his way - he turns into a two-year-old with a terrible tantrum.