President-elect Donald Trump assumes office in just over a week and his reputation as a ghastly old groper is firmly cemented in the mind of the world's cartoonists.
But to be fair Trump has rather brought this on himself with his ugly talk about women which he tries to dismiss as 'locker-room' banter.
Meet the New Boss!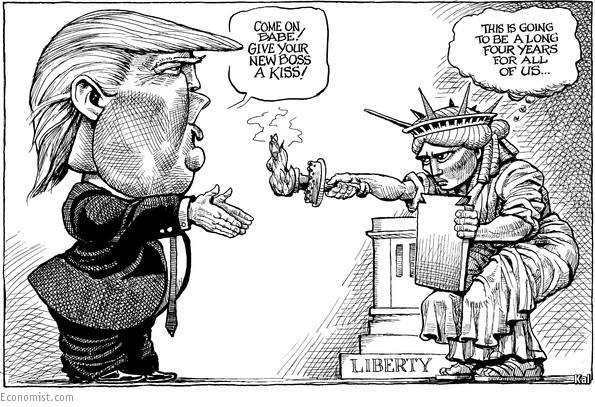 Here's the most popular cartoon of 2016 from Kevin Kal Kallaugher, whose work is published in The Economist Magazine.
Apparently the title of the cartoon is 'C'mon Babe' which does the President-elect Donald Trump justice, I'm sad to say.
Sexual Predator (10/10/16)
"Grab them by the pussy" is locker-room banter according to Donald Trump, but it's not the kind of foul language or ugly mindset that you'd expect from a professional person never mind someone aspiring to become President of the United States.
So the race for the White House has been dragged into the world of sexual predators by the unguarded comments of the Republican nominee while his 'partner in crime', a TV presenter named Billy Bush, has been suspended by the NBC Today programme.
NBC has said there is "simply no excuse for Billy's behaviour and language on that tape", yet Trump carries on after issuing a perfunctory apology which completely ingress the fact that he was in a professional setting at the time and nowhere near a locker-room.
To their credit most of the Bush family have said they will not be voting for this buffoon and while Trump's poll ratings are taking a well-deserved hit, especially among women voters, I suspect there's much more to come in the days ahead.
http://www.bbc.com/news/uk-37605883
Billy Bush suspended by NBC after Trump tape emerges


BBC - Entertainment & Arts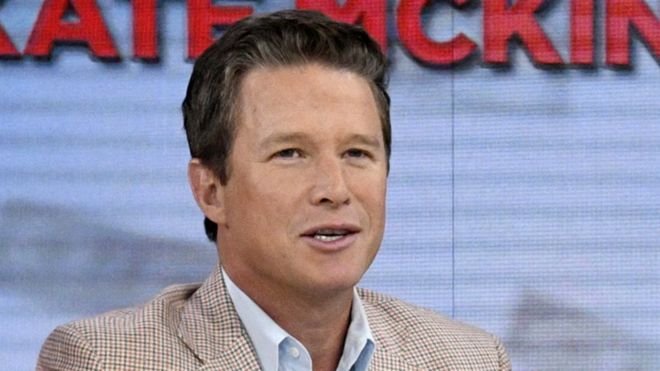 Image copyright AP Image caption - Billy Bush has said that he is "very sorry" for the 2005 remarks

US TV host Billy Bush has been suspended from NBC's Today show after a video tape emerged in which he and Donald Trump made lewd comments.

Today executive Noah Oppenheim wrote in a memo to the morning show's staff that there is "simply no excuse for Billy's language and behaviour on that tape".

Mr Bush has said he was "embarrassed and ashamed" at the remarks.

US presidential candidate Mr Trump has also apologised for the obscene comments made in the 2005 tape.

In the video, Mr Trump was on a bus talking to Mr Bush - then host of NBC's Access Hollywood - ahead of a segment they were about to record.

Mr Trump says "you can do anything" to women "when you're a star" and also brags about trying to grope and kiss women.

Mr Bush tells Mr Trump at one point "the Donald has scored" and also comments on a woman's "good legs".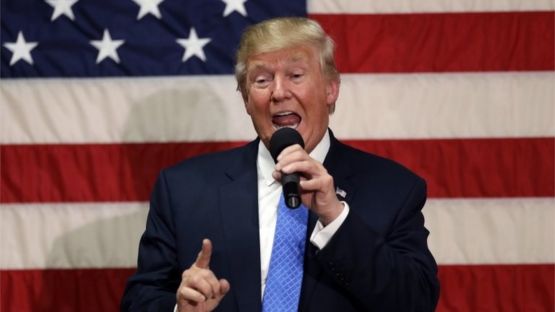 Image copyrightAPImage caption - Mr Trump has said the words "don't reflect" who he is

The presenter, who is the first cousin of former President George W Bush, has since said: "It's no excuse, but this happened 11 years ago - I was younger, less mature, and acted foolishly in playing along. I'm very sorry."

Top Republicans have condemned Mr Trump for the comments. His election rival Hillary Clinton called them "horrific".

The Republican party nominee has said "these words don't reflect who I am... I apologise".

Bush joined the Today team in August, having been anchor of Access Hollywood since 2009 and co-host of Access Hollywood Live since 2010.

Mr Oppenheim said that there would be a "further review" of the matter and did not say how long Mr Bush would be suspended for.