The BBC reports that the Scottish Government is again taking a pro-active role in relation to employers who face allegations of playing 'fast and loose' with their employees.
Amazon is the latest company to be upbraided by a local MSP, in this case the Lib Dem leader Willie Rennie, in Fife who raised concerns on behalf of his local constituents in Fife.
Next thing you know the relevant minister (Keith Brown) is getting stuck in by asking sensible questions and making public comment, instead of saying that as an 'independent organisation' Amazon has nothing to do with him or the Scottish Government.
Now this is 'manna from heaven' to equal pay claimants because it's what I've been asking of Scottish politicians for years.
So let's hope this a good omen for a campaign to 'hold Glasgow City Council to account' over equal pay in the New Year.
http://www.bbc.co.uk/news/uk-scotland-scotland-politics-38363615
Minister's Amazon working conditions talks 'productive'



BBC Scotland politics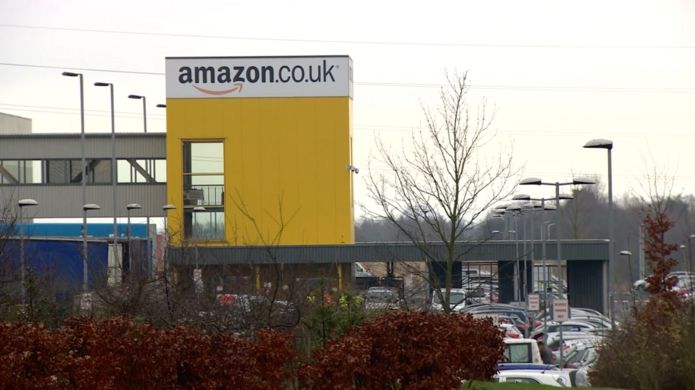 Image caption - Amazon has been accused of 'intolerable' working conditions at its largest UK distribution centre in Dunfermline

Scotland's economy secretary has held "productive" talks with Amazon after claims of unacceptable working conditions at its Fife depot.

Keith Brown said the firm agreed to "consider" his request to pay a "living wage" of £8.45 an hour.

He said they would have another meeting in two or three months' time.

The minister had previously said he was concerned by reports that staff at the Dunfermline site could be sacked for being off sick.

The Sunday Times claimed that workers could be dismissed for taking four days off, even if they had a sick note from a doctor.

The issue was raised in the Scottish Parliament, with North East Fife MSP Willie Rennie saying he had been contacted by constituents who reported "intolerable" working conditions.

Speaking after his visit to the Dunfermline "fulfilment centre" on Monday, Mr Brown said: "I had a productive meeting with senior members of Amazon's management team this afternoon and I asked them a series of questions around personnel and transport related-issues, which had been the subject of recent media reports.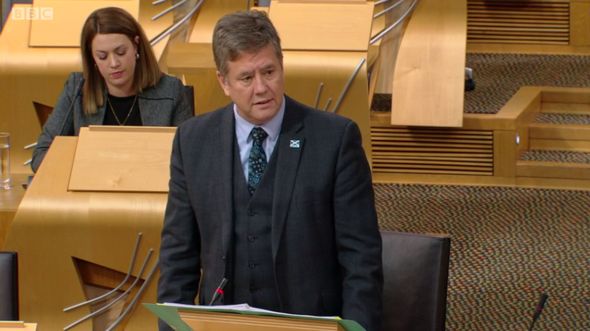 Image caption - Economy Secretary Keith Brown had a meeting with Amazon managers at the Dunfermline site

"I then made a series of requests of the senior management team including in relation to becoming involved in our Fair Work agenda through the fair work convention, paying the real living wage and trade union activity in the workplace

"They have agreed to consider these requests and to a further meeting in the course of the next two to three months.

"These jobs are important to Scotland's economy - 4,500 at its current peak and 1,800 permanent employees - and so it's crucial that we continue to work with Amazon to help deliver fair work practices."

Amazon said all permanent and temporary Amazon workers started on £7.35 an hour or above, regardless of age, and £11 an hour and above for overtime.

A company spokeswoman said: "Amazon provides a safe and positive workplace with competitive pay and benefits from day one. We are proud to have been able to create several thousand new permanent roles in our UK fulfilment centres over the last five years.

"One of the reasons we've been able to attract so many people to join us is that we offer great jobs and a positive work environment with opportunities for growth."
Glasgow and Equal Pay (17/12/16)
The Scotsman takes the Queensferry Crossing 'low pay' dispute one step further with news that the Scottish Government has become involved via its transport minister Keith Brown.
Now as I said the other day I only wish Labour MSPs had taken such a keen interest in the fight for equal pay which has been raging in Scottish local government for the past 12 years.
Nonetheless it's good to see Scottish ministers and politicians taking these issues seriously
instead standing on the sidelines or pretending it's nothing to to with them.
In the Glasgow equal pay dispute many more workers are involved, 5,500 from Action 4 Equality Scotland alone, so I think we can expect to see some real fireworks from Glasgow's MSPs and MPs in the New Year.
http://www.scotsman.com/regions/edinburgh-fife-lothians/queensferry-crossing-low-pay-probe-moves-forward-1-4318822
Queensferry Crossing low pay probe moves forward
A view of the gap between the north and south sections of the Queensferry Crossing. Picture: Jane Barlow
Economy Secretary Keith Brown will ask an arbitration service to work with the lead contractor building the Queensferry Crossing, Transport Scotland and a construction union to investigate allegations of low pay on the £1.4 billion project.
Mr Brown met representatives from construction union UCATT and Labour MSP Neil Findlay at the Scottish Parliament on Thursday. Labour has called for a pay audit of the scheme after UCATT claimed Portuguese sub-contractor Sosia Ltd paid joiners £7.67 an hour and labourers £6.32 an hour - compared with the Construction Joint Industry Council agreement of minimum rates of £11.61 and £8.73 respectively.
Mr Brown said: "It remains the responsibility of our contractor FCBC to manage matters relating to its workforce and sub-contractors. The Scottish Government will continue to work together with all parties to ensure that all obligations over workers' rights, health and safety and pay are being met on the Forth Replacement Crossing project."
Glasgow and Equal Pay (15/12/16)
I was interested in this piece from The Herald newspaper which reports that a Labour MSP (Neil Findlay) has called for an
"
urgent independent pay audit" on behalf of the workers employed on the new Queensferry Crossing across the River Forth.
Two points
struck
me as I read The Herald article:
1 Why
didn't Labour MSPs show the same enthusiasm for independent pay audits during the long fight for equal pay?
2 If it's so easy for an individual MSP to get a quick and positive response from the Scottish Government , surely MSPs in Glasgow will be queuing up to support the A4ES campaign to hold Glasgow City Council to account over its post-job evaluation pay arrangements?
If claimants in Glasgow get behind this campaign (the trade unions are welcome to join in as well), I am confident we can make equal pay and the City Council's pay arrangements a big issue in the run-unto the local council elections in May 2017.
MSP calls for Queensferry Crossing probe as workers' pay and safety questioned

Jane Barlow/PA Wire

By Brian Donnelly - The Herald

AN MSP has called for an investigation into claims workers on the Queensferry Cressing have been paid below industry rates and are working amid health and safety breaches.

Lothian Labour MSP Neil Findlay has called for an "urgent independent pay audit of the workers engaged on the project", raising concerns about a Portugese sub-contractor and also pay rates for tradesmen it is claimed are £4 an hour below industry minimum.

He is to meet with Scottish Economy Secretary Keith Brown along with officials from construction union UCATT on Thursday and a Scottish Government spokesman said the audit would be one of the issues discussed at the meeting.