Some Celtic fans think they are morally superior to their rivals Rangers across the city, regarding themselves to be politically and socially more progressive.
Yet for the second year in a row a young Rangers fan has become the victim of a shocking assault on his way to watch an Old Firm game at Hampden Park with members of his family.
Sectarian hatred is the only explanation for
this kind of mindless,
drunken behaviour which the clubs, police and football authorities are struggling to stamp out.
So I hope all the decent Celtic fans will do whatever they can to bring the cowardly thug responsible to justice.
http://www.dailyrecord.co.uk/news/scottish-news/an-abhorrent-attack-shocked-glasgow-9115307
'An abhorrent attack that shocked Glasgow': Top cop slams bottle assault on 11-year-old Rangers fan before Old Firm clash



BY CHERI BURNS - The Daily Record

THE sickening incident resulted in 11-year-old Kraig MacKay being rushed to hospital by ambulance instead of watching his heroes on the pitch.


Kraig, right, was injured in the attack

A TOP cop has condemned the bottle attack that left a young Rangers fan needing stitches to a head wound.

The sickening incident, before Sunday's clash between Celtic and Rangers at Hampden, resulted in 11-year-old Kraig MacKay being rushed to hospital by ambulance instead of watching his heroes on the pitch.

Kraig, from Dennistoun in Glasgow, was making his way to the Betfred Cup semi-final with his aunt and uncle via Aikenhead Road when he was struck by the object.

It's thought to have happened after a group of Celtic fans left the city's Montford House Bar, on the other side of the road to where the boy was, and started shouting at Rangers supporters.

Football-daft Kraig - excited to attend his first Old Firm match - sustained a large gash on his head and had be treated at the Royal Hospital for Children, receiving seven stitches.

Reacting to the assault, Police Scotland Chief Superintendent Brian McInulty said it was an "abhorrent" attack that had shocked the communities of Glasgow.
Kraig, 11, missed Old Firm game after being rushed to hospital

Praising "genuine" supporters, Chief Superintendent McNulty thanked the majority of the 50,000 strong crowd who behaved well and enjoyed the game.
Sectarian Thug (05/02/16)
I hope Celtic fans help bring to justice the mindless thug who threw a bottle into a Rangers supporters minibus and caused some some serious injuries to a young boy who was out to enjoy the day with his dad and twin brother.
The Daily Record explains the background to this vile incident and it will be a good day for Scottish football when this individual is tracked down - then named, shamed and met with the full force of the law.



Grandad of Old Firm bottle victim Kieran, 10, slams cowards: 'There's no sectarian nonsense in our family.. this is terrible in this day & age'



By Mark McGivern - The Daily Record

ALEX SIMPSON has been left disgusted by the attack and fears both Kieran Duffy and his twin brother Declan - who was just inches from the flying bottle - will be left emotionally scarred.


Kieran Duffy and his twin brother Declan

THE granddad of a 10-year-old Rangers fan who was bottled on the way to his first Old Firm game has slammed the thug responsible as a "coward".

Alex Simpson fears little Kieran Duffy and his twin brother Declan - who was sitting next to him when the bottle flew into their mini bus - will both be left emotionally scarred by the experience.

Kieran lost two teeth, needed stitches inside and outside his mouth and was lucky not to be blinded in the attack, which happened as he travelled to the game with his dad and twin brother on Sunday.

The minibus was surrounded by Celtic supporters, who rocked the vehicle and forced open an emergency door before one "fan" threw a bottle inside.


PA - Kieran Duffy

Mr Simpson has been left disgusted by the attack and says there's no sectarian issues within his family which includes both Rangers and Celtic fans.

He said: "It's a terrible thing to happen to a wee boy of ten and it's a traumatic thing to witness for Declan too. I think Kieran is still in a bit of shock.

"Declan was the lucky one because the bottle just missed his head. He was really upset for his brother and he was crying when it happened too.

"The cowards who did it started rocking the mini-bus and their dad had insisted on sitting at the window in case somebody threw something but the situation was totally out of their control.

"One of the crowd of Celtic fans grabbed the emergency door handle and got the door open and somebody threw the bottle in.

"They probably went away telling people how they managed to bottle a Rangers fan and they night not even know it was a wee boy that they nearly blinded but they probably won't have any remorse."



PA - Kieran Duffy with his parents Robert and Amanda at London Road Police Station in Glasgow appeal for information after Kieran suffered a head injury whilst en-route to the Celtic v Rangers match last Sunday. PRESS ASSOCIATION Photo. Picture date: Tuesday February 3, 2015. See PA story POLICE Boy. Photo credit should read: Andrew Milligan/PA Wire

Alex said the twins are shy boys who would never have done anything to incite trouble.

He said: "They are both quiet and they have just found themselves in the middle of random violence.

"We were nervous about them going to Hampden because of all the stuff in the build up and the fact it was the first Old Firm game for ages.

"But their dad was looking out for them and he'd bought tickets for the parent and child section, which you'd think would be ok. They were over the moon about it and you could never have predicted this would happen."

Alex said his extended family has many Celtic and Rangers fans.

He said: "We have a big mix and there are no issues of sectarian nonsense with our family. My brother-in-law and all his family are all Celtic fans and my wife is a Catholic. It's terrible that you even have to think about rubbish like that in Glasgow in this day and age."

Alex said he is hopeful the thug responsible will be picked out of CCTV images and turned by decent fans who may have witnessed the attack.

He said: "We hope the police get the guy and I personally hope someone out there does the right thing and turns him in."

Brave little Kieran told of his terrifying ordeal yesterday.

He said: "I was scared, I didn't know what had happened. I looked at my brother and saw he was crying. My hand was covered in blood and I realised something was wrong."

Kieran, who needed stitches inside and outside his mouth, said: "I swallowed a tooth and one of them was cracked in two."

Robert, 39, blasted the coward who threw the bottle as the minibus with 12 fans went down Cathcart Road near Hampden Park. He said: "I would say it is a cowardly act. He is a coward.

"They are not real football fans. I'm hopeful the real football fans in that group tell someone who was responsible for this."

Taxi driver Robert and the kids set off from their home by car but Robert decided it might be safer to board a bus as they approached the stadium.

The boys had been looking forward to the match since the draw paired Rangers with Celtic before Christmas.

The twins, pupils at Eastbank Primary, Shettleston, had been laughing on the bus just seconds before the bottle was thrown.

Robert said: "We were almost there and then it all changed. The bottle hit my elbow but I didn't realise the state Kieran was in. He was drenched in blood. If it had been two inches up, we'd have been talking life or death. It could have been a lot worse.

"I was on the ground, just about to collapse. Seeing your son in that mess, it knocked me for six, I nearly fainted."

He added: "He's been left with minimal scarring. The surgeon did a great job."

Robert called wife Amanda, 38, who he said was "hysterical" when he told her what had happened.

Kieran was taken by ambulance to Yorkhill Hospital where doctors considered stitching his face right away but held off until a senior plastic surgeon arrived.
No Protestants At All (09/10/16)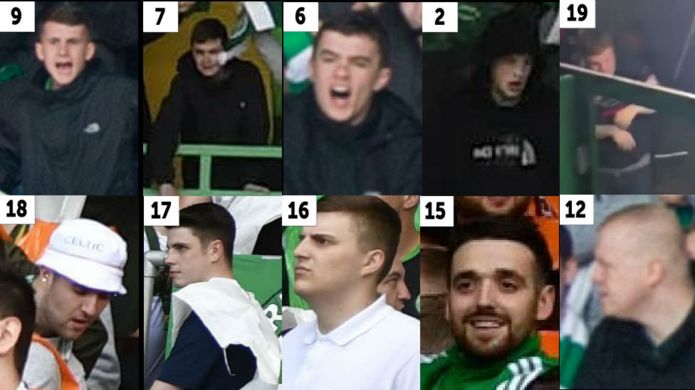 Celtic Football Club and Police Scotland are pulling out the stops to track down the fans whose moronic behaviour disfigured an otherwise great sporting contest at Parkhead on 10 September 2016.
The police have published photographs of people they wish to speak to in connection with sectarian behaviour and wanton vandalism within the stadium, and anyone with an ounce of common sense will surely help identify the individuals concerned.
CCTV appeal over disorder at Celtic v Rangers game



BBC Glasgow & West Scotland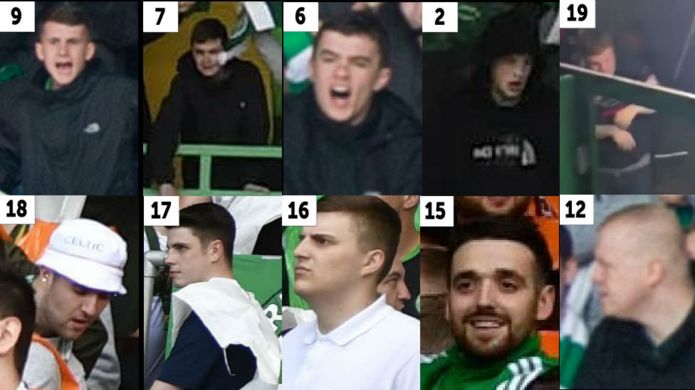 Image copyright - POLICE SCOTLAND

Police have released images of 10 people they want to speak to in connection with disorder at the Celtic v Rangers game last month.

Effigies of Rangers fans were hung from the stands during the match.

Toilets in the away end of the ground were vandalised and both clubs later released statements over fan behaviour.

Four people have so far been arrested over the two blow-up effigies, one of which was draped with a Rangers scarf, the other with an Orange sash.

The match, which Celtic won 5-1, took place at Parkhead on 10 September.

Anyone with information about the people pictured has been asked to contact Shettleston police office or use the dedicated email address.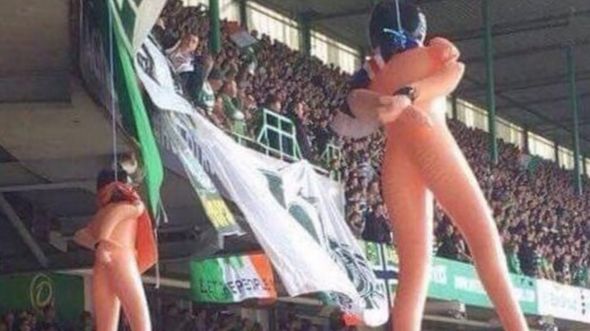 Image caption - The effigies were hung from the stands at the recent Celtic v Rangers game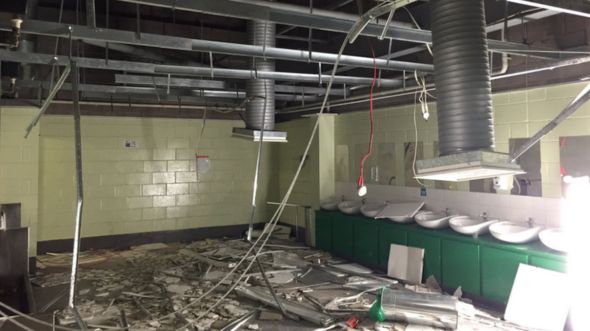 Image caption - Police have previously requested mobile phone footage of vandalism to toilets at Celtic Park.
No Protestants At All (29/09/16)
Glasgow Celtic went some way to restoring the reputation of Scottish football last night with a magnificent performance against Manchester City which kept the club's Euro dreams alive.
But amidst the drama of a great sporting contest at Parched came the news that Celtic have earned another €10,000 (Euro) fine for the behaviour of their Green Brigade fans at a previous match involving the Israeli club Hapoel Beer Sheva.
The same morons went on to repeat their performance at a subsequent Celtic versus Rangers game at Parkhead although looking on the bright side a number of individuals are now helping Police Scotland with their enquiries.
No Protestants At All (22/09/16)
The arrogant numpties who style themselves as Parkhead's 'Green Brigade' will be banging their drums again today as Celtic get fined yet again by UEFA over the anti-social behaviour of a small minority of the club's supporters.
I was at the Celtic versus Hapoel Beer Sheva game when the Green Brigade, the self-appointed moral guardians of the stadium (in their own minds at least), staged a protest by waving Palestinian flags to 'welcome' the visiting team and its fans, despite being asked not to behave in this way by their club.
Now I've been a supporter of Palestinian independence for
many a year, much longer than the Green Brigade has been around, but if you ask me the political arena is the place for debating the difficult issues surrounding the Middle East conflict - not a football ground.
Because a Champions League qualifying match is a sporting contest even if some of the fans prefer to regard such events as an opportunity to display how completely stupid, tribal and/or sectarian they can be while hiding under the 'cover' of a large crowd.
For example, I take a rather dim view of Mother Theresa and the behaviour of the Catholic church in proclaiming
the nun to be a modern day saint on the basis of no evidence whatsoever.
Personally speaking, I prefer I the assessment of Christopher Hitchens who described Mother Theresa being 'Hell's Angel', as someone who was 'in love with poverty rather than the poor'.
Yet I wouldn't dream of waving a banner at Parkhead stadium roundly denouncing Mother (now Saint) Theresa as a 'Hell's Angel' even though that is my strongly held view, shared no doubt by others attending the football game or watching on television.
During the Celtic v Happoel match the Green Brigade sang the following little 'ditty' to the tune of 'On The One Road' after waving their flags proudly in progressive political solidarity with the Palestinian people:
"Northmen, Southmen, comrades all
"Soon there'll be no Protestants at all"
Tossers or what?
And, of course, they repeated their sectarian, juvenile behaviour at the recent Celtic versus Rangers at Parkhead on 10 September 2011.
In other words these clowns are every bit as bad as their knuckle-dragging Orange counterparts from the other side of Glasgow.
The late Christopher Hitchens observed that Mother Theresa of Calcutta was in love with poverty rather than the poor.
So on the day that the Vatican is to proclaim Mother Theresa as a saint after performing two miracles from 'beyond the grave', now seems like a good time to share Hitchens' debunking documentary film Hell's Angel.
The Greetin' Brigade (19/08/16)
Glasgow's 'Greetin Brigade' were up to their old tricks the other night when Celtic met the Israeli club Hapoel Be'er Shiva in a qualifying tie for the Champions League.
As they do from time to time, this small but vocal band of supporters tried to hijack a football game for their own political ends by encouraging Celtic fans to wave Palestinian flags contrary to UEFA rules.
Now the Greeting Brigade can do this quite legitimately outside the stadium where they are 'free citizens' and the UEFA rules don't apply, but they know that the vast majority of Celtic fans aren't interested in mixing football and politics this way.
The end result is likely to be another hefty fine for the club because of the boorish behaviour of a small section of its supporters.
http://www.heraldscotland.com/news/14688786.Celtic_face_fine_after_fans_unfurl_Palestinian_flag_at_Israeli_match/
Celtic face fine after fans unfurl Palestinian flag at Israeli match

Celtic face fine after fans unfurl Palestinian flag at Israeli match

By Brian Donnelly - The Herald

CELTIC were facing disciplinary action after fans went ahead with threats of unfurling Palestinian flags against an Israeli team in the Champions League.

Despite warnings to avoid political gestures and the certainty that the club will be fined, some Celtic supporters raised Palestinian flags at the Scottish champions' match against the champions of Israel, Hapoel Beer Sheva.

A Facebook page called "Fly the flag for Palestine, for Celtic, for Justice" was set up to co-ordinate the protests with fans being offered Palestinian flags to fly at the match.
Greetin' Brigade
The tiny group of Celtic supporters known as the 'Greetin' Brigade' have brought shame on their club once again as the BBC reports the deliberate disruption of a Remembrance silence before yesterday's match at Aberdeen.
Now this has nothing to do with free speech of course because the idiots behind this kind of disrespectful and insulting behaviour are free to organise their protests anytime, anywhere - instead of trying to use football as a platform to air their views.
So, I'm all in favour of Celtic fans giving those morons up because by identifying who they are which will allow the club to name and exclude them from future Celtic FC events, and the for police to act whenever they can.
Celtic fans arrested during Remembrance silence before Aberdeen game
Police said the vast majority of fans observed the silence

Two Celtic fans were arrested during the Remembrance Sunday silence before the game against Aberdeen at Pittodrie.

There has been anger on social media in the wake of disruption during the minute's silence.

Police Scotland said two men, aged 32 and 55, were charged with assault following a disturbance in the away fans section during the silence.

Another two men, aged 24 and 29, were arrested elsewhere in the stadium for unrelated offences.

'Behaved impeccably'

All four are expected to appear in court at a later date.

Supt Innes Walker said: "The overwhelming majority of the sell-out crowd from all sections of the ground respected the minute silence and behaved impeccably throughout the entire game.

"Police Scotland will continue to work with Aberdeen Football Club to improve the match day experience for all spectators but fans must be aware that any form of unacceptable behaviour will be dealt with firmly."

Celtic - who were down to 10 men - won the game 2-1 thanks to a late goal, after Aberdeen had taken the lead
.
Greetin' Brigade (18 December 2014)
Here's an article on the Green Brigade which appeared in Scotland on Sunday at the weekend - a spectacularly ill-informed and mealy-mouthed piece of work, if you ask me.
Because the 'activism' on display by this group of Celtic fans, is essentially no different to the the marches and parades which are still an ugly feature of life in Northern Ireland and the west of Scotland - from time to time.
The marchers claim they have right to march when and where they want in a 'free' society, yet any reasonable person can see that their insistence on being able to march through areas where they are not welcome - is not about activism but about their desire to provoke and upset their neighbours.
In other words their real aim is to magnify and glorify religious tensions - and not with the purpose of making a sensible political point or bringing people together in an atmosphere of reconciliation.
Now I can understand the argument that Bobby Sands and the other 'hunger strikers' are regarded as a political inspiration to some, but a football game is not the place for political statements - especially where the message will inevitably be seen as divisive and provocative.
Football is a sport after all and should not allow itself to be hijacked for political ends - if some fans want to run political campaigns, let them knock themselves out elsewhere.
I have my own views on Scottish independence or Dignity in Dying, for example, but I would never dream of trying to use a football match as a vehicle for promoting my views.
The comparison being drawn with Nelson Mandela is plainly ridiculous because the former South African President was a great healing and unifying figure, a winner of the Nobel Peace Prize, so why would anyone want to turn a minute's silence for Nelson Mandela into some arcane political point?
So, the chap who calls the Green Brigade the Greetin' Brigade makes a fair point - time to move on.
Comment: Trouble in Paradise for Green Brigade

A banner displaying William Wallace and Bobby Sands shown by the Green Brigade at Celtic Park last month. Picture: SNS

by DANI GARAVELLI

Celtic have banned their ultra fans the Green Brigade, but is it really political activism that's being punished, asks Dani Garavelli

WITH their passion, their ­colourful and provocative banners, and their anti-authoritarian attitude, the Green Brigade breathed new spirit into the all-seater Celtic Park, aka Paradise to faithful fans.

That's something few supporters would dispute. The ultras' youthful defiance combined with their ability to produce stunning visual expressions of cultural identity revitalised matches which had had the life sucked out of them by health and safety rules, corporate interests and heightened sensibilities around sectarianism.

Take the notorious Four Horseman of the Apocalypse display, featuring Neil Lennon, Hector the taxman, Death and Craig Whyte advancing towards beleaguered Rangers, which was unfurled on the last Old Firm derby of the 2012 season. Whatever your loyalties, it would be difficult not to marvel at the creative energy which went into the realisation of that goading image, accompanied by an array of tombstones across Section 111, the part of the stadium the Green Brigade made its own.

Given the way the supporters' group boosted the atmosphere, it is little wonder the club has often encouraged its activities, trading on its full stadium display to celebrate Celtic's 125th anniversary before its victory against Barcelona. "I would say there's a commercial advantage to the club from having a group of fans who, from their own time and energy, talent and money, provide that kind of support," says Jeannette Findlay of the Celtic Trust.



Yet like Frankenstein's monster, the left-wing group seems to be veering out of control. As its members' anger towards the Offensive Behaviour and Threatening Communications at Football Act – a piece of legislation many see as an attempt to criminalise fans – has mounted, they have sung Irish Republican songs with greater gusto and their displays have become more overtly political, incurring the wrath of Uefa. When a banner showing William Wallace and Bobby Sands, which riffed on the old freedom fighter/terrorist paradox, was unfurled at the Champions League match against AC Milan last month, manager Neil Lennon accused them of "going rogue". Celtic were fined £42,000 for the protest, the fourth time the club has been punished as a result of fan indiscretions in two years.

But it was the behaviour of supporters within Section 111 at the recent match against Motherwell at Fir Park, when flares were set off and seats destroyed, that proved a tipping point. Last week, the club ended the Green Brigade's dominance by handing out "precautionary suspensions" to 128 of its members, while forcing 250 season ticket-holders housed in Section 111 to move to other parts of the ground or have their season ticket money refunded.

For those who believe the Green Brigade was long ago swallowed up by its own ego, the move was overdue. Closing his parody Twitter account, The Greetin' Brigade, one supporter wrote: "I'm [now] positive that a line will be drawn in the sand and the proper fans who have the sole objective of supporting the team within the confines of the law, will now have a safe environment to achieve that."

But for others it is a massive over-­reaction, and a surrender to a prevailing political agenda which wants to outlaw all displays of Irish nationalism. Though no-one condones the ripping up of seats, Celtic fans are quick to point out that such vandalism takes place at other matches (Motherwell fans recently destroyed seats at New Douglas Park) without attracting the same degree of opprobrium.

In any case, those who support the Green Brigade believe last week's vandalism is a red herring; what its members are really being punished for, they say, is their activism, and they claim that is rank hypocrisy. "We are told politics should be kept out of football, but then the SFA holds a minute's silence for Mandela," says one Celtic fan, who is not a member of the Green Brigade. "I have the greatest respect for Mandela, but how can that possibly be seen as anything other than a political statement?"

One could also question the apparent double standards in Uefa's tolerance of pro-Catalan flags in the Nou Camp and ask whether or not we would disapprove of an Eritrean refugee who wanted to cele­brate his heritage through songs about past battles.

The Green Brigade believes its members have been the victim of heavy-handed policing (although others have pointed out the policing at Fir Park was virtually nonexistent). And it feels particularly aggrieved at the way in which Celtic fans have been arrested for singing Roll of Honour, which commemorates the IRA Hunger Strikers. "This song has nothing to do with supporting any armed organisation but is about remembering the sacrifice of ten ordinary young men who gave their lives in their campaign against criminalisation," a spokesman tells Scotland on Sunday.

"Nelson Mandela cited Bobby Sands as an inspiration and led his own hunger strike at Robben Island shortly afterwards. It's ironic that this week football clubs across Europe have celebrated Mandela yet our fans are in the dock for displaying banners depicting Sands."

The way the Green Brigade highlights such contradictions may not meet with everyone's approval, but they do raise questions which cannot be easily dismissed. For example, is the new Act a legitimate weapon with which to tackle residual sectarianism or a means by which to clamp down on expressions of Irish identity? And should we really expect sport to exist in a vacuum or accept that – from Barcelona to Cairo to Glasgow – football, nationalism and politics are inextricably intertwined?

The Green Brigade wasn't formed until 2006, but the ultra movement, which is synonymous with banners, choreographic displays, fireworks and drums, has thrived in other European countries since the late 60s. Though often associated with right-wing ideologies, there are many left-wing ultras such as those attached to Livorno and the Hamburg-based St Pauli, with whom Green Brigade members have struck up a friendship. In north Africa, ultras were instrumental in the Arab Spring, particularly the uprising against President Mubarak in Egypt.

"Our group was not modelled on any others but instead sought to marry ultra culture with the unique identity of the Celtic support," the Green Brigade spokesman says. "This was not a particularly big leap as our support have always been a bit different to the norm in Scotland and Britain; we've always been known for our passion and noise, and have always been proud to show our colours. Given Celtic's roots, our fans have always been proud of our Irish identity and supported the Irish nationalist cause, and our group naturally followed in this tradition."

Describing itself as anti-fascist, the group has been involved in political campaigning and charitable work. It organises the biggest bloc on the STUC's anti-racism march, runs its own annual anti-discrimination football tournament, seeks to engage asylum-seekers and regularly organises food bank collections. After the Scottish Government introduced the new legislation, however, the Green Brigade began to engage in increasingly provocative behaviour. The Act, which became law in 2012, makes it illegal to sing certain songs inside and outside the stadium, on public transport, in streets and pubs, although its many critics point out it was already possible to tackle unacceptable football-related behaviour through existing legislation.

"There has always been a law of breach of the peace and prior to the introduction of the new legislation, people at football grounds were convicted under that law for behaving in a manner that was objectively seen to be offensive," says Brian ­McConnachie QC. "The situation now is that the police know which area will house the people who are likely to sing those songs, so they film them on their hand-held cameras. They specifically target individuals, then they take the time to look at the footage and work out whether they are singing the song in question. They prosecute them and, at the trial, the only evidence that requires to be led is the evidence of two police officers to say, that's the guy, here's the video footage, we heard the singing.

"Nobody in the ground was offended or made a complaint, but nonetheless he's guilty of that offence and, potentially at least, liable to a custodial sentence. It is crime creation in many ways."

According to the Green Brigade, victimisation by the police is not confined to taking pictures. "We've had fans arrested at airports when returning from family holidays on bogus charges that are dropped as soon as they reach court and supporters dragged from their beds in co-ordinated dawn raids as if they were big-time drug dealers," the spokesman says.

The Green Brigade has campaigned against the Act with the Celtic umbrella group Fans Against Criminalisation, but it has also produced banners like the one in November 2010, protesting over the placing of a Remembrance Day poppy on a Celtic shirt, and the more recent Bobby Sands one.

To Findlay, such actions are welcome evidence of engagement. "What really gets me in an age when we have young people who are so politically disengaged, is that you take a group of people who are so politically active, so willing to get out and voice an opinion and to work productively with other organisations, and you suggest they're a problem," she says. "Well, they're a problem to the people who don't want to hear what they've got to say, but in terms of society, I would be more worried about the young people who sit around watching Big Brother, those who have no political involvement."

To others, however, including the man who ran the Greetin' Brigade, the group has become a "self-indulgent circus act". Either way, their activities, which have included letting off flares, could be seen as counter-productive, leading not to an early review of the law, but to bad publicity. "I don't think the Green Brigade are doing themselves any favours" says ­McConnachie. "One wonders how many of the people in their section have a clue what these songs are about. Of course, some do, but I'm sure there are many who are going along with the crowd and it's just a means of noising up the police."

And that's before you address last week's trouble at Fir Park. Though the Green Brigade denies its members were personally responsible, it admits "that as a group that believes in fan control" it should have policed the section better.

Nevertheless it believes the decision to impose a collective punishment on its members is disproportionate. "We cannot see why the alleged misdemeanours of a small minority of people who may not even stand in our section at 111 should impact on everyone who does," the spokesman says. "If someone deliberately breaks a seat at a football stadium then they should expect that action will be taken against them, and that they may be banned for a period from football games. However if football clubs here wanted to have better relationships with their fans they would do well to look at some of the models from some clubs in Germany and elsewhere, where fans and club directors work consensually on contentious issues and disciplinary matters."

Though the brigade laments the loss of its section, it has no intention of giving up its fight against the new law. "Wherever you go, you'll find that Irish communities (like every other diaspora group) express themselves through music and song, singing about past and present events in their motherland," the spokesman says. "That's what [our] fans have always done, whether that was Celtic's founding fathers singing about the Manchester Martyrs and the Fenians, or my granda's generation singing for Kevin Barry or James Connolly, or my own remembering Bobby Sands and the Hunger Strikers.

"Now singing about events during conflicts might not be to your personal taste, but the idea that it should be outlawed is utterly ridiculous."

Nor does the Green Brigade plan to give up its charitable work. A food bank collection outside Celtic Park before the Hearts game will go ahead next Saturday as planned. "We've had some great days and fantastic nights in 111 over the past three and a half years of having an official section, so it's a real disappointment to lose it," the spokesman says. "It's definitely not the end of the Green Brigade though. We are far more than just a small section in one corner of Celtic Park, we're a spirit that will endure and a group of brilliant bhoys and ghirls that will continue to do our thing."