Labour's Tom Watson has his own impressive mandate being elected as deputy party leader at the same time as Jeremy Corbyn.
But in a further illustration of the terrible state of the Labour party, Tom Watson makes plain in this Guardian article his disagreement with Corbyn's bizarre decision to elevate Shami Chakrabarti to the House of Lords.
No doubt Corbyn supporters will support their man and ignore the obvious issues raised by the appointment, but the underlying problem is that the Labour leader has a 'tin ear' when it comes to building a team and striking a chord with the views of the wider electorate.
If you ask me there is something wrong with these people - they say one thing and then do another, and in Shami Chakrabarti's case it's quite remarkable she can even consider accepting a political honour.
http://www.theguardian.com/politics/2016/aug/05/tom-watson-criticises-shami-chakrabarti-peerage-nomination
Tom Watson criticises Shami Chakrabarti peerage nomination


Labour's deputy leader praises former Liberty chief but says timing of Corbyn's nomination is a mistake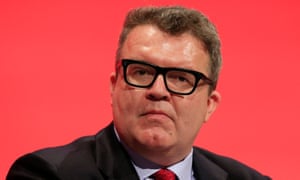 Tom Watson says he was not consulted on Chakrabarti's nomination by the Labour leader. Photograph: Jonathan Brady/PA

By Peter Walker and Rowena Mason - The Guardian

Labour's deputy leader, Tom Watson, has criticised his party's decision to nominate the human rights and civil liberties campaigner Shami Chakrabarti for a peerage, saying it was "a mistake" and that he had not been consulted.

"The timing is not great for the Labour party," Watson told BBC Radio 4's Today programme following Jeremy Corbyn's decision to put Chakrabarti forward, a move that has attracted condemnation from other Labour MPs.

"I wasn't aware, I wasn't consulted whether Shami was going in. I didn't know that we'd provided citations for this particular round, and I do think it's a mistake," Watson said.

The decision has also been criticised by the Board of Deputies of British Jews, which said it compromised the independence of an inquiry into antisemitism in the party, recently headed by Chakrabarti for Labour.

Marie van der Zyl, the group's vice-president, said: "It is beyond disappointing that Shami Chakrabarti has been offered, and accepted, a peerage from Labour following her so-called 'independent' inquiry.

"The report, which was weak in several areas, now seems to have been rewarded with an honour. This 'whitewash for peerages' is a scandal that surely raises serious questions about the integrity of Ms Chakrabarti, her inquiry and the Labour leadership."