In my view the President of Venezuela, Nicolas Maduro, is a dangerous demagogue and political charlatan so I'm not surprised that he's taken to calling his opponents 'fascists' and demanding that some of them be thrown in prison.
Here's an article from the Guardian which highlights why the protestors are taking to the streets in Venezuela and I have to say that none of them sound remotely like fascists to me - more like ordinary people saying they're fed up with the way their country is bring run.
But that's the whole point about demagogues and demagoguery - it's not about logic, reason or political debate - it's about propaganda, passion, emotion and demonising your political opponents.


Venezuela protests: demonstrators tell us why
they're taking part
We asked protesters in Venezuela why they have taken part in the anti-government demonstrations. Here is a selection of their views
By
Philippa Law
,
James Walsh
and
Guardian readers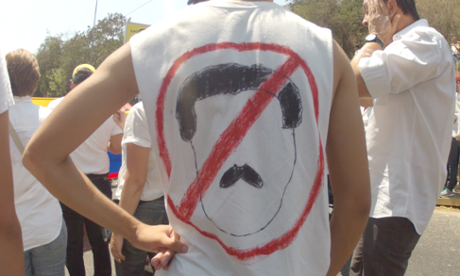 mu6box says this photo was "taken at the peaceful demonstration in Valencia" and depicts the "most prevalent anti-Maduro symbol". Photograph: mu6box/GuardianWitness
Scenes of political turmoil have swept across Venezuela
as citizens protest against unemployment, a rise in violent crime and surging inflation.
Demonstrators have also been protesting against the detention of opposition leader Leopoldo López, who surrendered to authorities on Wednesday after making a speech to thousands of supporters.
The government has claimed the protests and clashes are the early stages of a US-backed attempted coup. Recent weeks have also seen pro-government rallies and protests in support of the President, Nicolás Maduro.
Guardian readers below share their reasons for supporting and taking part in the protests. Live in Venezuela? Whether you support the protests or are part of the pro-government rallies, share your views in the comments thread below, or
via GuardianWitness
.
"It would be easier to ask why we would not protest"
Venezuelans have a million reasons to protest. We have one of the highest murder rates in the world – two people per hour – rampant inflation at a rate of 60% a year, basic products like milk, oil, sugar, chicken are not available in supermarkets, if we want to travel we have to go through a bureaucratic nightmare to be able to buy foreign currency limited to less than £2000 a year, we have no liberty of expression if we do not concur with the governments ideas we are completely ignored. We are protesting for our lives and our dignity.
Scosti
"Scarcity of everyday goods is raising, corruption is rampant..."

Official numbers put 2013 inflation rate at around 56% and murder casualties at more than 24000, two numbers that have only increased during 15 years. Scarcity of everyday goods is raising, corruption is rampant... but instead of listening to the protests who very accurately point at the government, what we have gotten is repressive use of the public force AND armed civil gangs which has resulted in at least 6 deaths, hundreds of injured and dozens of students in jail. All of this has been silenced from national media because of heavy censorship.We're sick of hearing this sorry excuse for a president to blame "the Empire" and the "far-right" as culprits of his own mess.

Julio Gutierrez
"The reality is it is becoming a failed state"

I have lived in Venezuela for 19 years and seen many opposition and government marches. Violence is actually not that common but escalates when the opposition grows. The present reason for demonstrations is caused by the mismanagement of the oil revenue which is quite considerable along with corruption and has been going on for years.

There are many shortages and rationing... you cannot find margarine, sugar, P.A.N arena (maize), flour, toilet paper, washing up liquid, bleach, and milk and bread are rationed from shop owners. Cement, car parts, foreign goods too. It is almost impossible to buy an international air ticket as airlines have not been allowed to change the soft Bolivar for hard currency so they don't sell tickets in Venezuela but you can buy the same flights in dollars at the arrival location.

Jobs are few and a reasonable salary is about £50/month... people are a lot worse off due to inflation and devaluation. Crime and the murder rate are one of the highest in the world.

Venezuelan people, all of them want and deserve better. Everyone is complaining, including government tied voters.

Finally Venezuela politics does not fit "left or right wing". Venezuela severely lacks both capitalism (business) and socialism (social benefits) and the reality is it is becoming a failed state.

Carambaman
"This is about power and dictatorship"

After Hugo Chavez was elected president, we started a journey of lies, manipulations and abuse of power. The last presidential elections in Venezuela was full of illegalities and, with it, we have lived a year of severe inflation, food and medicine shortages, impunity, negligence, high rates of murders and much more. The reaction of the government has been always to pretend that nothing is going on or to blame opposition of everything, but we just got fed up with being abused and threatened.

I have been robbed twice, I cannot find basic products in the supermarkets such as milk, toilet paper and chicken, I have to ask my friends to buy my medicine (for hypothyroidism) abroad, if I take public transportation I could be robbed by young thieves asking for money (forcing you to give them a "contribution" or suffer the consequences), I can buy red meat one week, let's say at 5 GB pounds, and the next week I have to pay 8 GB pounds, and so on. Students have been stolen, threatened and even raped within the universities and that is why they decided to massively protest against the situation. During the protest, Venezuelan "special" forces shoot against them and killed and hurt students while they were running for their lives. The reaction of the government was to blame opposition for promoting violence against them. They never assume the responsibility about nothing.

Nere Márquez