I caught a bit of Have I Got News For You last night and was less than impressed at by Sadiq Khan won the race to become the Labour candidate as London Mayor.
Now that's not particularly surprising given the election of Jeremy Corbyn as Labour leader, but it's another backward step if you ask me.
Because Sadiq Khan is an divisive character even amongst his fellow Muslims MPS as the following article from the Guido Fawkes web site demonstrates.
So while a majority of Labour members have chosen Sadiq Khan as their candidate, I suspect he'll have a much harder job of persuading less partisan Londoners that he really is a fit and proper person to become the Mayor of one of the most important capital cities in the world.
After all why would anyone trust a man who made up his own version of an important meeting with a Labour Prime Minister for his own political ends, or a man who puts his hand on a fence displaying a 'Wet Paint' sign.
The Guardian newspaper covered this same story, by the way, but for some reason failed to highlight the fact that Khan's version on the meeting with Tony Blair was completely disowned by his fellow Labour MPs.
An explosive development in the race to be the Labour candidate for London Mayor. Regular readers will remember Khan
going off on one
about Blair last week:
"Khan did, however, recall his frustration with the reaction of Tony Blair to the 7/7 terror attacks, when the then-prime minister called in the newly elected MP and the three other Muslim Labour members of the House of Commons. "One of my criticisms of Tony Blair was when he called the four MPs of Islamic faith into No 10 and sat us round the table and said – to Mohammad Sarwar, Khalid Mahmood, Shahid Malik and myself – it was our responsibility," Khan said. "I said: 'No, it's not. Why have you called us in? I don't blame you for the Ku Klux Klan. Why are you blaming me for the four bombers on 7/7?' Which is why, after he called us in, and there were lots of cameras outside waiting to speak to us, my three colleagues spoke to the cameras and I walked away."
Unfortunately for Khan, the other Muslim MPs he mentioned
say
his version of events is total horsesh*t:
As the MPs identified by Sadiq Khan (Electing a Muslim mayor would send out message of tolerance, says Khan, 3 July) who met with the then prime minister, Tony Blair, following the shocking 7/7 London attacks, we are extremely troubled by Khan's evidently self-serving revisionism. Having conferred with Mohammed Sarwar (who is now Pakistan-based), we feel compelled to reveal that Khan's account is at complete odds with our collective recollection.

He now claims that Blair was somehow accusatory towards Muslims as a whole for 7/7, and that Khan was combative in chastising the prime minister for presuming to call him to Downing Street to somehow take responsibility. Our Downing Street discussions in fact ended with a unanimous agreement on the need for unity in the fight against terror and the crucial role for Muslims.

To misrepresent the words of a British prime minister and to mischaracterise a significant meeting in the wake of the tragic loss of 52 lives a week earlier is frankly beyond the pale, and we write today not to defend Blair but to defend the truth.

Khan's depiction of his bravado is almost comical, and if the events of 7/7 were not so grave, it would be unworthy of response. But this was a profoundly grave episode in our history, which necessitates challenging those who would seek to exploit it for personal gain.

While we agree with Khan that it would be great to see a Muslim mayor for London – as indeed it would to see a black mayor or woman mayor – above all it would be good to see a mayor who could truly command the trust of Londoners irrespective of their colour, creed, race, or gender.

Khalid Mahmood MP Labour, Birmingham Perry Barr

Shahid Malik Labour MP for Dewsbury and Mirfield, 2005-10
A source on Sadiq's campaign tells Guido this morning that they are
"not sweating it"
as
"ten years on people are going to take different things away from conversations."
Which is all very well, except for the fact that everyone else's recollection is different from Khan's…
Sadiq Khan wins Labour mayoral selection

BBC UK Politics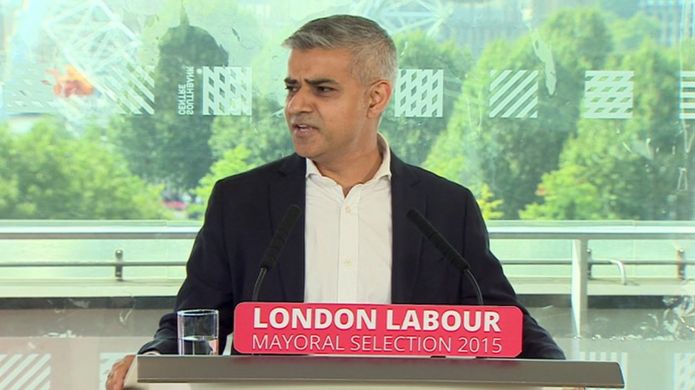 Sadiq Khan has been chosen as Labour's candidate for the 2016 London mayoral contest.

The Tooting MP said he was "overwhelmed" and "deeply honoured" after the results were announced.

Mr Khan won 48,152 votes, a 58.9% share, in the fifth round of voting after four other candidates had been eliminated.

Ex-minister Tessa Jowell, regarded as the frontrunner going into the contest, came second with 41.1% of the vote.

A total of 87,954 votes were cast.