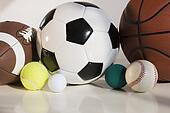 I heard Labour's shadow chancellor - Ed Balls - on the radio earlier today and I'm sad to say that he talked another load of 'balls'.
Apparently, Ed has written an article for the Guardian newspaper - which I haven't read yet - but which must have been signed off by the other Ed - Ed Miliband.
But the big news is that the two Eds are supporting the coalition government - in their policy of freezing public sector pay for another year.
Ed Balls says the government is 'moving too far too fast' with its public spending agenda - yet Ed won't tell us how far or how fast a Labour government would move.
Although Ed is clear that a future Labour government won't be able to 'undo' any of these measures - so in the meantime the present coalition government has Labour's full support.
Now I have to say I don't understand this political mumbo jumbo - because of course a future Labour government won't be able to undo things in the future - which have happened in the past.
How could that happen - unless Doctor Who is going to be elected as the next Labour leader?
The point is not whether Ed and Labour want to undo something in the future - but do they actually agree with the coalition government's policy - in the here and now?
If they do, the should say so - if they don't, they should say so - in plain language instead of this mealy mouthed nonsense.
Later today I will read Ed's interview in the Guardian - and if I've anything to add, you will hear about it in the future - not the past.
I hope that's clear.